Mauritius, an island nation castaway 1,200 miles off the coast of Madagascar on the east coast of Africa, is a nation of enterprise and looking forward. Now, it is emerging from two consecutive blows – an epic oil spill in 2020 and a throttling Covid lockdown which cut off its main source of income for two years. While some other tourist destinations were swift to get their industry back on track, Mauritius stayed closed until October 2021.
For nature lovers, the island is landscaped with verdant trails and with pirouetting birds – from lime-green Echo Parakeets to teal-capped Mascarene Paradise Flycatchers. It may not have the private island feel of the Maldives or the Indiana Jones giant fauna and tropical jungle of the Seychelles, but offers faultless service, activity (golf, and then some more golf, hiking and biking) and farm-to-table gastronomy. With its burgeoning boutique rum industry and host of emerging artisans – from textiles to ceramics – be sure to pack an empty suitcase for your return journey.
And travellers who venture here post-covid are richly rewarded, with newly refurbed retreats, pristine beaches and, at present, amazingly good rates (some five-star spots start from £200 a night). These resorts lure some of the finest Gallic talent to their kitchens from Michelin titans such as Paris' George V. But the tourist ecosystem is also dominated by some exceptional homegrown brands who are shaping the country's industry with a proud, hands-on approach. These are the best hotels in Mauritius.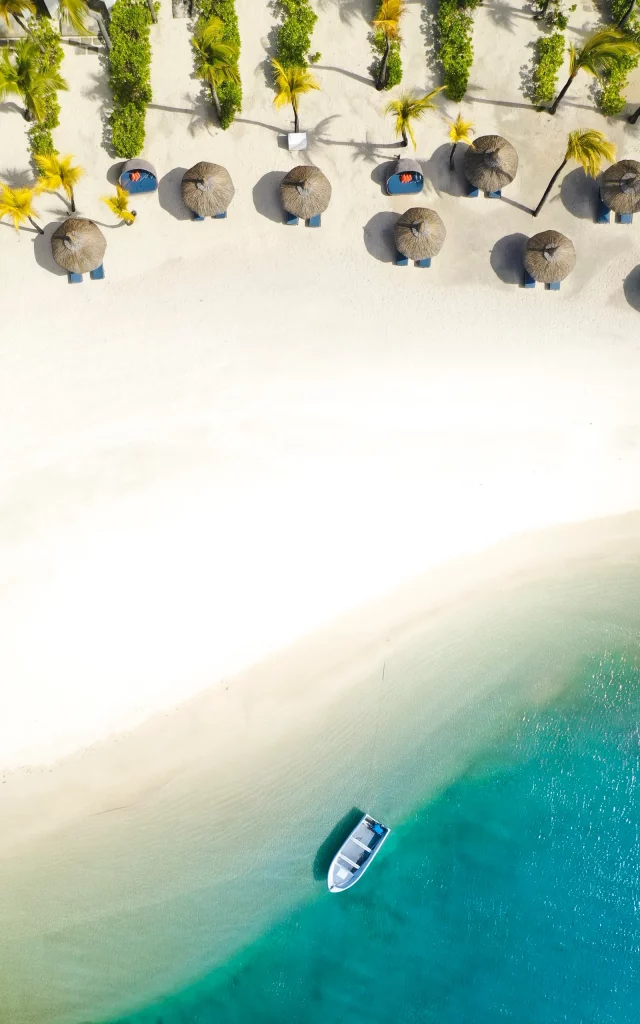 Shangri-La Le Touessrok
A 10-minute chug from the smooth curves of Le Touessrok takes you to its private island escape, Ilôt Mangénie. More runway than Castaway – Chanel sarongs add a splash of patrician colour to the island's earthy palette – here the scent of BBQ-ing lobster fills the air. The hazards here are utterly inconsequential – snagging buttery fingeres on crustacea claws and avoiding the odd sea urchin – and afternoons are spent wallowing in rock pools with glasses of chilled Chateau Minuty.
Back at base at this old-timer resort on the east coast, it's earthily organic with tables formed from petrified teak trunks and rattan twisted into day beds. The plusher rooms in the Frangipani wing come with free minibars (old school M&Ms and paprika Lays rather than artisanal veg chips). The best for young children and buggies though are the (cheaper) Hibiscus rooms that lead directly onto one of the resort's six beaches (but those bothered by startling dawn sunlight should request black-out blinds). In the morning, open bedroom doors to gaze upon red, white and blue Pirogue vessels gliding the flat waters, fishermen foraging the depths for bream. The blow-your-budget villas start at £20,000 a night, which buys you a private beach and team of staff.
Elsewhere, there are four tennis courses and two pristine golf courses (a big draw for the Brit-centric crowd here). The pagoda-style spa looks a little ordinary, however, consistently delivered the most deft-handed massages we had on the island. At sushi restaurant Kushi sit chef side for seared red grouper with miso teriyaki, rounded off with a treacly Chamarel on the rocks at the convivial Te bar.
LUX* Grand Baie
At the island's most lauded hotel, come to marvel at the views. Not just the vistas over the cobalt surf, but the colourful clientele drawn to its bonhomie. At the adults-only rooftop bar, a lithe septuagenarian and her young, sculpted paramour engage in a photo shoot on the swings that sway over the pool. Three sunbathers with competing Dior beach bags tuck into chilli-flecked guacamole and margaritas as a DJ spins sundowner tunes. This north coast spot from rapidly expanding Mauritian brand LUX* near the boat-and-bar seaside town of Grand Baie has so much to offer – some of the best gastronomy on the island, first-rate kids club and wellness – yet it is bringing a large dose of sun-drenched high glamour fun to the island.
With architect Jean-Francois Adam drawing inspiration from the robust galleons that shaped the vistas of his youth, LUX* Grand Baie looms large over the white sands. A 13-foot-high ceiling propped up by giant steel girders and balau wood beams forms the focal point of the hotel. The 86 junior suites – all identically sized – are bright and metropolitan, with black crittall-style doors and designer Kelly Hoppen's clean white lines. With a lot of Mauritius reassuringly trad, this place has accents of Soho House and 1Rebel. Kick off the day with a spin class in its monochrome gym or a run around its rooftop athletics track, afterwards refuelling on a spirulina omelette or hemp seed smoothie. Afternoons are spent swimming to beats from the poolside DJ or heading to the spa for a manicure by nail stylist Bastien Gonzalez. Come evening the hottest seat is at Ai Kisu, where patrons enjoy soy-sauce tasting menus and the crispiest duck before moving onto its nightclub next door. Here the gloss on the disco balls is outdone only by the frocks.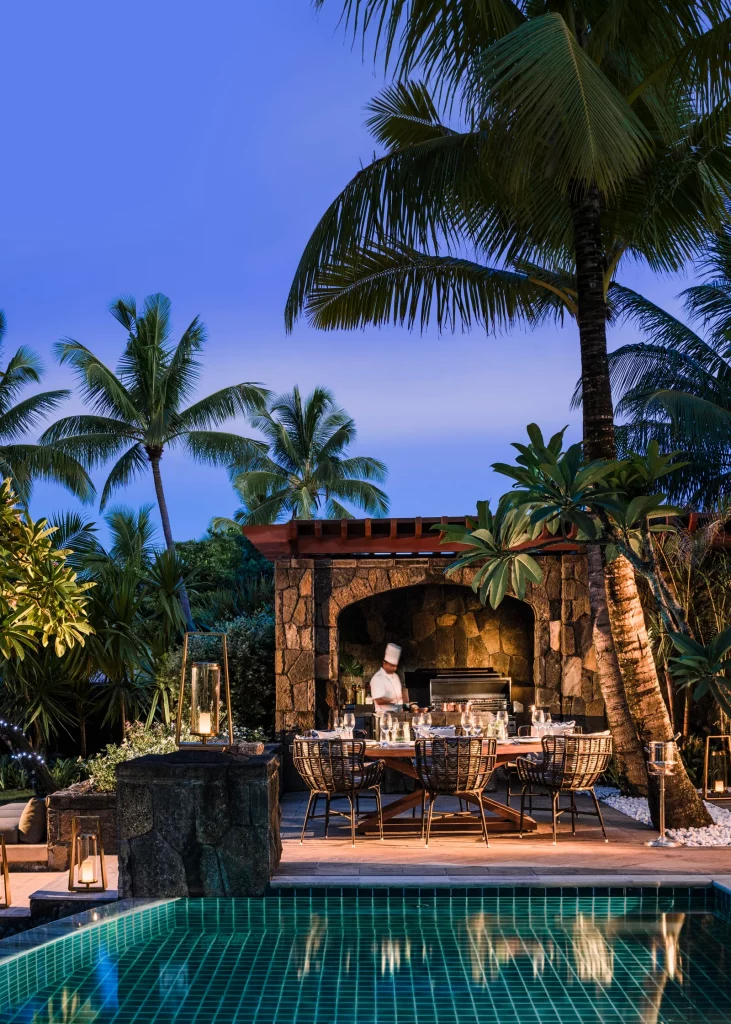 One&Only Le Saint Géran
With its purring supercars sporting Mauritian plates and soigné families in matching Vilebrequin, this storied resort is where the well-heeled still flock, 60 years after its opening. Built in 1975 by Sol Kerzner, the 142-suite property on the east coast has morphed from honeymooners' paradise to family-friendly (it arguably has the best kids' club on the island). A refit in 2017 keeps suites up to date with bespoke mid-century furniture and communal spaces based around the architecture of traditional sugar factories to keep things airy and light.
Fitness is at the forefront here. There's suave tennis pro Nicolas (book in advance), a slick spa and a juice bar whipping up acai smoothies. However, the food is more feast than fast. The heaving breakfast spread offers both chia seed banana pudding and mountains of oozing Pont Leveque and gruyere. Restaurant Prime recalls some of the sexiest Manhattan Martini swilling steak joints and the Asian fusion restaurant delivers artful wisps of yellowtail with Jalapeno on custom Bernardin tableware.
Families snooze under lapis cabana canopies by day on the main beach; the hidden bay on the other side provides wind-free waters for children and paddle boarders – just don't go out at the same time as enthusiastic water skiers if you don't want a humiliating tumble. A deep-tissue massage in its carrara-clad spa afterwards fully restores muscles, if not pride.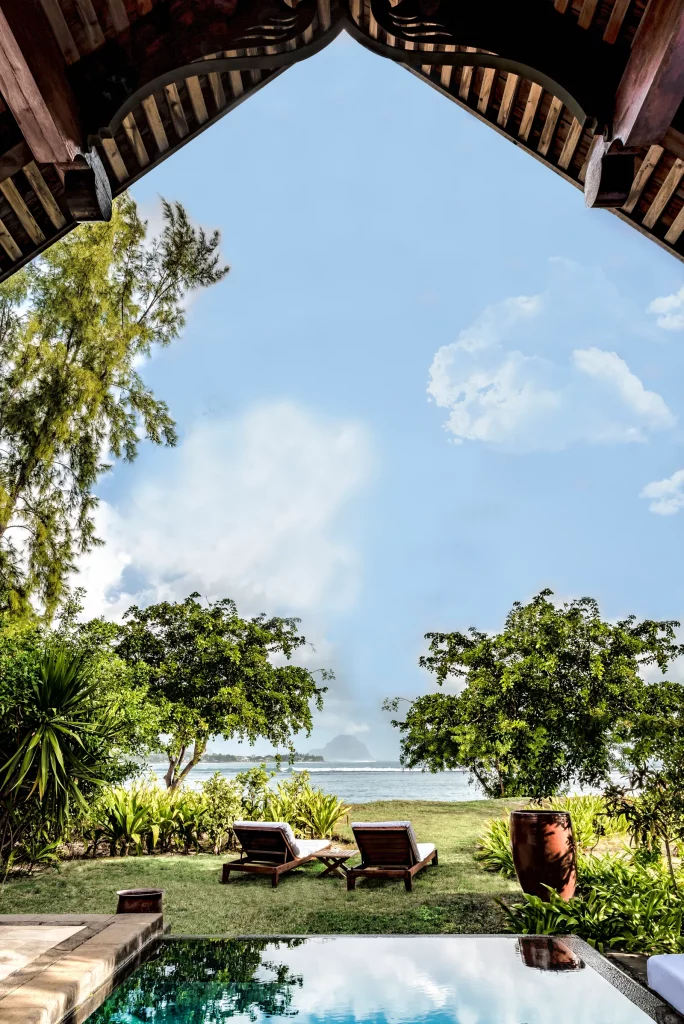 Maradiva
As we tuck into blush pink tuna burgers and ice-cold Phoenix, we whisper to one another, is anyone else actually staying there? But indeed, they are, concealed away in the roomy pool villa dwellings, behind gardens of Aran lilies and frangipani. For, unlike some of the more clubby resorts, don't come here looking for a daily roster of group yoga or cocktail-making classes, but to replenish and recharge.
A former Taj resort, in 2009 it was rebranded Maradiva and a 2017 refit saw an upgrade, with smart Hermes wallcoverings and ice rink-shiny teak floors. A spacious living area leads to a decked terrace, where morning dips in the plunge pool are followed by a spread of freshly cut fruits and pillowy buttermilk pancakes. By evening Teppanyaki serves up shanghai noodles flame-cooked in front of diners' eyes – a delight for younger guests.
Wind down with beach walks to lyrically named Flic and Flac (just don't make the mistake of going at high tide), where queues form at crimson-coloured paratha stands and Mauritian rap blares from rum-fuelled surfside parties. Back at the hotel, days are easy with snorkelling trips across the reef tide to spot dancing damselfish or a restorative massage in the pagoda-style spa pavilions. Some resorts can be overkill with the number of daily activities, distractions and group fun on offer, but Maradiva proves that sometimes less is indeed more.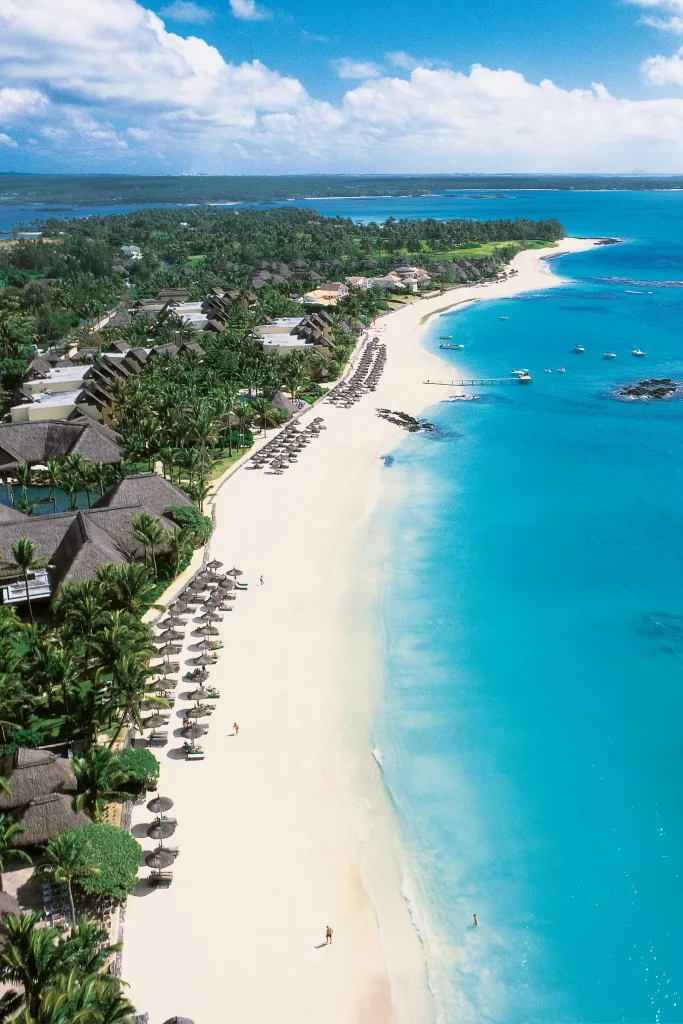 Constance Belle Mare Plage
Some think golf is a good walk spoiled, and for some, it is bordering on a religion. Luckily, Constance Belle Mare Plage caters seamlessly to both. On an east coast dominated by a roll call of famous resorts, it is easy to spot from afar. The minutely manicured green glints like a sea of strewn emeralds. At the reception, rows of golf bags give the game away, as does the sea of jaunty polo shirts. For those who prefer to be a spectator, take a pew at green-side restaurant Deer Hunter for palm heart and tuna salad alongside a glass of hunky South African Floreal and possibly, an actual deer, who come to sup at the water features at night.
It also attracts serious oenophiles. Head underground to its smart wine-focused Penny Blue restaurant for robust ribeye and pistachio flecked terrine or travel through an unknown region in its chilled tasting room under the watchful eye of its friendly sommelier Sunil.
Owned by Mauritian brand Constance, a sense of homegrown pride is instilled in every corner, from the gardens bursting with Fleur de Lys du pays lilies, to the hands-on butler service in the villas. Regular rooms are closer to the hotel's hubs, but the villas are vast, bi-level and come with homemade cakes, a pagoda overlooking the pool (providing top Zoom background brags) and bamboo and teak daybeds. Skip the gym and borrow a tennis racquet instead for some dusk rallies or for some downtime, hit the serenity pool, where Wellness Wednesday encourages guests to leave phones in rooms and have a digital detox.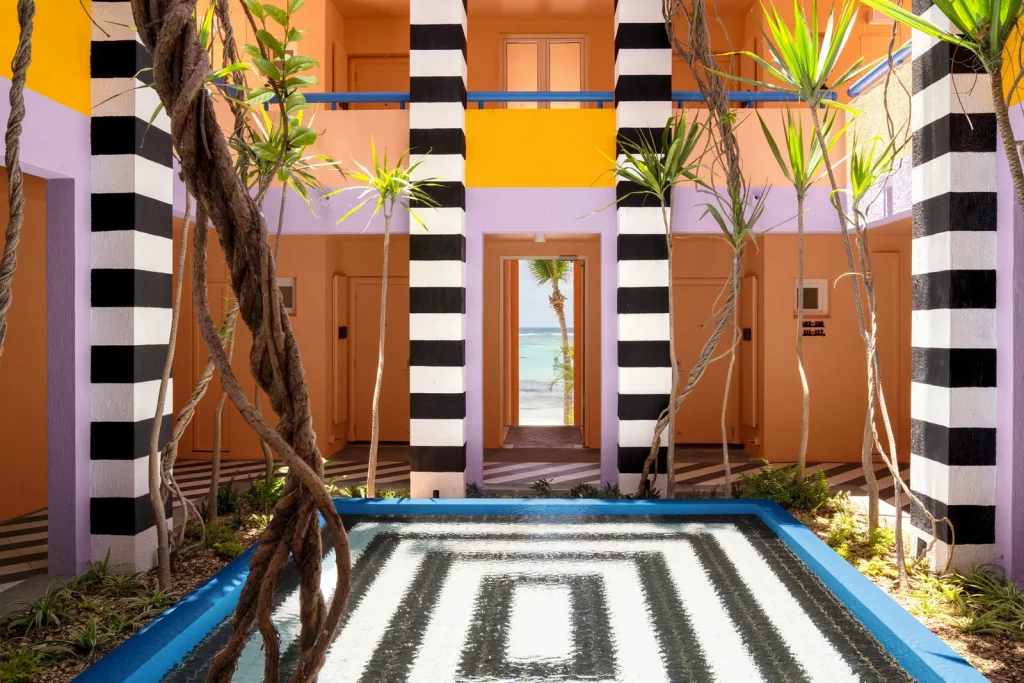 SALT of Palmar
With its hipster poolside crowd supping local Flying Dodo IPA and Memphis movement-style murals adorning the walls, blink and you could be in Miami or Tulum. The zenned-out paddleboarders in the bay and sun-kissed patrons congregating around the slow-drip coffee machine give it the air of a zeitgeisty surf hotel (without the surf).
Designer Camille Walala has crafted a new narrative around this adults-only hangout, basing her motifs on the islands' technicolour houses and emerald-green sugarcane fields. Its locavore and sustainable credentials pervade all elements of the hotel. The store's rough-hewn ceramics are turned by the hand of local artisan Janine – one of the many trips on offer is a morning spent in her studio. Tea and coffee in rooms come in mason jars and bags are made from recycled bed linen; instead of mini sewing kits in rooms, spindles of multicoloured thread and needles are kept in the hotel shop for guests to help themselves. The earthy spirit can be overkill – after check-in, guests are encouraged to do five minutes of meditation with the Salt buddy, which isn't for everyone; but its innovative spa offers minutes rather than treatments – so 60 minutes could buy anything, such as a 15-minute facial and 45-minute massage.
The peachy-hued dining space houses communal tables under rattan lamps, where no beef is served (very un-eco as it has to be imported) and 35 per cent of food is vegan. Native vegetables such as jacuma and christophine slumber in pickling jars on shelves. Next door, the bar offers barrel ageing classes – we would cross continents again for a sip of their Oaktini, a rocket fuel meld of Bouganvillie rum, Drambuie, cinnamon syrup and Angostura bitters.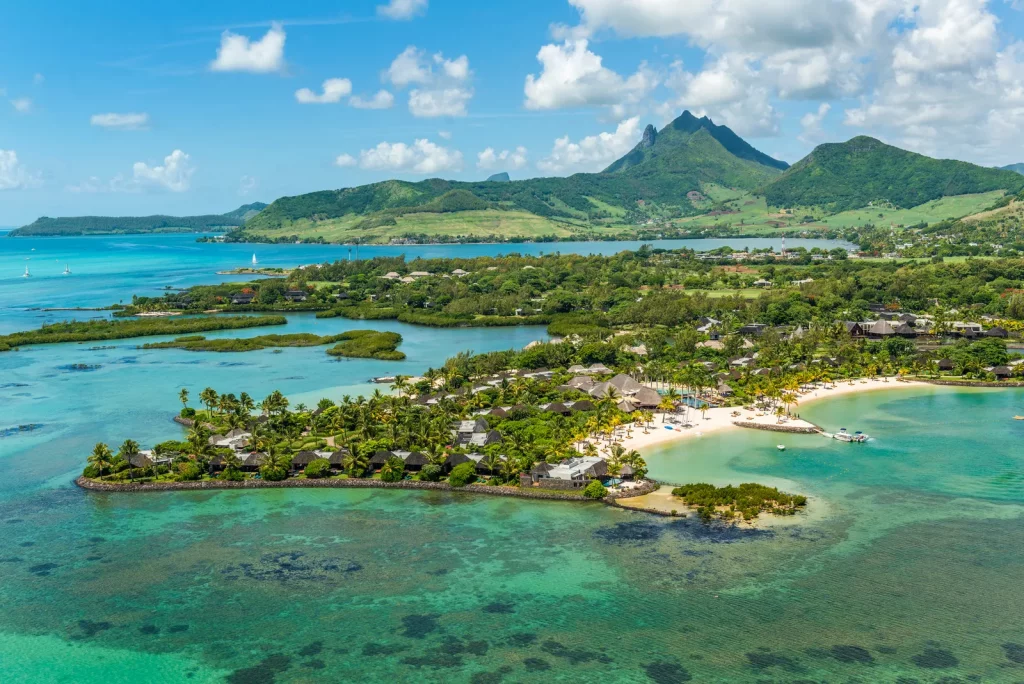 Four Seasons Resort Mauritius at Anahita
Entering the Four Seasons complex is like being transported into a sort of topical dreamscape. Crimson flame trees blaze impossibly brightly and waxen banana leaves dance in dramatic technicolour. Without even knowing a carsick child is arriving, a Mary Poppins awaits like some vision and whisks the baby away, returning her in freshly pressed clothes before you can say "Do Re Me". This is a serious, grown-up resort, part sculpture park, park botanical garden, with sleek modernist-style villas designed by local architect Macbeth. Lagoon-facing gardens bursting with saffron-shaded tecoma trees and illuminated ferns are serene and quiet, except for the odd thud of a falling mango (devoured quickly by dusk fruit bats).
It draws a big-hitting international crowd, where poolside children suck on local Gourmet Pops lollies and parents in matching kit head off to thwack balls on its famed golf courses. With bicycles for every guest, days are spent pedalling from beach bed to lunch perch to villa. Worth the journey alone is part-PT-part guru Amal who talks more about meridian lines than muscle form and correctly guesses the stresses of one's everyday life from mere manipulations of the head and neck.
A boat transfer away is their private Crusoe hideaway, La Plaz. Urchins are omnipresent – in the sea (they provide plastic shoes) and on plates, served fresh from the ocean with dashes of fresh lime. The bar has accents of a city speakeasy, with neat rows of dehydrated citrus and bitters, with barman Rambo cutting a dash in Hawaiian shirt and shades.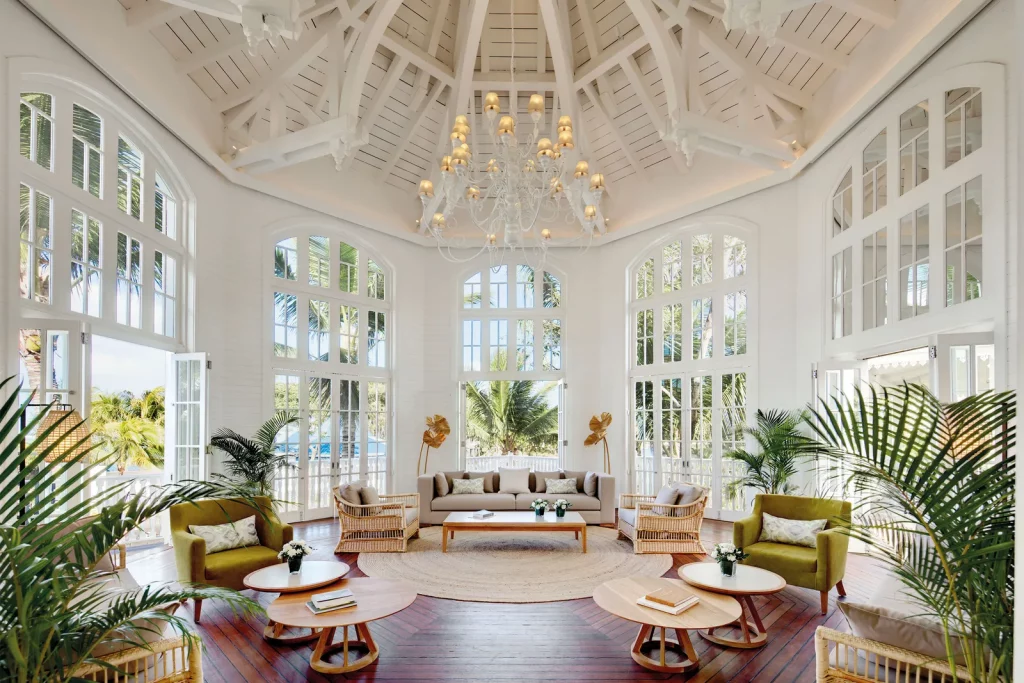 Heritage Le Telfair
With its incisor rocks, hiking trails and lush forests, the sylvan south is an adventurists' wonderland. Passing fishing villages and sugar cane plantations you arrive at Heritage – another whip smart independent local brand. This is the only place on the island with a creche as well as a kids club included in the price. In the baby room, infants sleep in neat rows in cradles like something from a Victorian sepia. From age three, they can head to the kids' club which comes with rabbits and melodious chickens.
A 2020 refit injected brightness into suites. Botanical prints adorn walls and Moorish-style tiles add flashes of colour in bathrooms. While the beach can be windy, two pools entertain the large smattering of local and international families.
Unmissable is Château Le Bel Ombre, their handsome Colonial-era villa with mahogany furniture and antique hand-painted murals overlooking the golf course. Its charming upstairs apartment is a time warp with creaky floorboards, a four-poster bed and a dining table large enough to command a cabinet meeting. Just don't bring the kids to this one – this experience is adults-only, and extraordinary value – £200 including supper for two and breakfast.