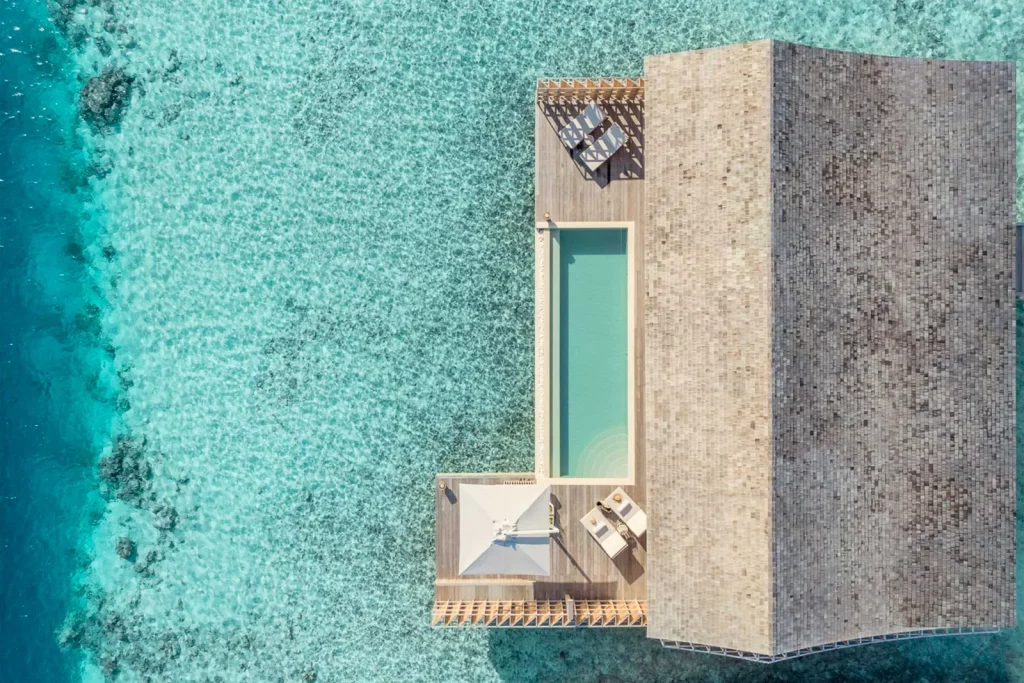 Kudadoo
If anyone understands what discerning visitors to the Maldives want, it's Lars Petre, the Swedish entrepreneur who not only developed the country's first sea-plane company but co-manages nine other island resorts. On Kudadoo, he has created the country's first solar-powered hotel and its first all-inclusive luxury hotel – all off a tiny coconut-forested sandbank. Arranged around a circular wooden walkway out at sea, its 15 rooms conjure spacious Japanese ryokans – designed by New York-based architect Yuji Yamazaki from soothing wood, stone and reed-thatch, and fronted by a wide deck, plunge pool and ladder into the swirling blue sea. When Petre says 'all-inclusive', he means it: whether that's two-hour Healing Earth treatments in the airy spa, a butler 24/7, jet-skiing and deep-sea fishing, or feasts involving fine wines (80 from Wine Spectator's Top 100 list) and impeccably presented dishes, from light Japanese teppanyaki to Maldivian seafood curry, concocted by French chef Antoine Lievaux, who has worked for Joël Robuchon and Alain Ducasse. Unusually, thanks to the 989 solar panels that roof the airy living area, there is not a single generator to be heard; just a gentle lap of waves on the beach, and the occasional thud of a coconut.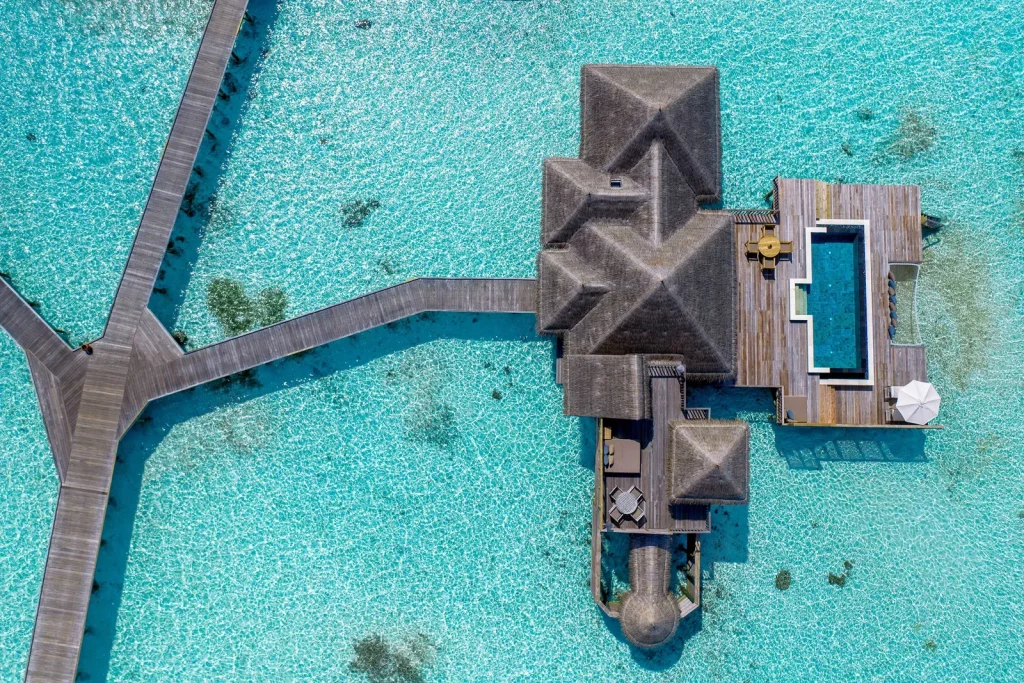 Gili Lankanfushi Maldives
When this spot in the North Malé atoll came into existence just over 20 years ago (originally under sustainability hero Soneva's wing), Malé's international airport was barely more than a tin shed, postcards were the main mode of communication and most islands were without regular electricity. The pancakes of sand surrounding the capital were about as isolated a destination as travellers could get to. Now, Gili Lankanfushi is considered within easy reach (just a 20-minute speedboat transfer), yachts and seaplanes criss-cross the ocean and sky from morning until night and the neighbouring islands have street lights and a Coca-Cola factory. But relax, some things never change.
This hotel is still set in one of the most eye-wateringly beautiful lagoons in the country, a vision of broad white beaches, shape-shifting sandbanks and waters that dance from peacock green to sapphire blue. All the villas here are stilted over the water, keeping the island wild and the beaches on full dazzling display. When fire ravaged the resort in 2019, it was an opportunity for renewal. Interiors were redesigned, with hand-made wooden furniture and woven lampshades sourced from sustainable suppliers in Bali; bathrooms are stocked with organic potions and reef-safe sunscreen. For the ultimate Do Not Disturb energy, maroon yourself in one of the clapboard Robinson Crusoe villas, cast out on the edges of the lagoon reached by a little pontoon, where you can lie on your rooftop deck tracing the spine of Scorpio across the night sky.
Putter back to the island and there's sunrise yoga; beach and jungle restaurants where ingredients come fresh off the boat or pulled from organic gardens; and expert therapists from Thailand, Bali and India at the Meera Spa. Baby coral being grown on ropes in the house reef will eventually be replanted in the sea in a bid to create reefs that are more resistant to climate-change bleaching (they also work as an underwater hammock for a big green turtle that stops by most days). Gili Lankanfushi has been working on its coral programme for seven years – it was championing sustainability long before it became a literal hot topic. And it's for that reason, as much as the dreamy location and impeccable service, that it still stands head and shoulders above the crowd.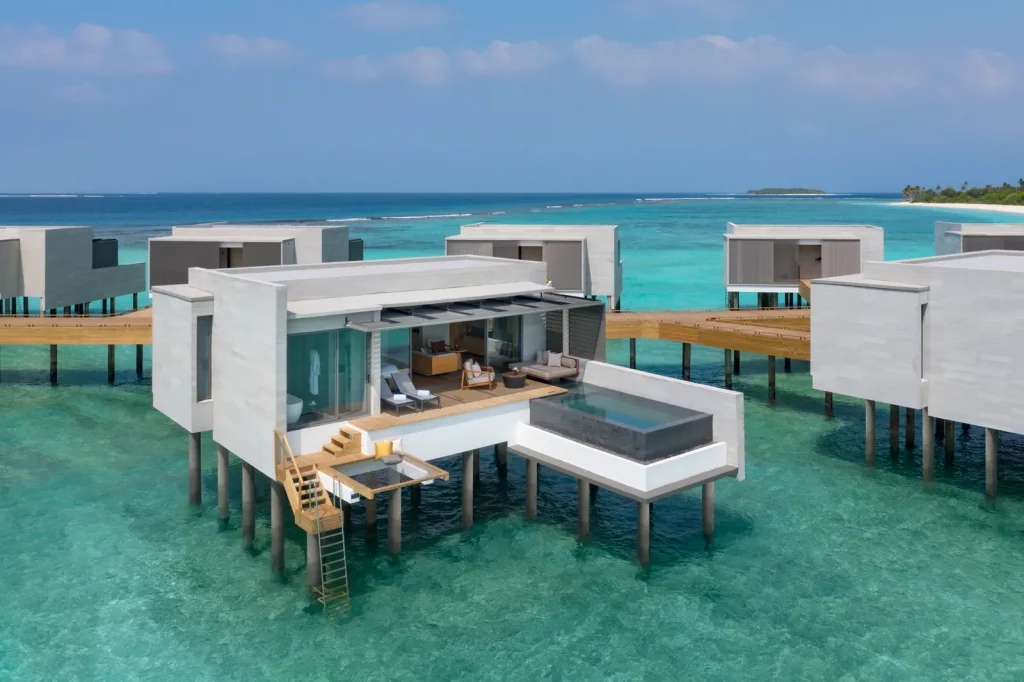 Alila Kothaifaru Maldives
Joining an already spoiling choice of luxury hotels dotted on white sand beaches in the turquoise-hued Indian Ocean, this recent addition holds its own due to top-notch service and a very 2020's clean-lined, sparing design. Just 80 villas, split between over water (sunrise or sunset) and beach (properly hidden from each other by leafy vegetation) are supported by two restaurants. Sea Salt overlooking the sleek infinity pool and Ocean beyond where locally caught fish comes baked in sea salt or in a curry leaf bisque and Japanese-inspired Umami where melt-in-the-mouth Wagyu beef comes in Teriyaki style. There is a spa, with the treatment rooms elevated on stilts to sit in the canopy line of the banyan and Indian almond trees, giving a calming, cocooning effect and there are a variety of experiences from coconut tastings to snorkelling among lobsters and turtles on the house reef.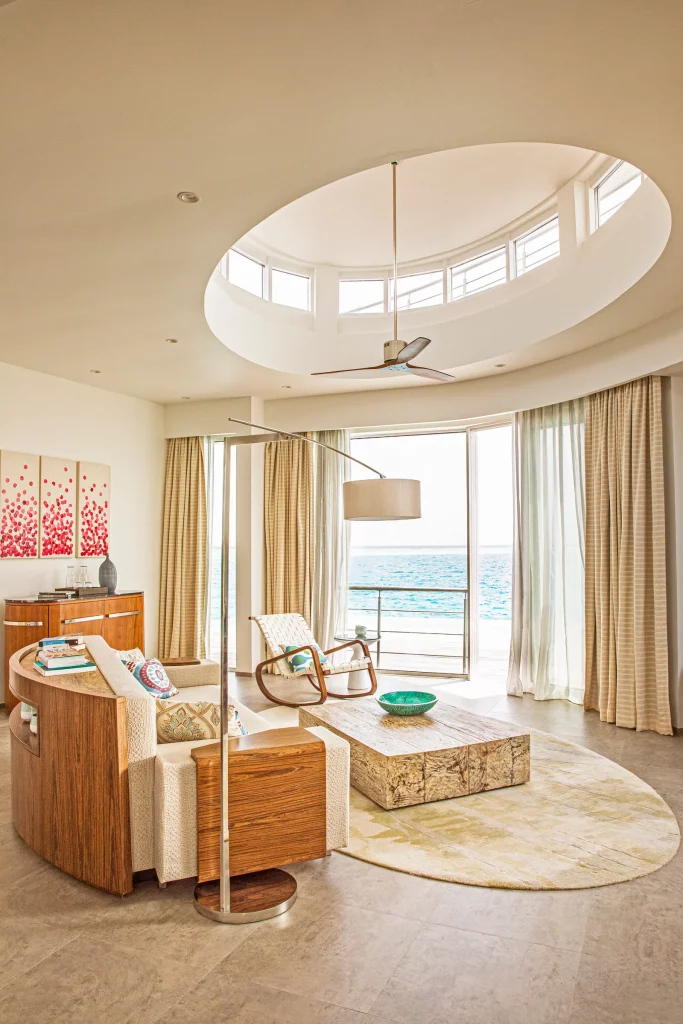 Jumeirah Maldives
A thrilling speedboat ride from the airport, on the edges of the tranquil North Malé Atoll, is where Jumeirah have chosen to make their return to the Maldives (having pulled out of the country in late 2020). The island of Olhuhali was formerly inhabited by Lux* North Malé and the Dubai-based hospitality group has stuck with the original's sleek South Beach Miami design while adding their own distinctly glitzy touch, from monogrammed bathrobes to new restaurants and live bands you really want to listen to. The 67 villas are some of the largest entry-level villas in the Maldives and come in overwater and beach flavour. The former have knee-trembling sunset views; the latter are more private; all have masses of outdoor space, big private pools and splendid rooftop decks for stargazing and outdoor movie nights. Bathrooms are decidedly modern and concrete, and have tubs that sink down deep in that way only hotel bathtubs ever do.
The sapphire-blue pool has pops of red and an ice-cream cart straight out of South Beach, while the Barium private dining room has aquariums for walls. And then, well, there is Inti restaurant where the eye-roll-inducingly fresh ceviche blows the typical menu of grilled fish out of these turquoise waters. The surrounding corals aren't in great shape due to climate change (something that's becoming more and more of a problem across the Maldives) but you can hire a jet ski in the morning and hang out with 100-strong pods of bottlenose dolphins catching breakfast just outside of the lagoon. This is a place where the children of families who used to come to the Maldives every year are now choosing to return to themselves as grown-ups.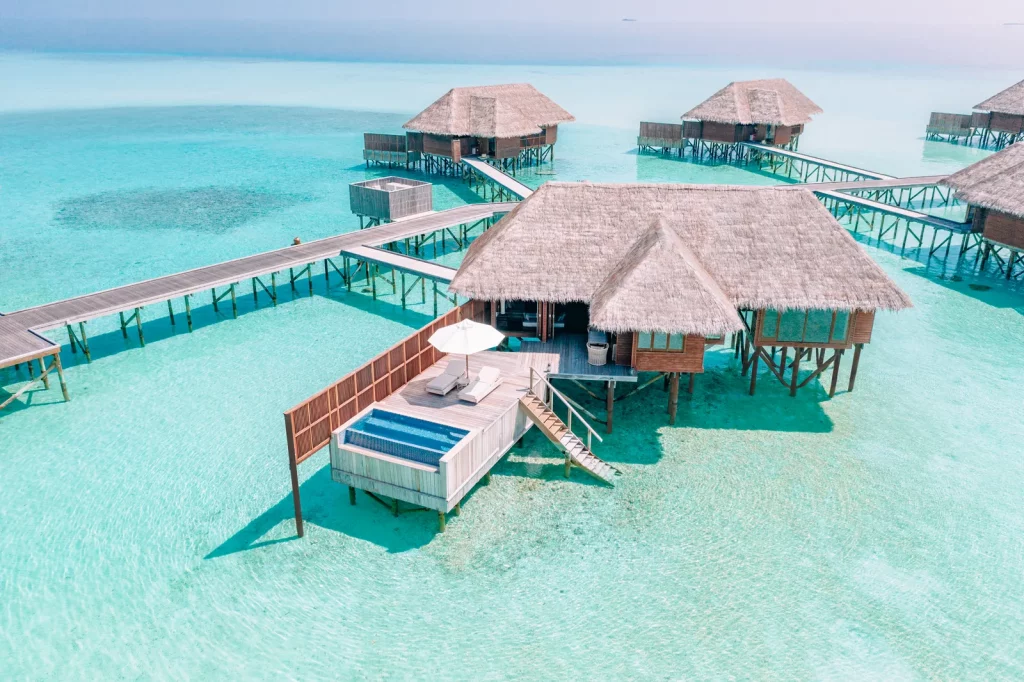 Conrad Maldives
Having staked its claim on the beautiful all-natural twin islands of Rangali and Rangali Finolhu over a quarter of a century ago, the Conrad's location remains one of the best of any resort in the Maldives – with long, broad stretches of sand wrapped around both jungly islands and manta rays pirouetting in the channel between. But there have been changes afoot: the installation of The Muraka (the world's first underwater hotel suite) in 2018 was followed by a revamp of the cathedral-like beach villas in 2019, while the water villas got their turn this year. New chef Christian Pedersen has breathed new life into all 12 restaurants. From the sand-between-your-toes breakfast to the healthy seared scallop and asparagus salads to the tasting menus at underwater restaurant Ithaa, his food never fails to impress. Resistance is futile but you can work off any excesses by paddle-boarding around the lagoon staring at shimmering parrotfish and sashaying reef sharks through a mesmeric turquoise lens.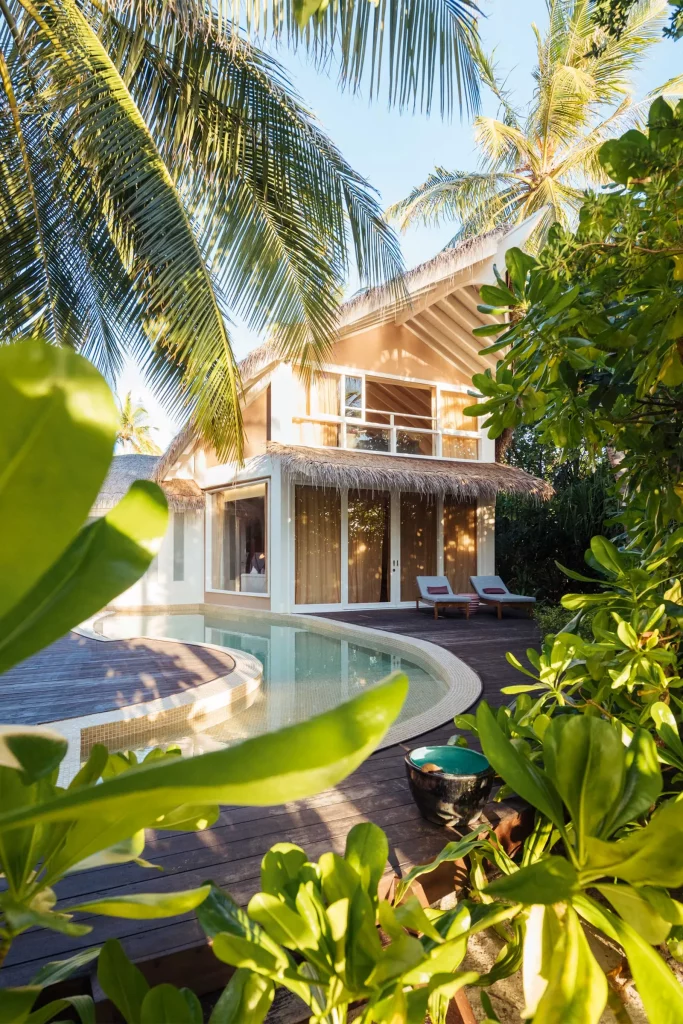 JW Marriott Maldives Resort and Spa
There isn't a hibiscus out of place or a palm that hasn't been preened at this Indian Ocean version of the white-picket perfection of the Hamptons. It's set in the far-northern Shaviyani atoll – where the neighbouring islands are mostly undeveloped – so the seaplane transfer, at around an hour, takes a little longer than most, but the pay-off comes in the form of never-ending horizons, uninterrupted expanses of sea and crystal-clear night skies. It takes about 20 minutes to walk from one end of the island to the other, which makes it medium-sized by Maldivian standards.
Offshore there's a large house reef – although the corals aren't in the best shape (a jarring reminder of global warming) – but you can still see large white-tip reef sharks, moray eels and clouds of shoaling fish. For bigger marine thrills, the dolphin cruise yields sightings of thousands rather than the usual handful in less remote waters, or join a fishing expedition in search of sailfish the size of schoolchildren. The Shaviyani atoll is mega-fauna central. Back on dry land, there are two main swimming pools, a glass-encased spa, a gigantic kids' club and 60 pool villas, shaped like upturned galleons. Skip the tightly packed overwater variety and plump for one on the sand instead, where each sits on its own spacious bougainvillaea-veiled plot, just feet from the ocean, and the duplexes, with their upstairs dens, are excellent for families.
Inside, the decor strays from the traditional Maldivian teak-chic, favouring muted shades of blue textiles and amethyst-topped tables. Among the five superb restaurants, lunchtime-only treetop Kaashi is a standout for authentic Thai, and there are three bars: one by the Missoni-striped swimming pool and another serving 98 types of rum inside a treehouse overlooking the beach. While there aren't many surprises, this is an ultra-slick take on the tropical paradise blueprint.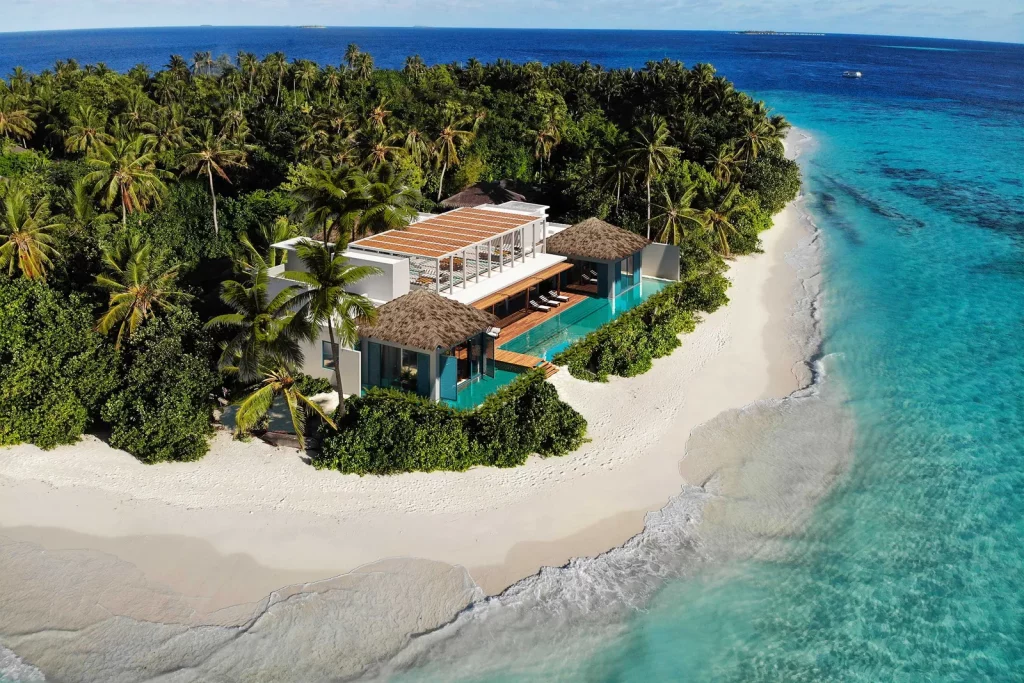 Raffles Maldives Meradhoo
What could be more lovely than a stay at Raffles? How about a stay at Raffles by the beach? So far south its skimming the equator – the delicious remoteness is well worth the longer transfer time – this tiny island resort takes all the charm of its older Singapore sibling and fuses it with clotted-cream sands, raspberry sunsets and a coconut version of its famous Sling. Complimentary neck massages are doled out while you wait for breakfast (French boulangerie, Sri Lankan egg hoppers, detox juices) with your feet in the sand. Lunch could be catch of the day – smoked tuna, say, grilled with lemon oil. At the smart overwater spa, Balinese therapists perform signature massages that start with the hum of a Tibetan singing bowl and end with warm coconut oil being poured onto your third eye. And the marine life is so profuse you can spot an aqua-menagerie without even getting your feet wet (20 hawksbill turtles have been recorded as living around the island).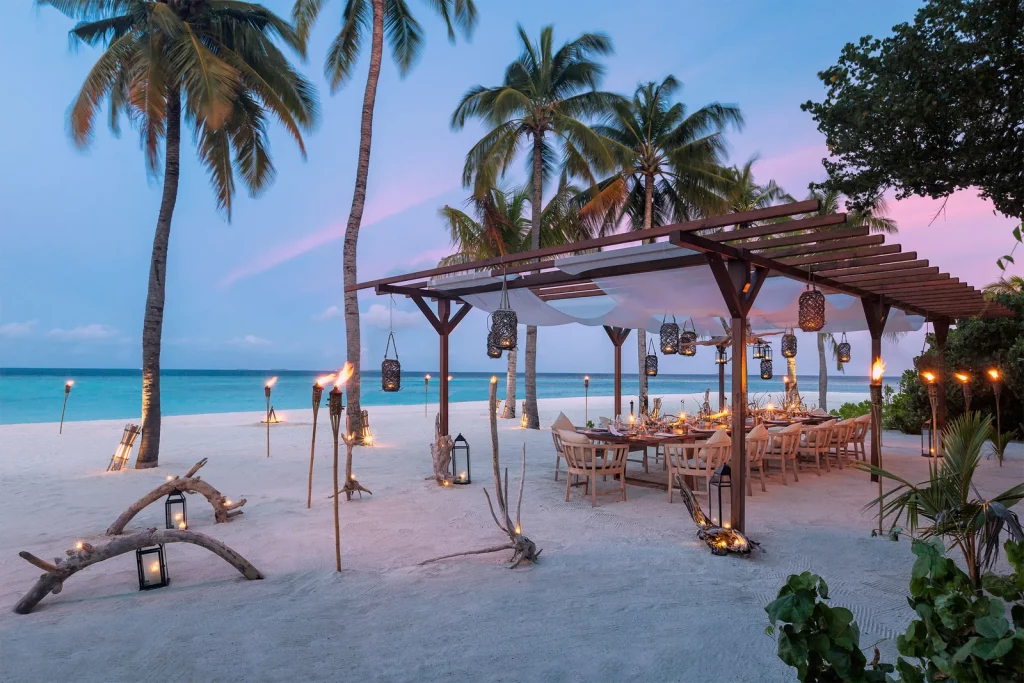 Hurawalhi Island Resort
It has the biggest underwater restaurant in the Maldives – and there are wonders on both sides of the glass. Hurawalhi is surrounded by no fewer than 50 outstanding dive sites, including one of the most reliable manta-ray hotspots in the archipelago, where you can marvel at the spectacle of these creatures lining up to be fussed over by lesser marine life. The 90 villas are compact and uncomplicated, differentiated only by their position and the presence or absence of a private pool. The two main restaurants and bar are airy spaces with soaring ceilings. Discreet touches – table-tops in a mosaic of petrified wood; transparent panels in the floor to allow fish-spotting – perk up the unpretentious design. Both the views and the menu (tuna carpaccio with pickled daikon, yuzu gel and shiso) at underwater restaurant 5.8 are deeply impressive. Another temptation is the small but splendidly stocked wine cellar, curated by managing partner Lars Petre, a pioneering hotelier and entrepreneur in the Maldives whose love of the islands is written all over his craggy Swedish face. But at Hurawalhi, it's what's below the surface that really counts. There's an inspiring young dive team – all of whom appear to speak half a dozen languages and hold higher degrees in easy-going charm – to help you into your mask and fins.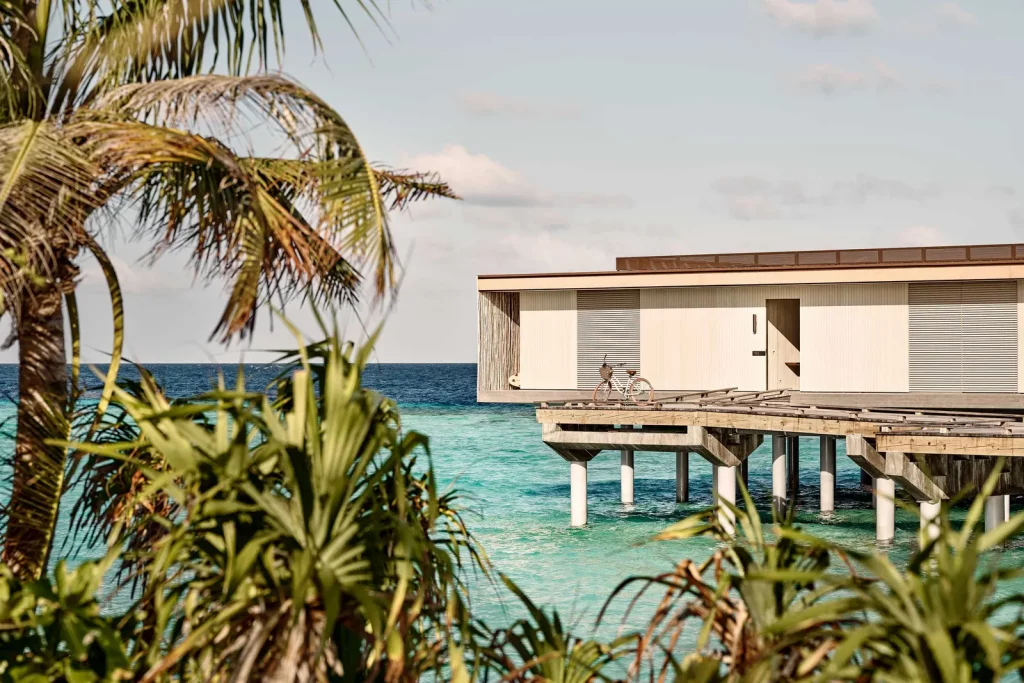 Patina Maldives
This is an island for aesthetes. One of the coolest, cleverest resorts to open in 2021 – even more of an achievement during a pandemic – and the first of a progressive new brand of hotels from Capella, which counts the Sir Norman Foster-designed Capella Singapore and Bill Bensley's Capella Ubud among its show-stopping properties. (Patina Ubud is in the works). Here, Brazilian architect Marcio Kogan has been handed the reins, designing his first hotel, and has come up with something that feels truly special, transplanting his take on tropical modernism to the Indian Ocean. In keeping with the movement, the architecture encourages interaction with nature. Long, linear wooden structures are open to the elements, and cooled by swirling fans and perforated screens, all chiaroscuro light and shadow. Custom-made furniture from Dedon and Paola Lenti sits beneath triangular sun shades strung between towering palms. Then there's the art collection, like a treasure hunt for grown-ups, with James Turrell's Skyspace light gallery the star attraction.
Yoga gurus from Rishikesh hold classes inside the installation in the soft morning glow. In the evening, when it's illuminated violet, the skylight frames the moon. The 90 pool villas aren't the largest in the Maldives but they impress in other ways, with glass walls that fully retract on three sides. In the bathrooms, there are exfoliating seaweed soaps from Haeckels and 3-D-printed vitamins appear on pillows instead of chocolates at bedtime. The Flow Spa is original too, with treatment rooms that look like sugar cubes tossed into the long grass. Hi-tech therapies – flotation pods, LED-light therapy, Iris sound immersions – are offered alongside deep-reaching rituals that might include an out-of-body experience in the watsu pool with Balinese healer Purnomo Diretno.
But the best part might be the eight bars and restaurants, each one exceptional. Patina, as well as the new Ritz-Carlton, are the first hotels built in the man-made Fari Islands in the North Malé atoll. With space at a premium, artificial isles aren't new in the Maldives – the Waldorf Astoria, Hard Rock Hotel and local Hulhumalé island are all also fresh arrivals. But at both resorts currently open in the Faris, serious sustainability efforts and conservation projects try to go a long way to mitigate any environmental impact of the construction. This is next generation Maldives so smart and thoughtful it's hard to believe it has only been around for a few months.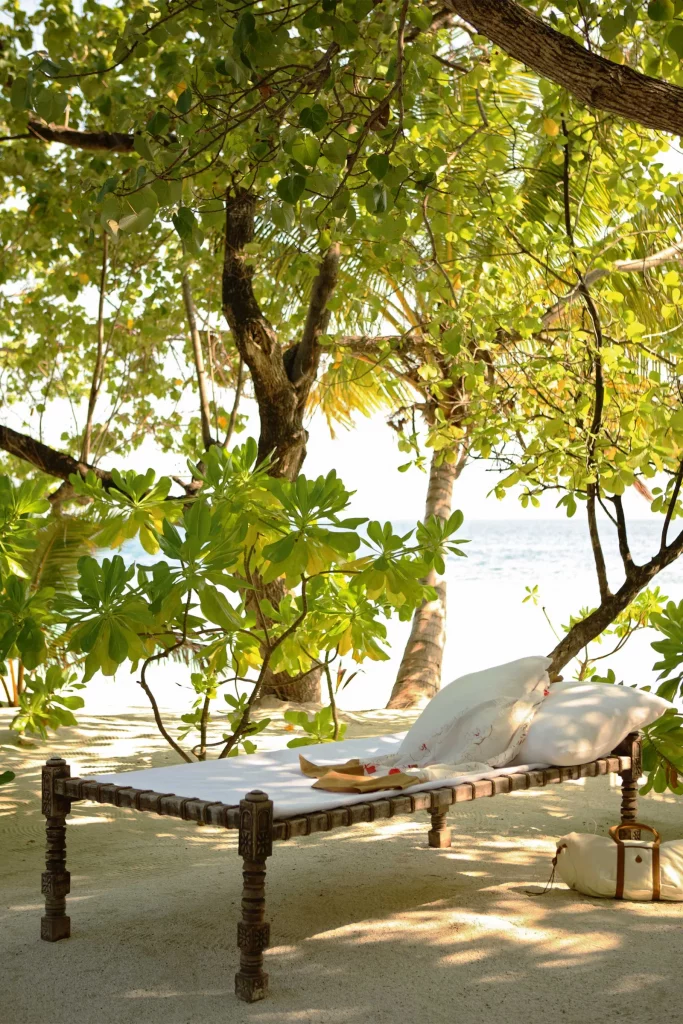 COMO Cocoa Island
Over its 20-year history, bigger, flashier resorts have tried to upstage little Cocoa. All-singing hotels with submerged spas, snow rooms and ice-skating rinks. But this living coral island, still in a plum, not-too-hectic spot in the often-busy South Malé atoll, 40 minutes from the airport by speedboat, has remained in the limelight precisely because of its gimmick-free simplicity. The newly refreshed overwater villas (34 in total, some shaped like Maldivian dhoni boats) are the epitome of less is more, with dark teak, crisp white walls and deep bathtubs. Compared to its Bali sibling, the sandy-floored COMO Shambhala spa here is less comprehensive, which feels like a bit of a missed opportunity, but the therapists are still top of their game and soothe, stroke and crush out every molecule of tension in the signature massage.
There's a new Pilates studio, where head-to-toe alignment programmes straighten out even the most pandemic-weary postures and new COMO wellness retreats are promised by the end of the year. For now, extra reinvigoration comes during an hour being pummelled by a dozen jets in the free hydrotherapy pool. But, of course, it's the Indian Ocean that's the main watery attraction and unlike a lot of the reefs that surround Malé, Cocoa Island's are colourful, varied and recovering well from the 2016 worldwide bleaching event. You'll also spot octopus, lobster, lionfish, reef sharks and amber-eyed hawksbill turtles – take a trip with Aminath Angeela (a rarely spotted Maldivian female marine conservationist) to learn more about rising sea temperatures and coral regeneration. In keeping with the low-key vibe, there's only one restaurant, but the food is always enticing. There are coconut smoothie bowls for breakfast; proper pizzas and lobster rolls for lunch; and an Indonesian feast or a surf 'n' turf barbecue come evening. Plus, the same thoughtful, delicious wellness menus you find at every COMO hotel. Peaceful, pampering, smart but unpretentious: this is the essence of what a Maldives hotel should be.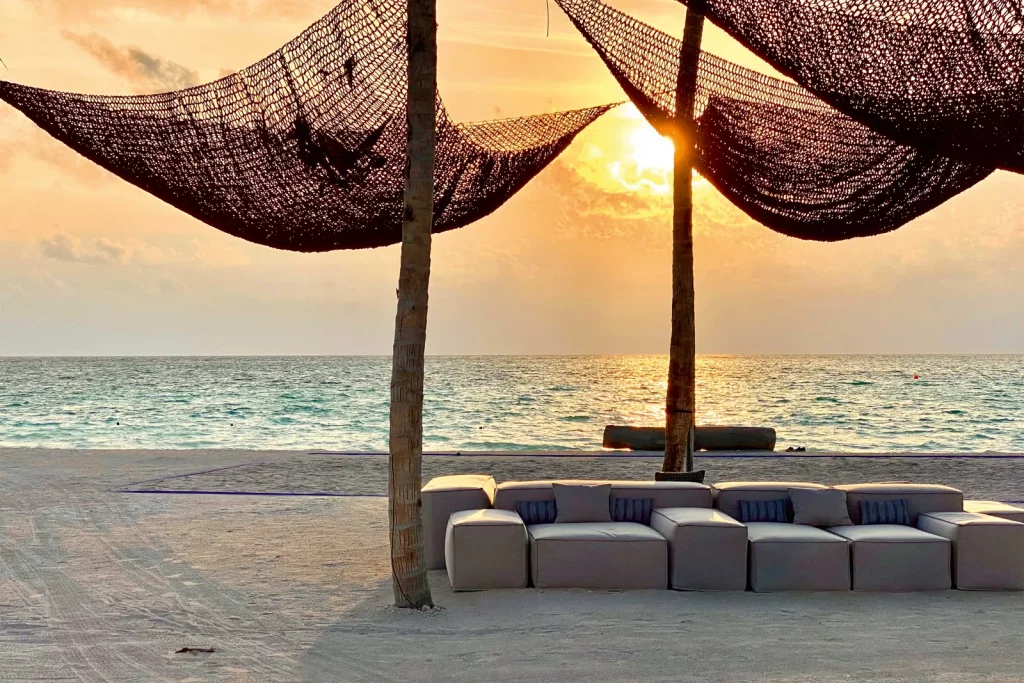 The Ritz-Carlton Maldives, Fari Islands
Design in the Maldives has been slowly dismantling its thatched- roof image, and The Ritz-Carlton continues the trend thanks to the studio of the late architect Kerry Hill. Its 100 contemporary circular villas are scattered above the water and up and down a stretch of beach. Each is polished, pared back and pulse-slowing, with glass doors that open onto half-moon decks, teardrop-shaped plunge pools and the high-definition blue of the ocean. The rest of the resort, by contrast, feels a little conservative, if still beautiful. Most of the action is confined to the island's southern tip, where there's a gym and photography studio, plus a watersports centre (with the usual kayaks, SUPs and windsurfing) and a large kids' club with dancing fountains hidden in a Teletubbies-style mound of grass. This is also where you'll find Jean-Michel Cousteau's Ambassadors of the Environment programme, the only one in the Maldives, staffed by marine biologists who are monitoring sealife with underwater robots and airborne drones, in addition to guiding guests.
Head out snorkelling with them at night for spooky encounters with nurse sharks, unfurling feather stars and bioluminescent squid. At the showpiece restaurant Iwau, knife-juggling chefs prepare pretty nigiri rolls and just-caught lobster, but there are six more restaurants to choose from, including one in a Bedouin tent and a food truck in the Fari marina. One of the island's luxuries is its space (which is why Ritz-Carlton ended up opting for this man-made spot), giving guests with less tolerance for lazing about plenty of opportunity to cycle around on bicycles. Another is the timber-clad spa in the middle of the lagoon – look out for stingrays hovering below on your walk to a treatment – offering therapies by British brand Bamford. Ritz-Carlton is known for its classic, old-school luxury, but here is an exciting forward-looking update.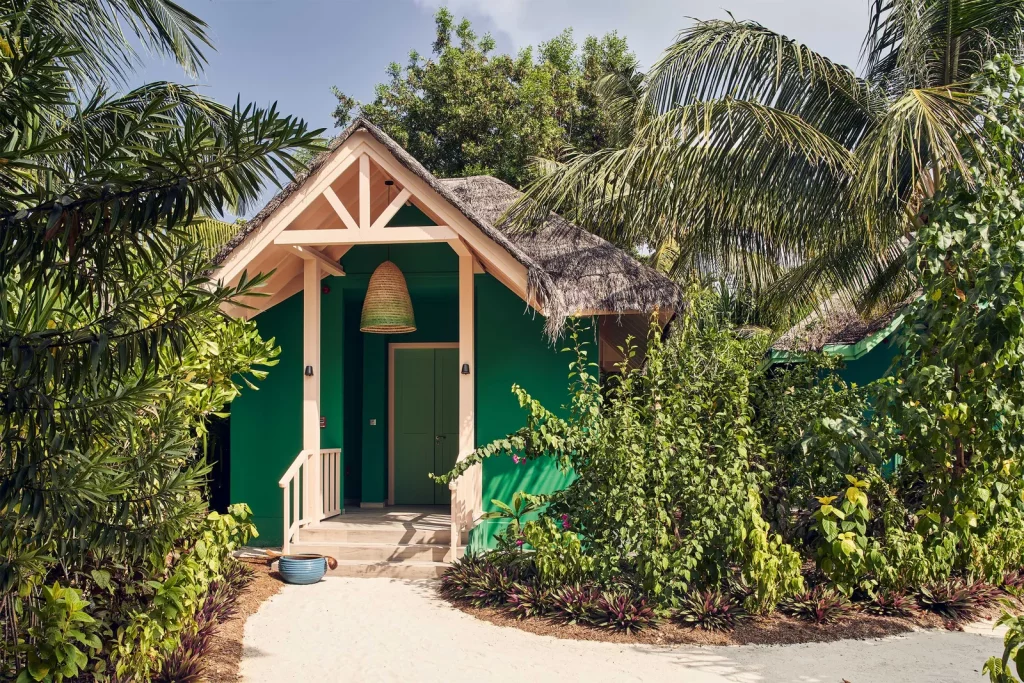 Finolhu Baa Atoll Maldives
Not all Maldivian islands are made equal; some only have natural beaches along one shore, the other eroded away by the sea. Not here. From above, Finolhu looks like a comet shooting across the heavens, its tail formed by a 1.2-mile platinum sandbank. If resorts here were ranked solely on their beaches, Finolhu would be on the medal table (along with Kanuhura and The Residence at Dhigurah) purely because there's so much sand. And the marine life is just as magnificent. There are dozens of exceptional dive sites within the hotel's orbit, including caves haunted by barracuda, kaleidoscopic gardens of hard-tree coral and Hanifaru cleaning station, where hundreds of manta rays come to be preened by little blue wrasse (visit between May and November for the best chance to swim with them).
Almost as exuberant is the hotel itself, which emerged in November 2020 under new management and with a fresh look. Out went the Seventies design in favour of a mood board of colour, with 125 villas kitted out in electric blue, sherbet yellow or lime green. What remains, however, is the Ibiza-in-the-Indian-Ocean vibe; for the full effect book a Rock Star Villa with its giant disco ball and cocktail bar (and a golf buggy decked out like a mini Rolls-Royce). Food at the five restaurants is good, if less dazzling than the rest of the place; the premium all-inclusive option is especially good value, covering everything from wagyu steak in Japanese restaurant Kanusan to post-workout protein drinks at the Milk Lab café and Taittinger Champagne from the bar. And the weekly list of activities runs from the standard yoga and beach volleyball to acrobatic shows and mermaids in the swimming pool. Many hotels have tried to bring the party to the Maldives – Finolhu hits the sweet spot between indulgent fun and carefree affordability.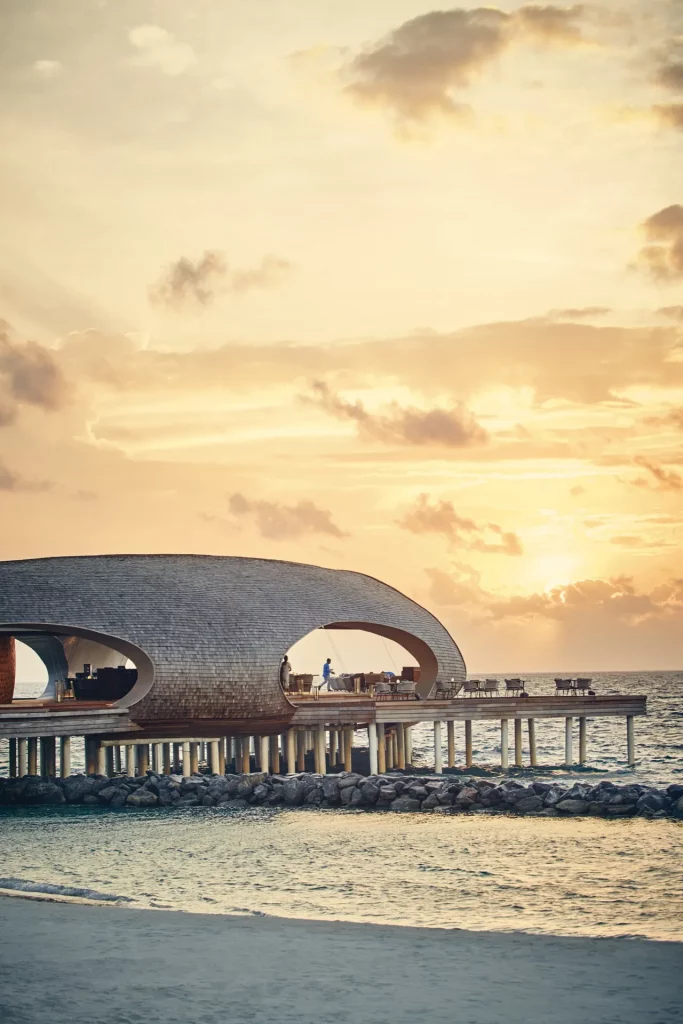 The St Regis Maldives Vommuli Resort
The retro-futuristic design at Vommuli might have been inspired by The Jetsons. It looks like a vast docking station for flying saucers – all the more wonderful for being made entirely of wood. A Space Age vibe pervades the interiors too, with modular ceiling lamps that resemble chemistry diagrams and translucent bathroom surfaces lit from below. Though the house reef is excellent, there are enough distractions on dry land to keep you occupied for weeks. Of the half-dozen superb restaurants, the most charming is Cargo, a street-food emporium in a ship's container – as if it had simply washed up on shore and been taken over by castaway hawkers of the Michelin-starred variety. The largest of the 77 villas – the biggest in the Maldives – is the John Jacob Astor Estate, named after the chap who built the original St Regis hotel in New York. Surely he'd approve of Vommuli. All the signature St Regis touches are here – the butlers, the grand staircase, the mural in the bar, the Champagne sabrage ceremony. There's even a riff on the classic Bloody Mary, served in a seashell and renamed the Island Mary. If fancy cocktails in novelty vessels are not your thing, consult the wine list. Among other treasures, it contains a 1775 Madeira. Uncork it on the west-facing deck of The Whale Bar at half-past five and settle in for one of those transcendently beautiful Maldives sunsets. The tab for the nectar is 41,000 Yankee dollars. The sunset is on the house.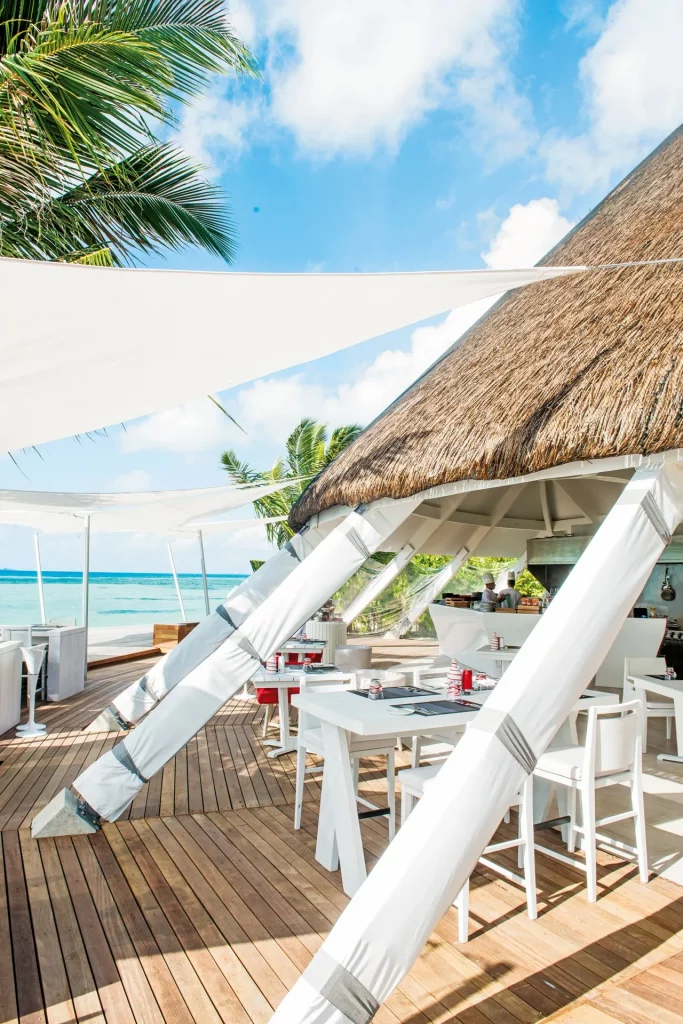 Lux South Ari Atoll
Fresh from a total overhaul, this revamped island has 193 villas, both on the beach and on two jetties (one of which is adults-only), with vaulted white ceilings, grey wood-effect ceramic floors and tree-trunk furniture. Many of the over-water villas are brand new, the spa is bigger and the interiors have been smartened up. There's a mellow beach-club vibe throughout, with bicycles to nip between the two bars at opposite ends of the three-kilometre-long island: one more chilled beside the pool, and the other, livelier, with colourful reclaimed wooden tables, a reggae soundtrack, surfboards propped against the wall, and inflatable swans standing by to drift about on the sea. There's coffee – roasted on-site – in reception, an ice-cream parlour with 32 homemade flavours such as bubblegum and pistachio, and live DJs at Beach Rouge, one of the six restaurants, including Allegria for Italian dishes and Senses for Indian.
The expanded spa offers yoga in a grove of palms, or on stand-up paddle boards (great for strengthening the core), as well as a tennis coach for private lessons and a marine biologist to take guests swimming with whale sharks in a protected area. Frequent pop-ups include a mixologist making Aperol cocktails at East Point, an open-air cinema on the beach – and the sudden appearance of a rack of Panama hats guests can borrow. It's impossible to miss home, but just in case, there's a red telephone box by reception for free old-school-style phone calls. This hideaway, above all, is incredibly fun.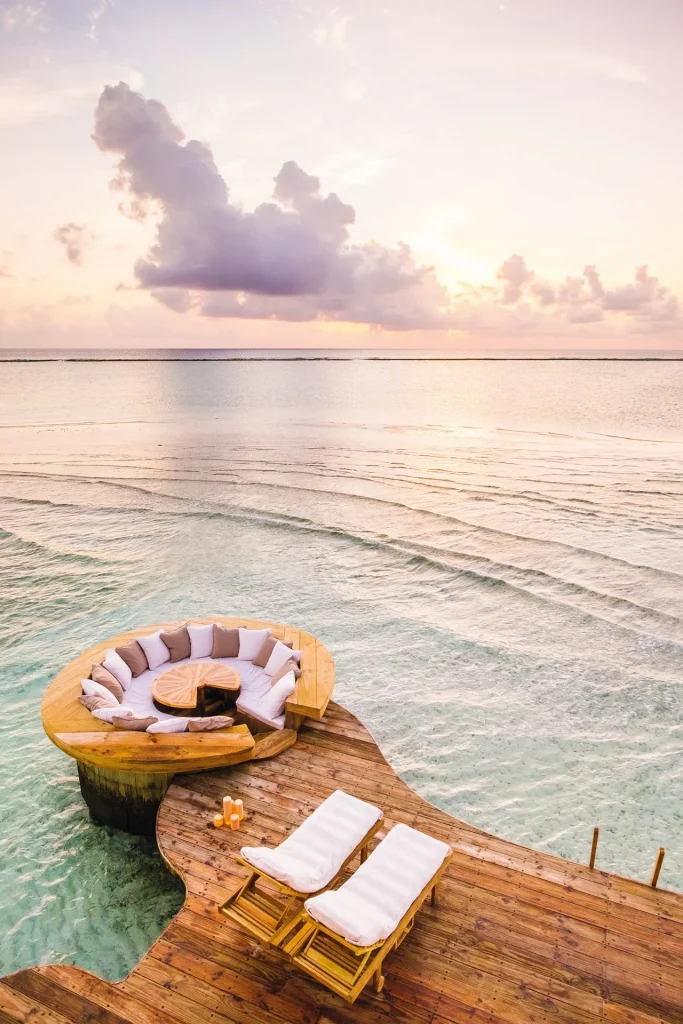 Soneva Jani
The pioneering Soneva team, the first to introduce over-water villas to the Maldives as well as a strong environmental code and a determination to disconnect from the noisy outside world, brings us its third property. What sets Soneva Jani apart is that it is actually made up of five little islets in the Noonu Atoll. Snaking off the biggest is a 1.8 km jetty with 24 over-water villas, each one bigger than some hotels (the largest can fit a family of 10). And later this year there will be an equal number of beach villas hidden in the forests of screw pine, banyan trees and sea trumpet. A second island is home to the cute-as-pie tented restaurant hub, serving everything from grilled seafood to freshly baked pizzas. But the other three will remain undeveloped, so there will always be somewhere to play castaway.The scale of the villas is extraordinary: built using wood from sustainable plantations and crafted in great sweeping curves, they are a charming jumble of pitched roofs and rondavels with fairy-tale turrets, ladders leading into the Indian Ocean and portholes in floors to reveal marine life below. Retractable ceilings above beds unveil a starry night sky. There's a bar and wine-tasting space, spa, gym, yoga studio and a phenomenal kids' club, which takes an inclusive approach, helping families holiday together. You'll also find an observatory with a telescope and live monitors that share the view through the eyepiece. Cycle across the island to the open-air, floating cinema, where guests wear Bluetooth headphones to avoid disturbing the turtles. Of all the openings in the Maldives, this is the drop-dead gorgeous one, with the best villas, best service, best green credentials and best vision.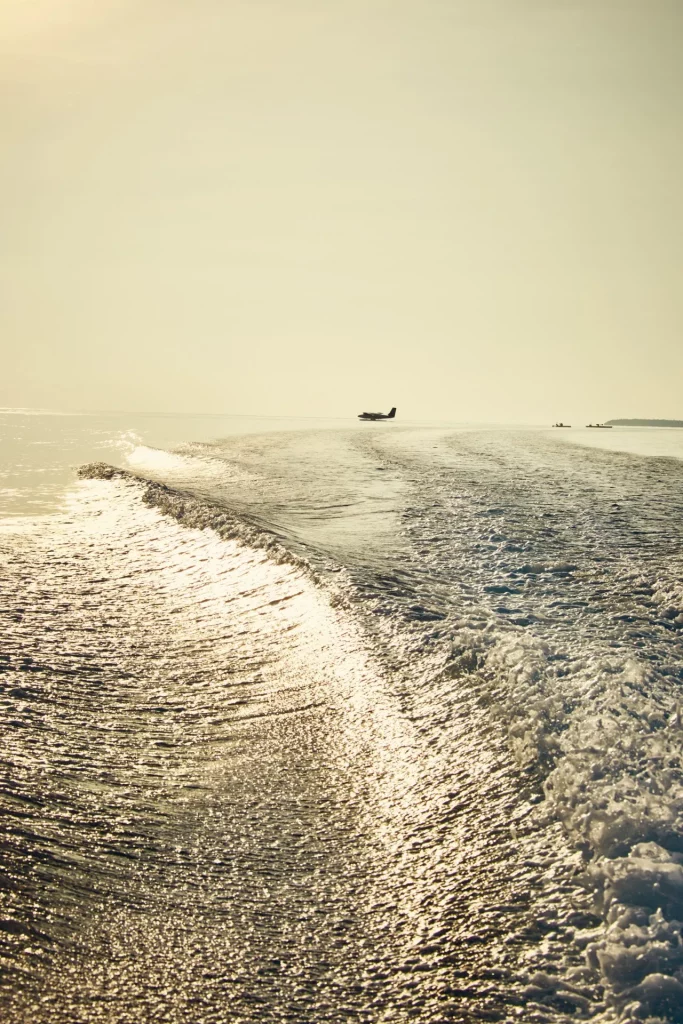 Drift Thelu Veliga Retreat
On one side of this island retreat – a circular hectare bisected by a sandy path lined with banana trees and bougainvillaea – is an open-air thatched bar, restaurant and water sports; on the other are the villas and a tiny but brilliant spa. The 10 beach and 20 over-water villas are simple and rustic, with apple-green, wood-panelled exteriors, coconut-leaf-thatched roofs and wicker sun loungers on the terraces (but no televisions, as the point here is to unplug). An early riser can practise hatha yoga with Rasmika Sahan before a snorkelling trip nearby (although the house reef is a treat too, with angelfish and baby blacktip sharks). Serious foodies might find the nightly buffet a tad repetitive, but it is, nevertheless, delightfully laid-back, carefree and barefoot. There are also beach barbecues and Sri Lankan feasts under the eye of chef Chaminda Udabage, who cooks up his homeland favourites of fish curries and dhal. This is a small, unhurried, good-value island aimed at those who spend their days drifting between sun beds and the ocean.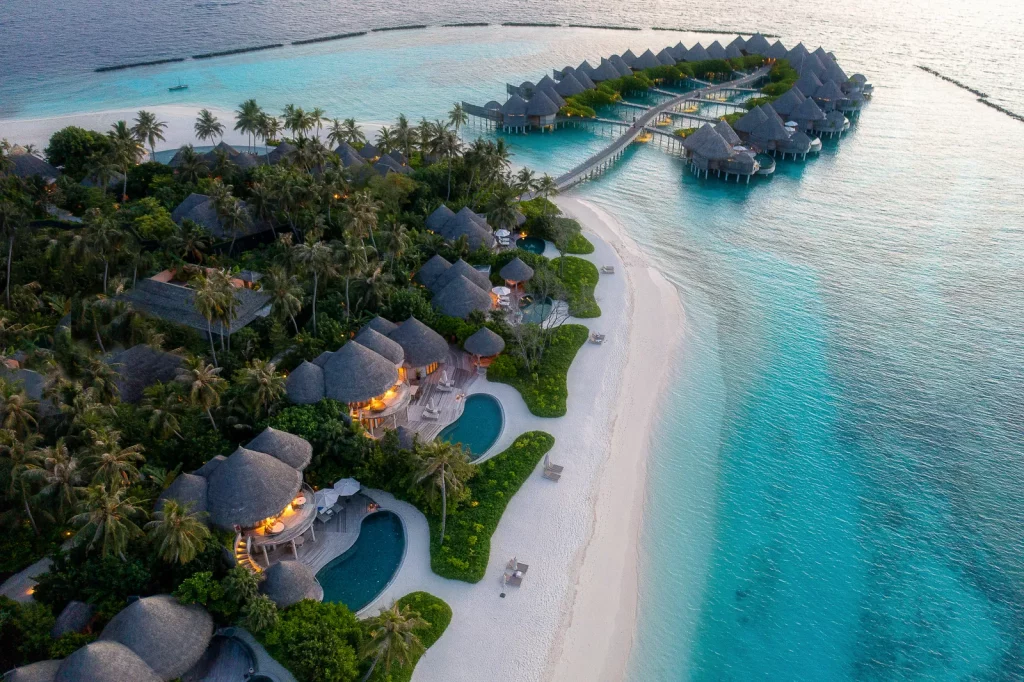 The Nautilus
If city living is all about the lean-in, the Maldives is for the recline. Named after Nemo's submarine, the Nautilus private-island retreat of 26 overwater and beach houses has maxed out on relaxed luxe. Sitting above the indigo Baa Atoll and its eddying UNESCO biosphere reserve of pale sandbars and just visible coral gardens, it's a place where schedules are decidedly lacking and guests duck in via seaplane or yacht to zone out. The USP here is that everything is fluid: unscripted dining means scallop carpaccio or oyster ice cream at 5am if you wish. Waterborne adventures are impromptu, too, with watches and iPhones swapped out for snorkels and paddleboards at any time. This is very much a barefoot-and-board-shorts hideaway, crisscrossed with polished hardwood walkways and lofty palms beside walls of fragrant clerodendrum. Only the arrival of whale sharks and manta rays on their May-December migration provides a discernible sign of time passing. Unusually for hotels in the region, the Nautilus is independently Maldivian owned, and is designed for the next generation of smart travellers who are seeking out the latest go-with-the-flow modern boho experience.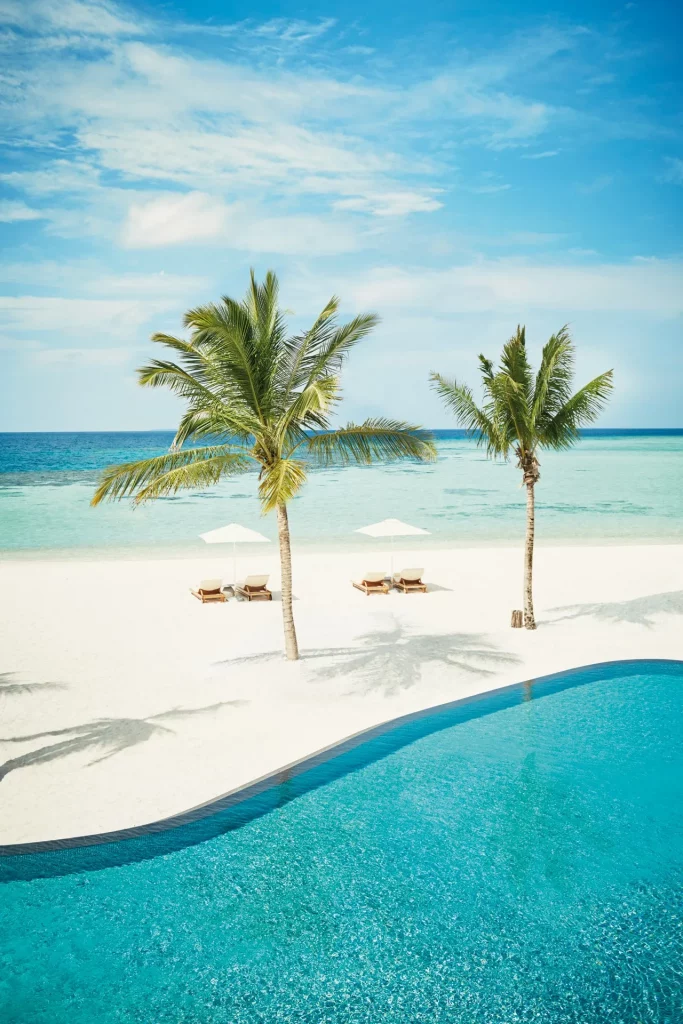 Four Seasons Maldives Private Island at Voavah, Baa Atoll
Wide-brimmed straw hats off to the Four Seasons. With this five-acre, seven-bedroom, profoundly private island it has raised the proverbial bar. (While the group was at it, it probably got its design team to take another look at the bar and turn it into something more pleasing to behold, pleasant to touch and practical to use. It's what the Four Seasons does.) How much or how little you make of Voavah is likely to be your main – your only – concern. There's no shortage of possibilities. It's all yours. You've got the splendours of the Baa Atoll lapping at your shores and your own yacht on which to explore it. You've got your own dive centre and every beach toy known to man-child. Not to mention your own spa, the immaculate Ocean of Consciousness (surely missing an 'un'), and 28 staff dedicated to making your life as agreeable as possible. There may be no better circumstances in which to simply retreat to a shady spot with a book and give everyone the day off.
The place looks great and feels great too. The juxtaposition of smooth and rough textures, and traditional and contemporary materials, is brilliantly managed. Voavah is where woven seagrass met diamond-polished concrete and fell hopelessly in love. The muted palette of the interiors may at first appear unduly subdued – until you realise that what seems like conservatism is really a form of reverence. It serves to draw your eye outwards, back into the sublime, saturated colour and endless space of sea and sky beyond.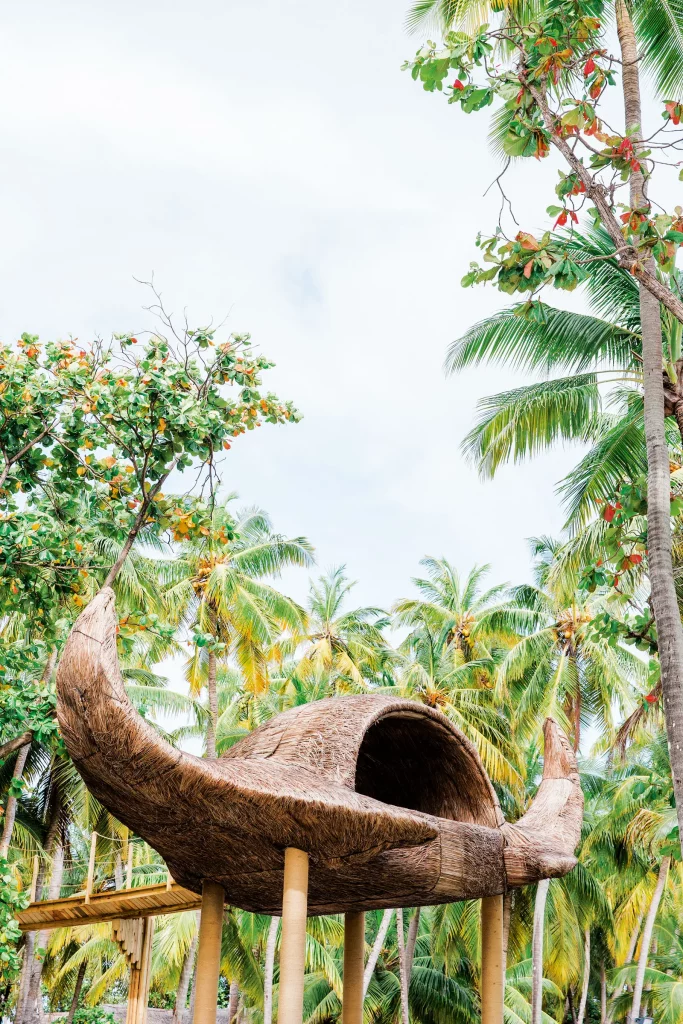 Joali
Renowned Istanbul-based design studio Autoban (behind London's Duck + Rice, the extraordinary airport in Baku and numerous hotels in their hometown such as the House Hotels and the Witt Suites) were commissioned to come up with something fresh and different at Joali. The design details in the overwater and beach villas are beautifully curated. Locally hand-carved wood panels and bamboo-slatted headboards are counterbalanced with rose-gold bathroom taps resembling giant pebbles. In the dressing rooms you'll find heron-and-palm-leaf printed kimonos by Ardmore and slippers like chubby clouds.Joali is a hybrid of the best that the Maldives has to offer. Turn up barefoot at Mura Bar for a sunset Martini, a buttermilk-chicken slider and a shisha pipe. Or get dolled up for dinner at Japanese restaurant Saoke. It's this deep-rooted, solid luxury, without the slightest hint of dictating who guests should be, what they should wear and how they should relax, that immediately aligns Joali with the frontrunners. For Maldivophiles, here is a worthy winter-sun detour that is every bit as high-achieving as some of the beloved old-timers and big-name brands.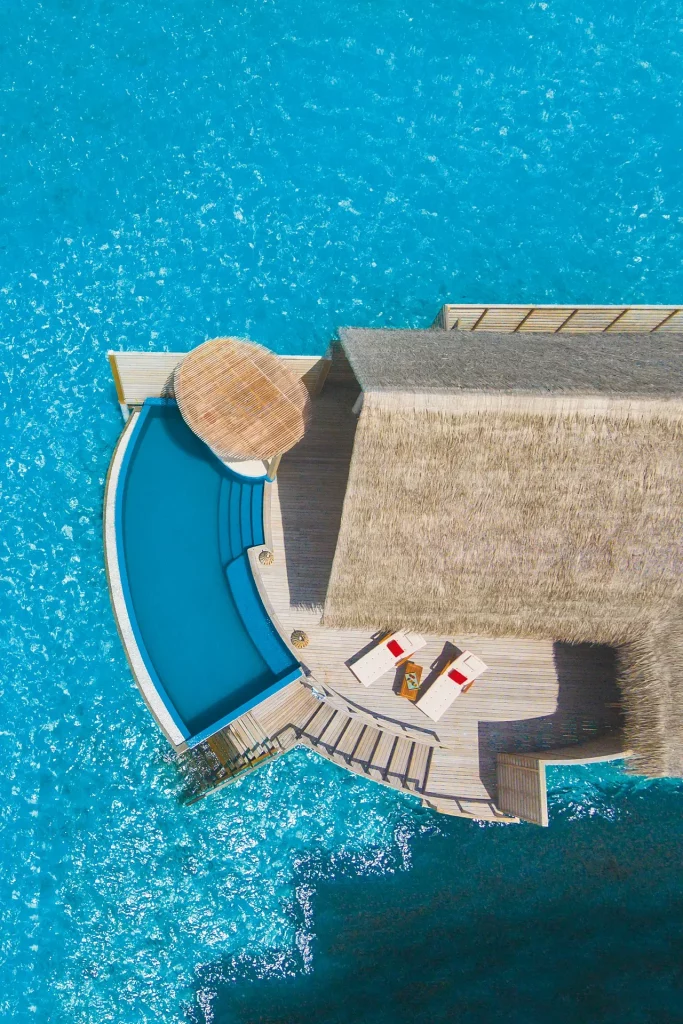 Milaidhoo Island Maldives
A wonderful reminder of the joys of getting back to basics. Milaidhoo gives classic Maldivian island style a refreshing contemporary twist. Understated, refined and properly spoiling. The 50 villas are enlivened with deft decorative flourishes – the vivid blue-on-blue accents and curvaceous lines of the Beach Pool villas, in particular, display great charm and panache. The island is small enough to get around without a buggy, so you can put a little of the barefoot work back into the enjoyment of barefoot luxury. Milaidhoo's location in Baa Atoll – a UNESCO Biosphere Reserve with the world's highest concentration of manta rays – is a huge plus. Nearby Hanifaru Bay is to ray fanciers what La Scala is to opera buffs. A snorkelling, diving or sailing expedition, especially in the company of the resident marine biologist, is likely to be as instructive as it is beautiful – the sort of experience that could alter a person's entire attitude towards the oceans. The signature restaurant, Ba'theli, serving Maldivian and trade-route-inspired dishes in three cleverly interlinked dhonis, is a show-stopper. No less intriguing is the Deep Sleep Mood Menu. Four courses contrived for maximum soporific effect (passion-fruit-and-green-tea soup – who knew?) are served on your candlelit terrace. Ideally, it will be preceded by a spa treatment and followed by a meditation session and herb-infused bath. A bedtime story and glass of warm milk, though surely unnecessary by this point, could no doubt also be arranged.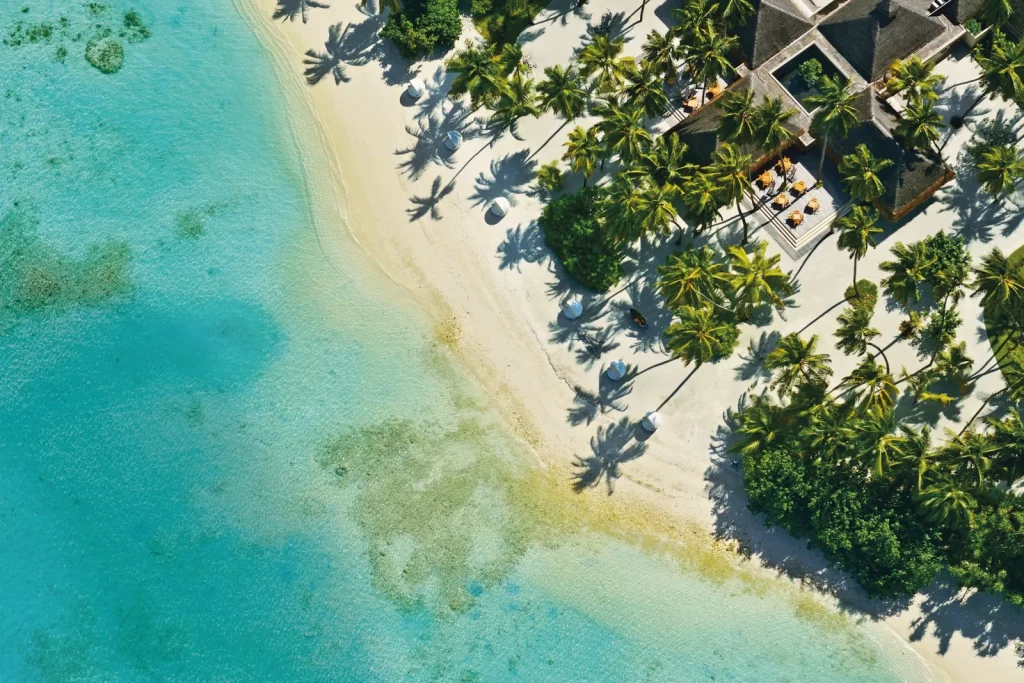 Ayada
At 15 hectares, Ayada, on the southern rim of the Gaafu Dhaalu Atoll and just 30km north of the Equator, is big enough to get lost on, and the more walking or cycling about you do, the more surprises keep popping up. Take a stroll after dinner (there are six restaurants) and… hello, what's this? A wine-and-cheese station for a glass of rouge and a sliver of brie while sitting on a bench fashioned from a fishing boat. Or as you head off to Zuzuu (the kids' club), you might stumble across The White Room, a part-colonial, part-tropical folly (pillars and a thatched roof) of such kitschness, you half expect the ghost of Elvis to emerge in a white tuxedo. Or you could stop in at the Ottoman Lounge (a nod to Ayada's Turkish ownership) and settle in for a coffee with a squidge of Turkish delight and a shisha pipe. The Middle Eastern mood shimmies through the villas: a filigree lampshade here, a joss-stick there, a flounce of Turkish fabric over the bed. And there's a full-on Turkish bath in the spa. This far from Malé, there's not a hint of light pollution in the inky night skies; by day there are dive sites, snorkelling with whale sharks and (unusually for the Maldives) surf breaks.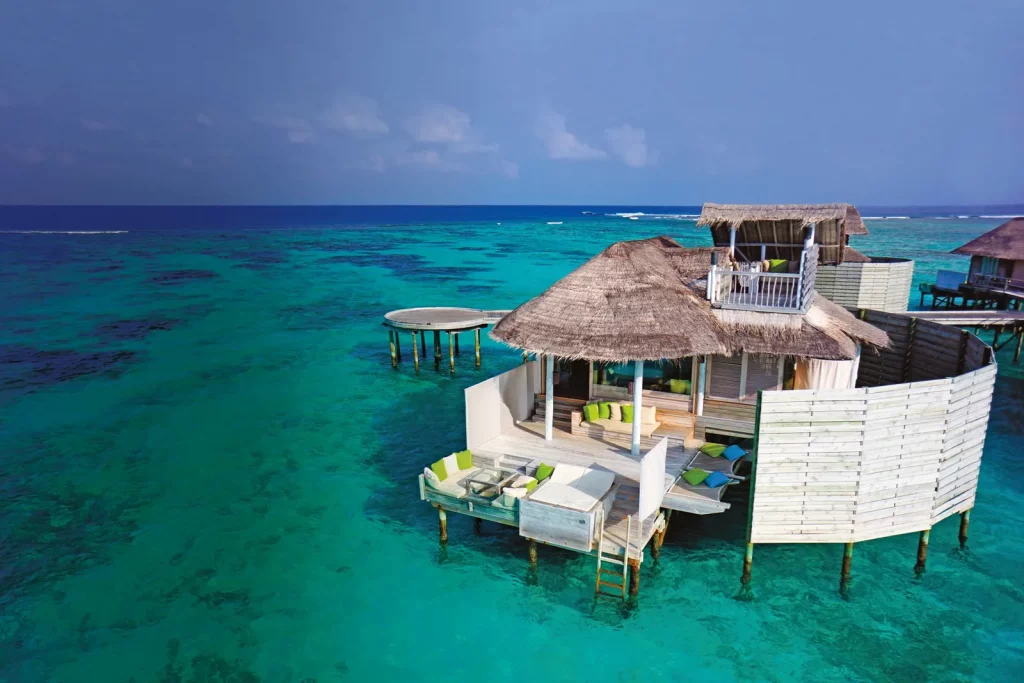 Six Senses Laamu
The Maldives is more famous for romantic sunsets than right-handers, but Six Senses – the only resort in the southern Laamu Atoll – sets itself apart from the fly-and-flop brigade with its Yin Yang surf break. There's also paddle-boarding and catamaran sailing, alongside the usual dive boats and house-reef snorkelling. With all that splashing about, you'll hardly notice there isn't a single swimming pool on the island. Its eco-agenda means that Six Senses does the at-times-clichéd Robinson Crusoe rustic look with feeling: to discourage the use of air-con, the beds are draped in gauzy white canopies and there are wooden slats in the walls to open at night and catch the breeze; the thatched roofs are also low-slung to keep things shady and cool. Even the twig pencils on the desk are responsibly sourced. Of course, there's no shortage of comforts – a 100-plus cocktail menu at the bar, a cheese-and-wine tower, a sensational sushi restaurant – but the vibe is very laid-back compared to some of the Maldives' more flashy resorts. And nowhere more so than in the spa, where it's all too easy to hole up in one of the thatched, nest-like pods for hours on end.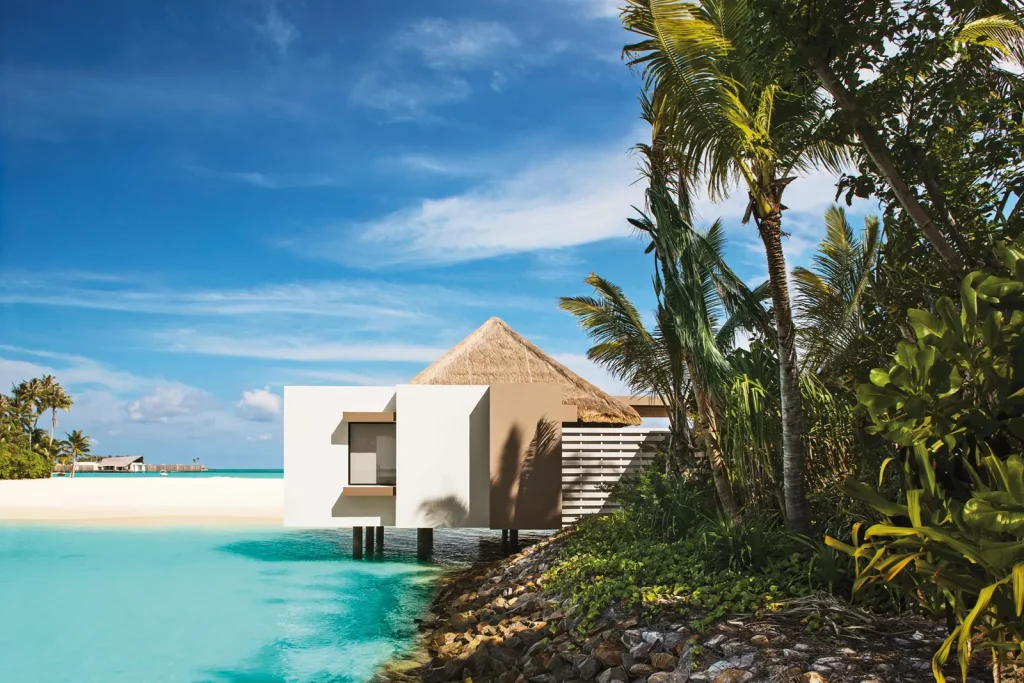 Cheval Blanc Randheli
Eight years after the first LVMH Cheval Blanc hotel opened in Courchevel (booked solid from day one) comes beautiful Randheli in the Maldives, designed by Jean-Michel Gathy, who also created One&Only Reethi Rah. Here he's used the same large-scale, cathedral-roofed template for the beach villas, and the detailing is superb. Those insouciant little armless sofas; that Vincent Beaurin lemon-yellow sand-disc artwork, which slowly turns as the weight of perpetually falling grains of sand rotate it; the square, slate-lined pool; the de Havilland seaplane bobbing in the water; the white bicycles for getting around; the taupe espadrilles in the villas' dressing rooms. It's all so chic. In the Guerlain spa, reached by dhoni, even a glance upwards from the massage bed prompts a smile in appreciation of the exquisitely woven rattan ceiling. Some bits grate: having to press a switch to open the villa front door from the inside, for instance. But from breakfast on the terrace – molten-centred brownies, celestial with a cappuccino – to the doll-sized mouthfuls on the tasting menu at Le 1947 restaurant, named after Cheval Blanc's most famous vintage, every element confirms this as the most sensational new resort in the Maldives.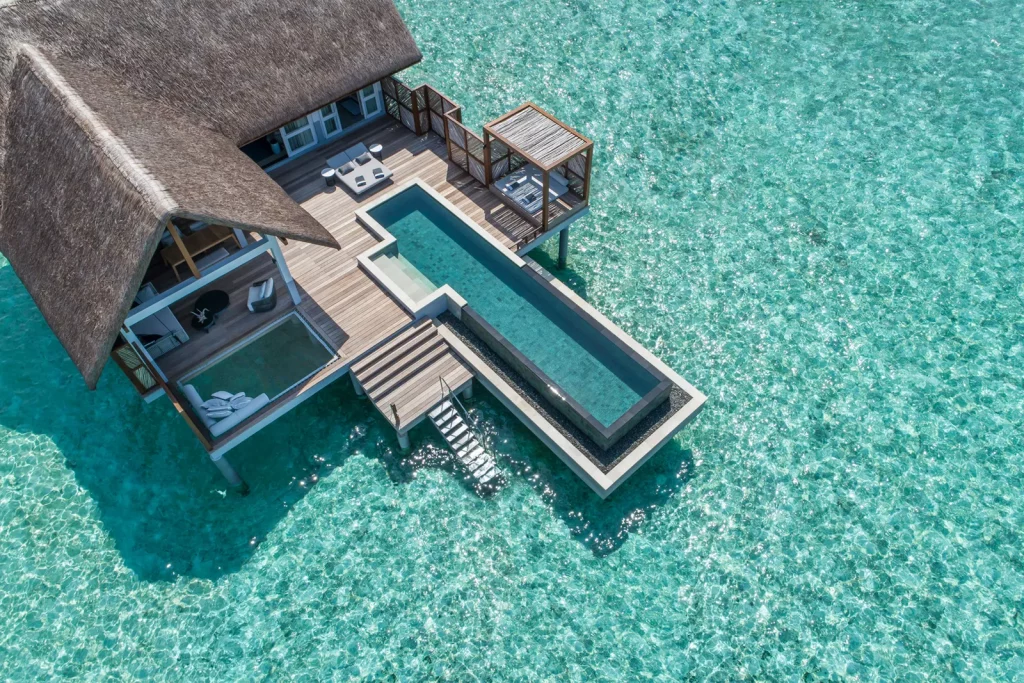 Four Seasons Landaa Giraavaru
Something to keep in mind when planning a holiday in the Maldives is that the remoteness once guaranteed by these faraway atolls can no longer be taken for granted. Resorts too close to the capital, Malé, may have views across to its high-rise skyline; others may have a neighbouring hotel within earshot or clear sight. But the gloriously isolated Four Seasons Landaa Giraavaru, a former coconut plantation, has no such problems. The villas are also big and well spaced for privacy, the food couldn't be healthier (catch of the day at Fuego Grill; Lebanese mezze at Al Barakat) and the spa is truly outstanding. Our 2020 Spa Guide winner for most meaningful experience, as well as overwater treatment rooms, it has a shady Ayurvedic area in a clearing, where prayerful therapists from a Tantric Ayurvedic centre in Indonesia administer rituals lasting hours. It's also set up to provide a restorative 14-or 21-day panchakarma cleanse, which takes pounds off like nothing else. The island's Marine Discovery Centre, run by a team of biologists whose main focus is manta-ray research, could get anyone hooked on the wondrous world revealed as one sinks below the ocean surface with a snorkel or tank.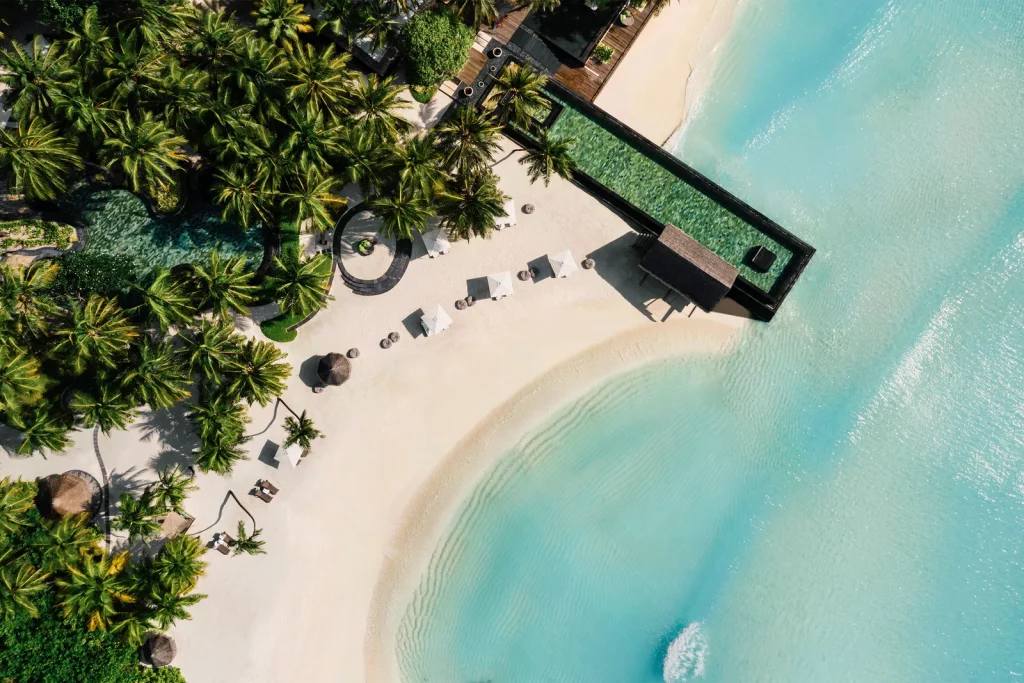 One&Only Reethi Rah
When you spot a woman in Prada getting off one of the seaplanes arriving at Malé airport, it's almost certain she'll have been staying at Reethi Rah. The hotel is deeply glamorous: guests dress up for dinner in its dimly lit, gently gleaming environs, and sometimes for breakfast, lunch and dive school, too. Super-smart, with its stone baths designed for two, often with a royal in residence (never seen but identifiable by uniformed bodyguards sitting outside the villa), this is an immense and hugely successful hotel, with 12 private beaches. There's a very Zen spa where you can fully detox, and an amazing teen zone with ping-pong tables and all kinds of watersports. Since it opened, a cookery school has been added and its overwater villas now have pools, but the beach pool villas are still the best: thrillingly big and impressive, they have wardrobes and shoe space to match.
Velaa Private Island
One of the most expensive resorts in the Maldives is owned by 42-year-old Czech billionaire Jiri Smejc, who asked his villa butler at Huvafen Fushi, Maldives to find him an island. He then hired a hot-shot general manager, Hans Cauchi from the Corinthia in London, installed his former butler front-of-house, and brought in 500 Czech builders for six months. The result? State-of-the-art boys' toys (not even glossy rivals Cheval Blanc or One&Only Reethi Rah have a Seabob or semi-submarine); a spa with expert therapists, an ocean-view sauna, snow room and snooze pod; a nine-hole golf course; tennis and squash courts; an extraordinary three-storey wine tower with a 6,000-bottle, £970,000 inventory (including a 1978 Romanée-Conti for £36,000); and Aragu, an overwater, open-kitchen restaurant and Champagne lounge with a Sri Lankan chef. Some design elements are a little retro: suede-effect giant-weave cushions; patchwork carpets; the hanging chair and three massive vases you have to dodge to get to the bath. But the outdoor bathrooms are quite wonderful, and four-bedroom villas plus top-notch security are great for those who must factor in space for the bodyguard and long-range-lens issues. Saudi's crown prince was among the first guests to arrive when the resort opened in December 2013.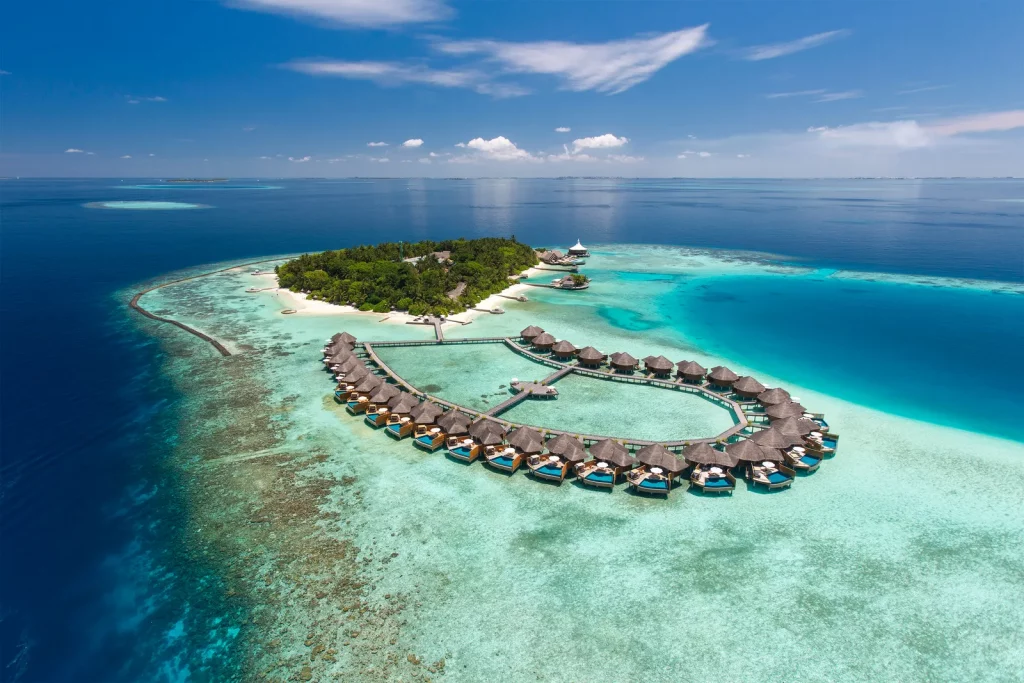 Baros
This understated, elegant resort has a loyal following. Among its most notable attractions are the cuisine (seafood at Cayenne Grill, Mediterranean at white-tented Lighthouse, informal meals at Lime) and the diving. Baros is home to one of the archipelago's original dive centres, as well as the first EcoDive Centre in the Maldives to be certified by International Reef Check.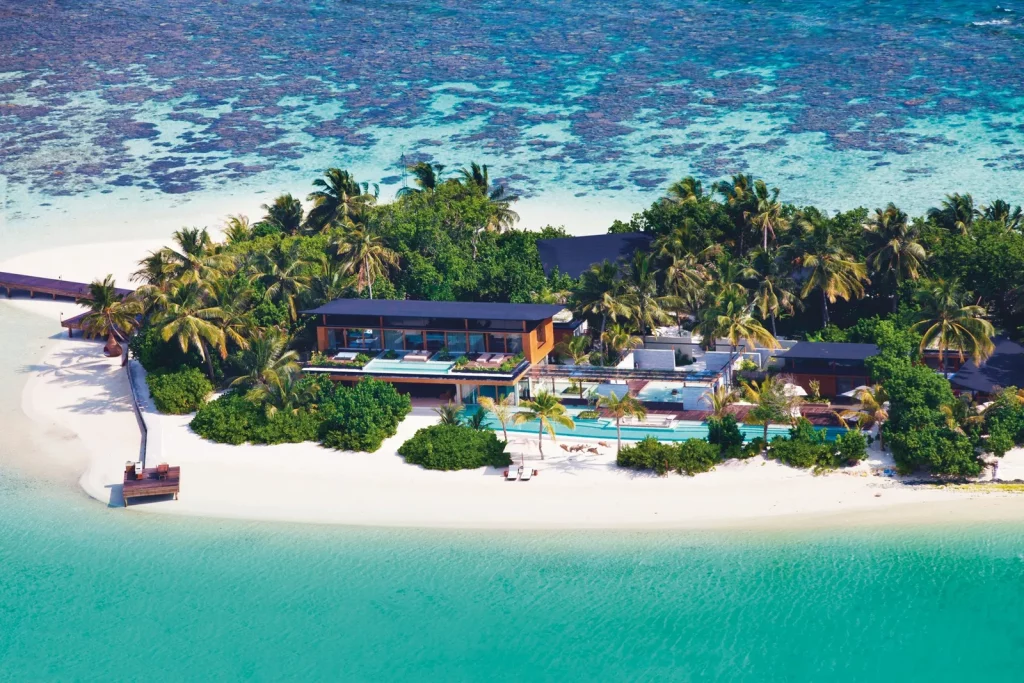 Coco Prive Kuda Hithi
The ludicrously pretty and impossibly slick Coco Prive Kuda Hithi is only available for private hire. Previously a boutique hotel, the island's main building has an enormous master suite, and there are five other villas to fill. The architecture is stunning, with massive expanses of glass to draw the outside in, and natural materials and organic shapes to echo the surroundings. Every light, heat-source and sound setting can be zapped from your personal iPad, and the attention to detail is phenomenal (the place is repainted between every stay). The kitchen is yours to use, but the chef is brilliant and will prepare anything you want (stories include a specific variety of apple being flown in at a guest's request), such as baked red snapper in aromatic herbs, and banana fritters with sweet crêpes in caramel. Sun-bleached decking around the island leads to mini jungle paths where pretty wicker baubles dangle, red flowers burst and the resident fruit bat swings from palm to palm. As a bonus, the reef is monitored by a team of experts who know each turn and turtle intimately.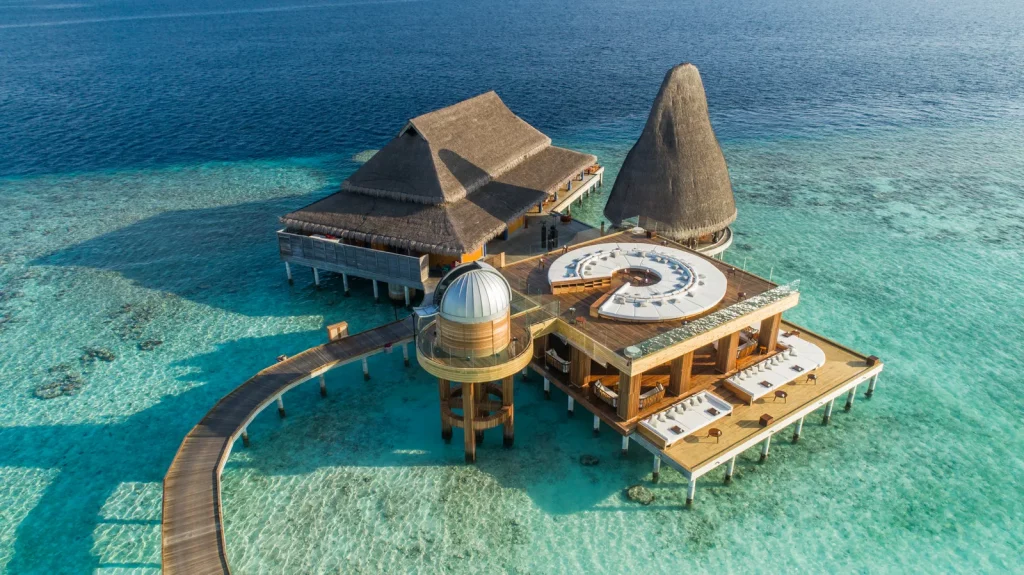 Anantara Kihavah Maldives Villas
When this hotel landed in the Baa atoll in 2011, it was a sleeker, clubbier Anantara outpost than family-friendly Dhigu, honeymooners' Veli and quiet Naladhu that the brand already had in these waters. And there were plenty of head-turning attractions: the glass-bottomed baths in the overwater villas, the underwater restaurant, reportedly the country's longest swimming pool. But plenty more splashier arrivals have since played their cards in the ongoing game of Maldives hotel top trumps. So Anantara's latest update puts it back on the board, with knockout new multi-bedroom beach and pool residences, each with their own kitchen, gym, spa treatment room and pool deck.
The rest of the island is lush (no trees were felled during construction) and its central sandy path provides peekaboo pops of turquoise water while leading to diversions including an art studio, kids' club and outdoor cinema beneath a celestial sky. At the overwater spa, there are new vitamin-drip therapies, part of the region's only Cocoon Medical Spa, and an updated relaxation platform with saunas and plunge pools. That underwater restaurant is part of Sea Fire Spice Sky, a quartet of dining spaces varying from teppanyaki to grills from an authentic tandoori oven. The overwater observatory, the only one in the Maldives, has the country's most powerful telescope (a research-grade 16-inch Meade LX200). Here, astronomer Ali Shameem, who grew up fascinated by the stars on the island of Maalhos, guides guests through the cosmos – the bonus of being almost on the equator means you can see constellations in both hemispheres. For all the slick hotel tricks, it's always the hypnotic sea and sky that are the real knockouts.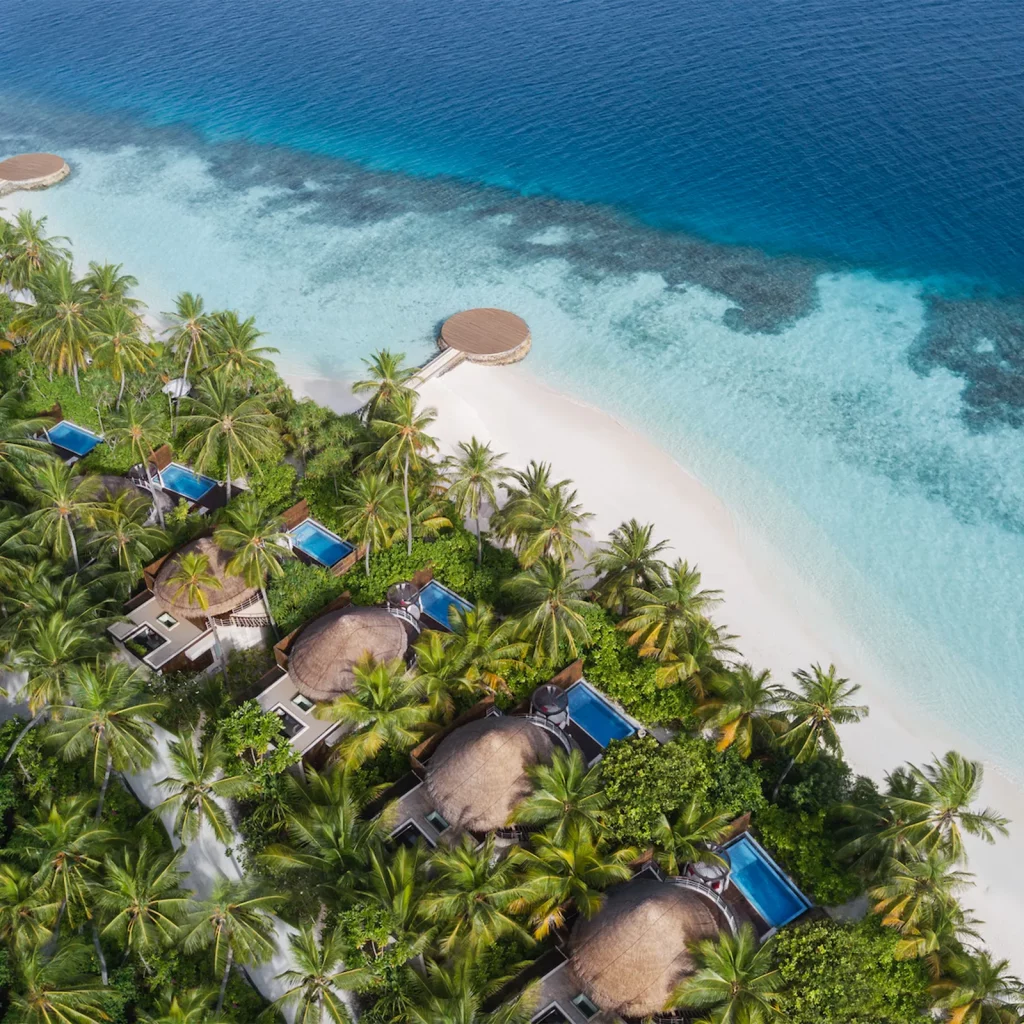 W Maldives
Arrival by seaplane from Malé sets the tone; and from white-tented spa to swim-up pool bar, this resort encapsulates 'jet-set glamour'. The 77 villas offer all the mod cons you could possibly want plus plunge pool, sundeck, wine fridge and barbecue station. Over-water accommodation features glass floors and beach villas are equipped with muslin-draped daybeds that – cleverly – can be cantilevered over the pool. The resort is also big on action, with diving, kite-surfing and SeaBobs (which zoom underwater like dolphins), and scheduled DJ's spinning tracks in the evening.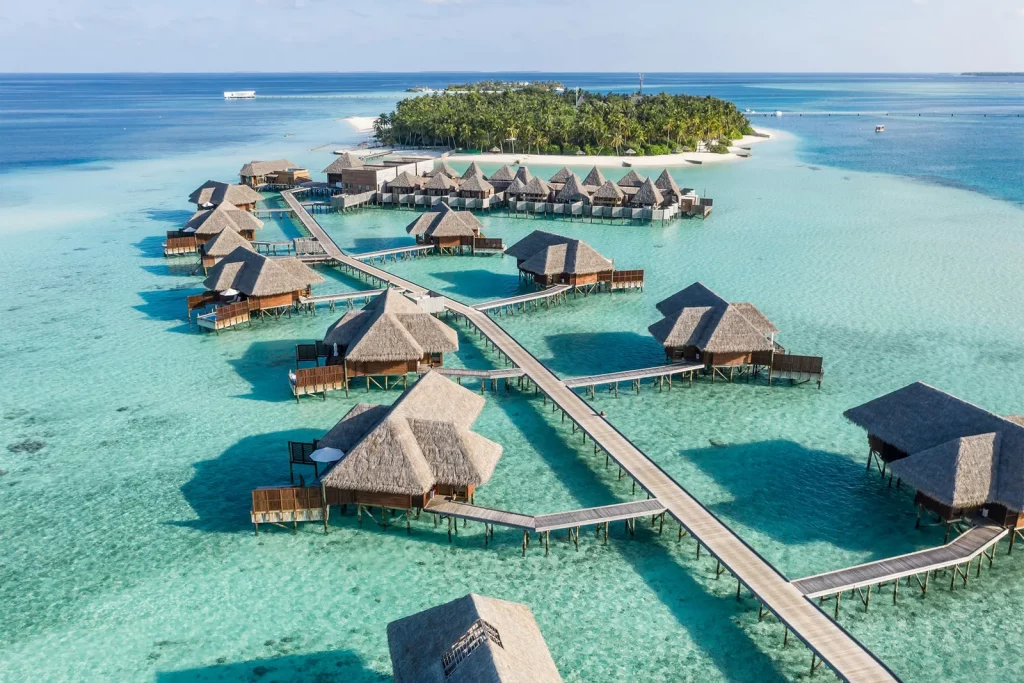 Conrad Maldives Rangali Island
The advantages of size are wonderfully apparent here. The resort is spread over two islands linked by bridge and has 150 villas as well as a two-level residence featuring a fully-submerged underwater bedroom with dome ceiling. For dining there are seven impressive restaurants, including Vilu Restaurant (Asian-Mediterranean) and Koko Grill (Japanese). Most striking are the underground Wine Cellar, with a degustation menu to complement tastings, and the Ithaa Undersea restaurant which does exactly what it suggests: you dine 16ft below sea level looking out on to shoals of fish.