The 44.5 metre AIX might be the sixth hull in the enduringly popular Sanlorenzo Alloy series, but her owner and prospective cruising grounds are decidedly different from her sisterships. The yacht is her French-Australian owner's first foray into yacht ownership, and he is determined that top on his list of destinations to explore is his own backyard – Australia.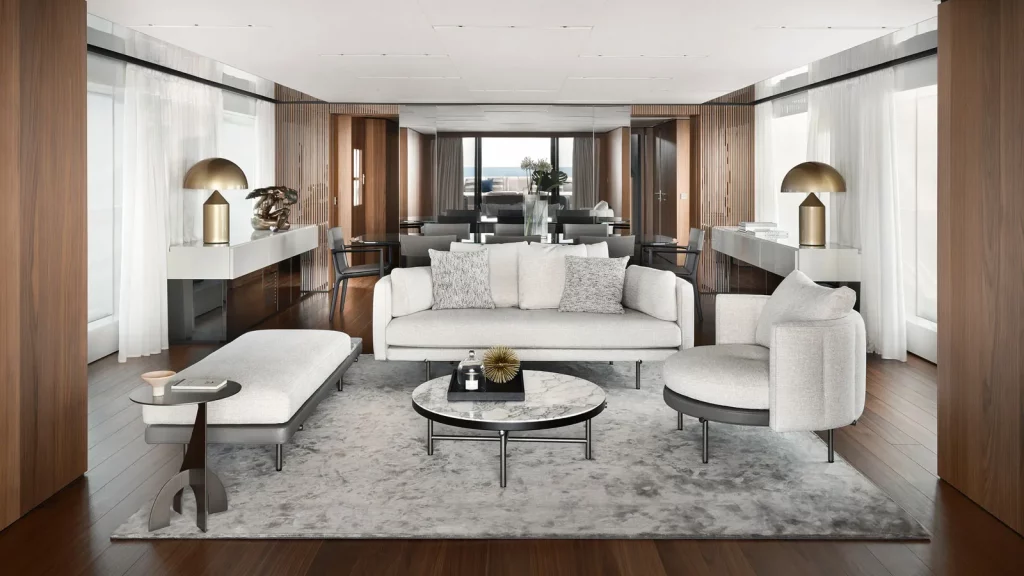 To fulfil his ambition of exploring Australia by boat, the owner was initially planning on starting construction on a new build. However, when the chance to purchase AIX mid-way through construction arose in 2020, everything fell into place quicker than expected.  "He was looking for an opportunity and he loved Italian build quality and design" says Joachim Howard, managing director of Ocean Alliance, which manages the yacht. "Originally, he was looking to invest in a three to four-year build process. He was happy to do that, but this hull became available which accelerated a delivery and he's very, very happy."
Unfortunately, with the global pandemic taking hold and Australia closing its borders for more than two years, the owner and his wife were not able to be as hands-on as they would have liked. Despite this setback, they still found ways to stay involved as the build developed. "Sanlorenzo were brilliant," says the owners' representative Chloe Dunn. "There were lots of video calls and every few weeks they would send boxes so that they could have a real-life feel of the textures and materials being used on board. The owners just loved the experience."
The first time the couple saw the yacht – which has interiors created by Zuccon International Project – was at its launch and fortunately it lived up to expectations. "When they saw it, their eyes just lit up," says Dunn, who accompanied them to the launch ceremony at the La Spezia shipyard. "Their reaction was just priceless."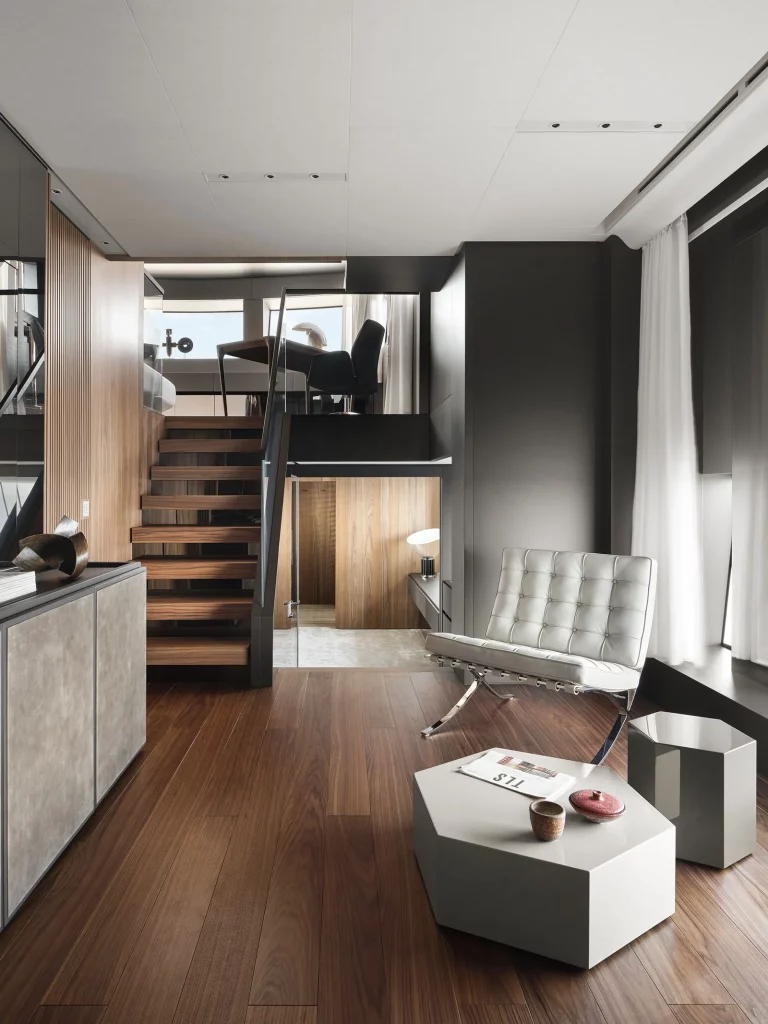 Since her delivery in July, the owners haven't wasted anytime in getting acquainted and immediately spent five weeks on board for a shakedown cruise. Having previously only chartered a handful of times, the maiden voyage was special for both the owner and yacht. "The owners departed the yacht a couple of days ago and we have a small window to showcase her to charter brokers," explains Howard, as he shows me around in Monaco's Port Hercule. "The yacht leaves tonight to go straight back to the shipyard for warranty works and then she will be on a carrier back to Australia."
The yacht is set to arrive in Australia in November, and she will spend her first season available for charter on the east coast, between Sydney and Queensland. "The charter fleet in Australia is a limited size bracket," says Howard. "A lot of the brokers that I have spoken to are excited to have something permanently based in the region that is larger, more modern and from a reputable European yard." The yacht's charter programme will remain relatively flexible depending on where the charter requests come from. "The owner is keen to see all of Australia. He doesn't mind which way they go as long as he gets to do it all," explains Dunn.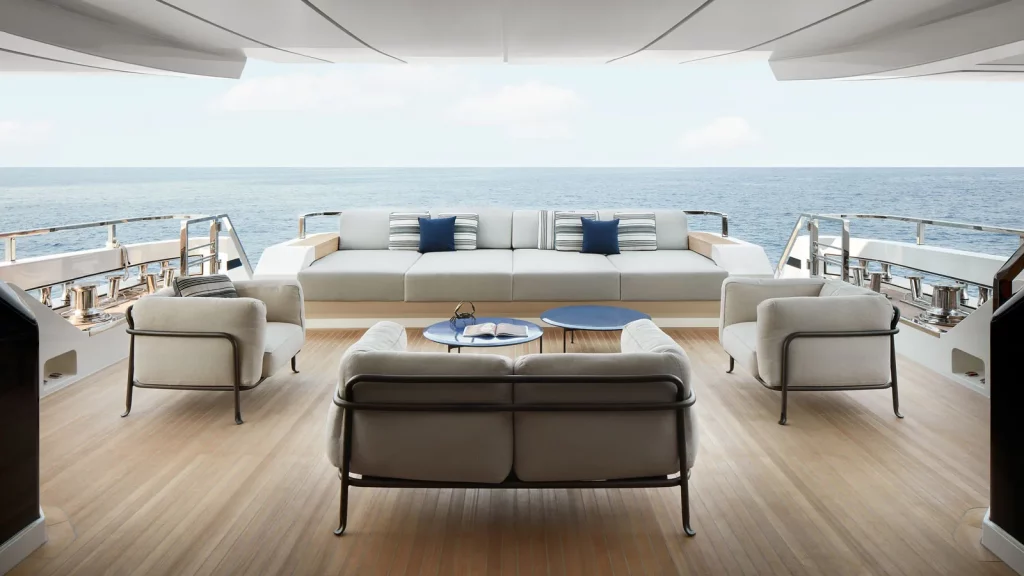 The yacht might be something of a rarity in the Australian market, but she would be a strong addition to the charter fleet anywhere in the world. AIX's substantial volume of 485GT gives her an impressive feeling of space and no place is this more keenly felt than in the 147 square metre master cabin. A unique design layout in the Alloy series is a dedicated "owner's apartment", which is split across three levels.
Entering from a communal corridor off the large saloon and dining area on board AIX, you are greeted by a flight of stairs that lead up to a study space with panoramic views forward, and then the second set of stairs that lead down to a double bed and en-suite. On some of her sisterships, owners have chosen to use the top-level space for a gym area, but on board AIX, they have kept it as an additional office and relaxation area for the time being. This vast owner's area also offers direct access to clear sided foredeck pool, which is surrounded by sun pads.
Guests will be accommodated in the four cabins on the lower deck, where large rectangular windows mean that light floods in even when the yacht in berthed between two vessels. Warm wood panelling is featured throughout the interior spaces, and these are interspersed by textiles, using a combination of warming greys, natural browns, and cream marbles. All the furnishings look comfortable (you would actually want to lie or sit on them), rather than works of art. "It resembles their home in terms of its style and feel," says Dunn.
While the interiors are luxurious but simple, there is one area where no expense has been spared – entertainment spaces. "They love hospitality and having guests on board, it is very much a welcoming entertainers' boat," explains Dunn. The dining area in the saloon on the main deck is laid out with an ocean-inspired dinner service from Haviland. Alongside silver rimmed plates are Baccarat crystal glasses, flown in from Venice; I slightly pity the interior crew that will be responsible for their maintenance.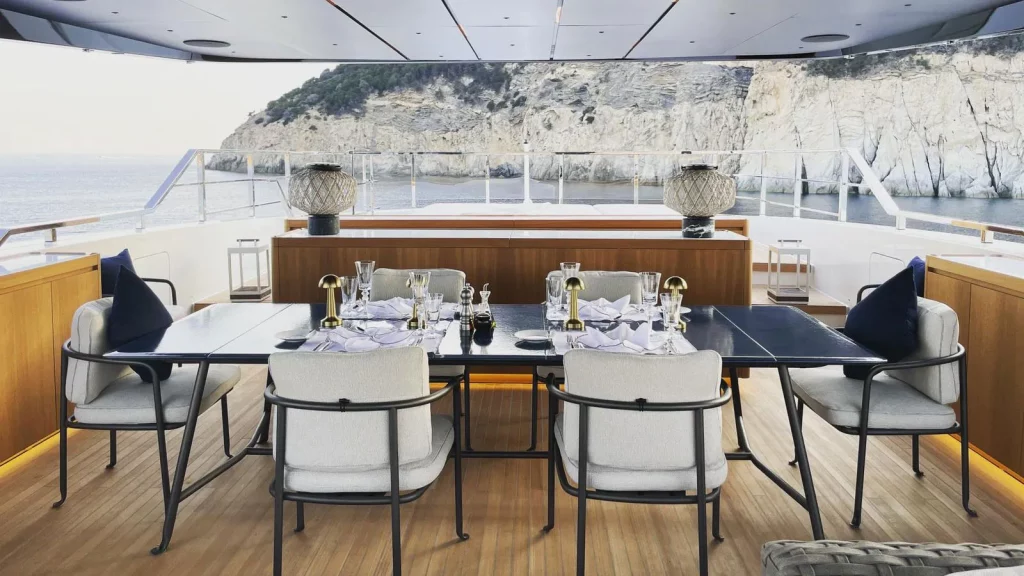 The sun deck is the main location for al fresco entertainment, with an expansive blue-hued table with a bar and a sofa area for more informal gatherings. On the afternoon that I visit, the bar is stocked with Crocodile Dandy Rosé as a nod to the yacht's ultimate destination, but there are also magnums of AIX Rosé dotted around the yacht in tribute to her name.
This set-up might feel perfect for a hot afternoon in Monaco but Captain Matthew Simpson is equally convinced of her capabilities to take on more remote cruising grounds in his native Australia. "The yacht is done right," he says. "It's very capable. I like the fact that has got such a big range and is comfortable at sea. Some people have this opinion that you must have a rugged explorer to travel around Australia, but you can have a beautiful yacht like this that is more than capable of doing the Kimberley, the East Coast and the Pacific," he adds.
The yacht's beach club, where three hydraulic openings create more than 100 square metres of usable space, will also be invaluable in some of Australia's tropical hotspots. "By the time you have all the floating dock out the back and all the toys it is very impressive. There are so many great open areas outside, so you never have to be stuck inside on beautiful days," Captain Simpson adds.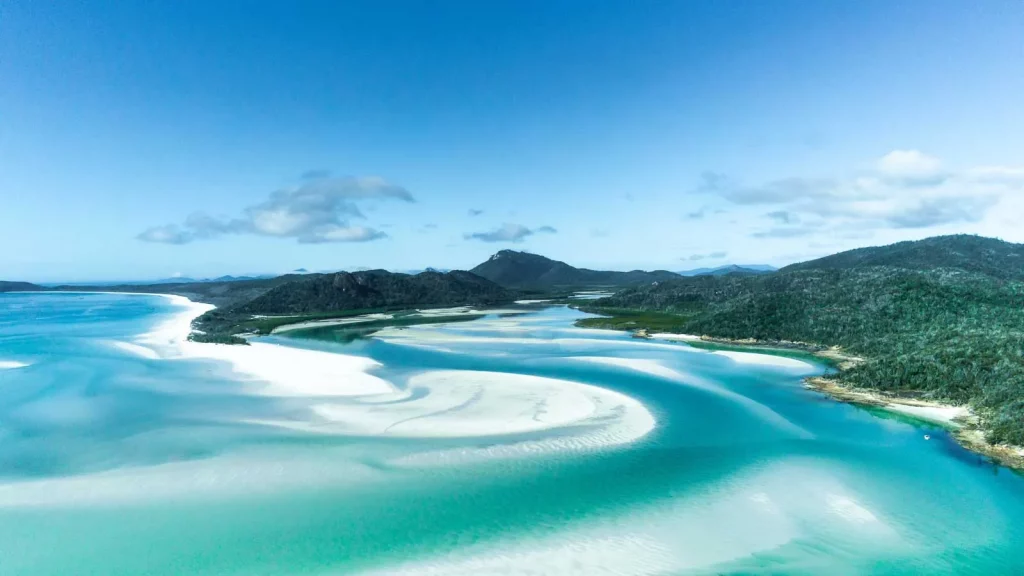 Naturally, for adventures in this part of the world, the dive set-up has been well thought through. "The owner wants to be set up and established for diving and dive charters," says Howard. "It's got 16 tanks and full dive equipment for the full complement of guests and then we will bring on board dive masters and local dive experts. They are also getting a 40-foot chase boat when the yacht gets back to Australia." The chase boat will complement the two Williams Jet tenders, and Zodiac that are already on board.
Captain Simpson is as excited as the owner about introducing new charter clients to Australia's natural wonders. "I'm hoping for a lot of people that just want to go out there and enjoy the reef," he says. "It's beautiful when you are tucked behind a sand bank and you go snorkelling, collect some crays [crayfish], and catch a couple of fish and cook them. In my experience, it's those kind of charter experiences people love and there aren't many places in the world where those opportunities are so abundant. On a premier yacht like this, it's a pretty good job."
The name AIX is a nod to the owner's French background (and perhaps also his penchant for Provencal rosé) but she will soon find herself more than 9,000 nautical miles away from those vineyards. However, with her European feel, AIX's entrance to the charter fleet marks an exciting new chapter for superyachts in Australia and the realisation of an owner's ambition to explore his backyard on a fine piece of European craftmanship.