Just because you own the company doesn't mean you always get your way. When Paolo Vitelli, founder and CEO of the Azimut-Benetti Group, first pitched the idea for a four-deck, steel-hulled, 37-metre, semi-custom yacht to his board of directors, it wasn't met with wild enthusiasm. The sales team, meanwhile, asked the quite reasonable question: "Are you crazy?" Smaller, steel-hulled boats were not their market.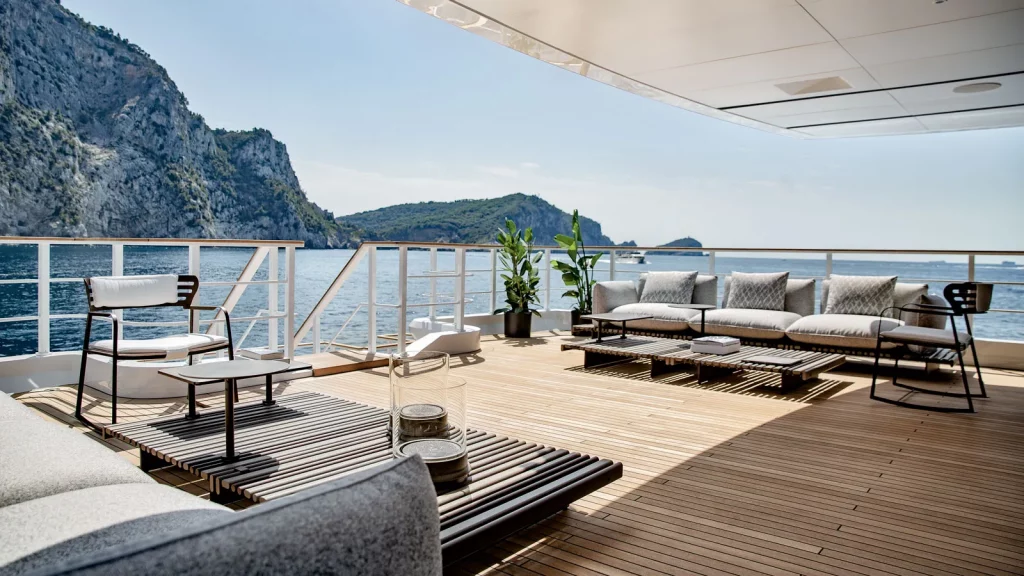 No one who makes their living from semi-custom superyacht production can afford a dud. The upfront investment is considerable, so if only a few hulls from the series sell, costs aren't recouped and the recriminations begin. In short, it takes guts. But Vitelli was convinced he was on to something, leaning hard on his vast experience, from founding Azimut as a twenty-something in 1969 to buying Benetti in 1985 and building a business that tops our Global Order Book of superyacht producers.
"Everyone was building bigger boats in fibreglass, so the idea to build a smaller boat in steel was not easy to accept," says Vitelli from an office overlooking his expansive Livorno shipyard. The concept led to some "internal discussions", he adds suggestively. To swing everyone around to his way of thinking took some time – and personal investment: Vitelli would build the first hull in the series for himself.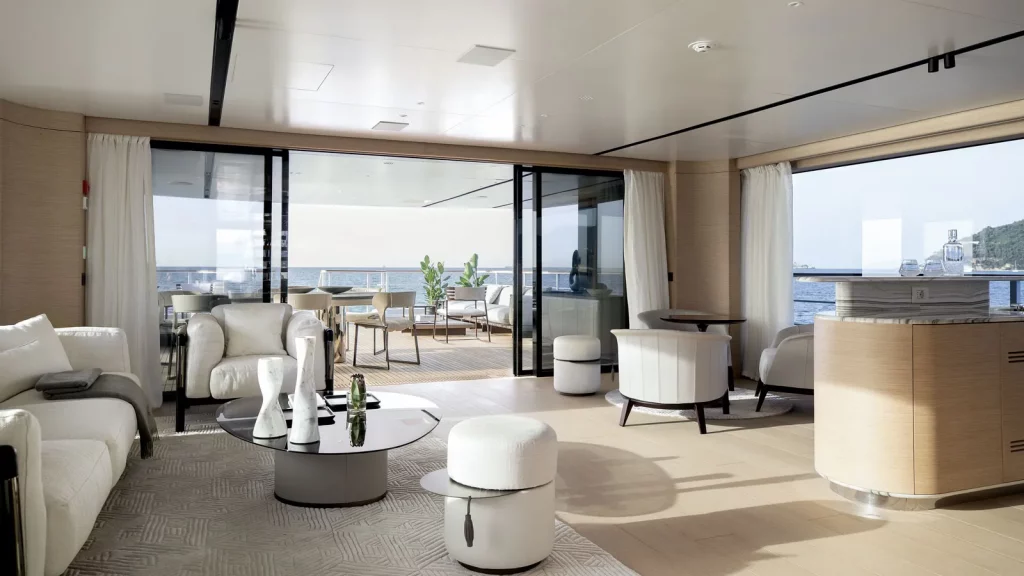 The project was eventually given the green light in October 2019 and steel was cut for what would become the first B.Yond 37M, later christened Goga. Before it was even delivered in July this year, Benetti had sold a further eight B.Yond 37Ms, and had buyers on the line for hulls 10 and 11. They say there's a fine line between genius and crazy.
As we tour the boat, Vitelli's emotions are close to the surface. His pride in the project is evident, but this was also the last full project he worked on with long-time collaborator Stefano Righini. The designer died in 2021, and taking pride of place in the main saloon of Goga is a portrait of the man who defined the look of Azimuts and Benettis for a generation. Even when he was slipping away in 2021, Righini would make revisions to the B.Yond series from his hospital bed. "We were friends for 35 years," sighs Vitelli.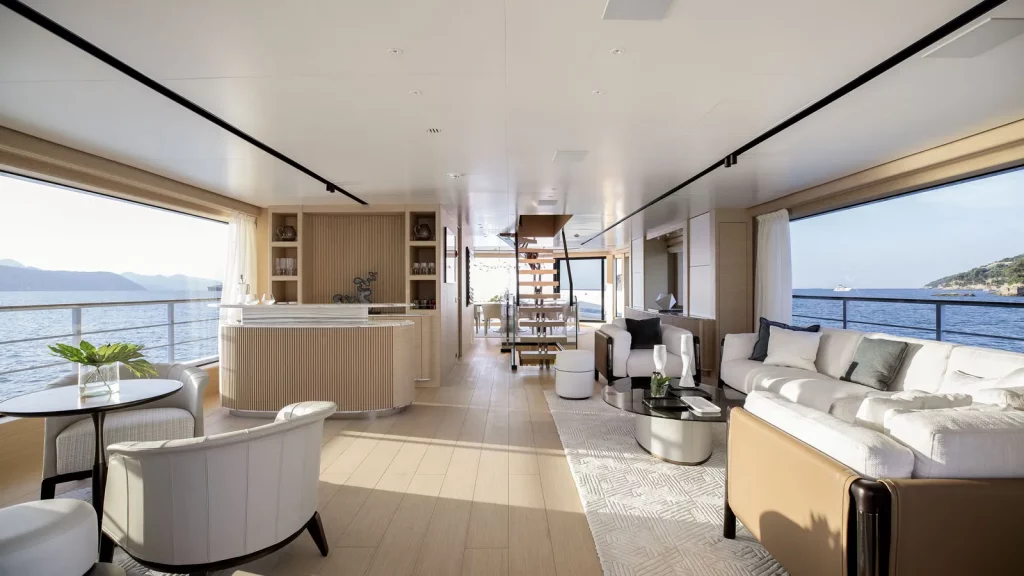 When the pair started dreaming up the first B.Yond yacht, there were several stipulations. First, it couldn't be longer than 40 metres, so the boat could go alongside or stern-to in the little Mediterranean harbours that Vitelli so loves. "In Greece, in Turkey, in the south of Italy or Sardinia, there's so many village harbours that big boats can't access. If you go above 40 metres, you have to go to a properly organised marina."
What the B.Yond 37M lacks in length, it makes up for in width. It stretches 8.6 metres across the beam, making it almost a metre wider than Benetti's 37 metre Motopanfilo model, and equitable with a number of competitors' 44- and 45-metre boats. "The boat is wider than normal," says Vitelli, "and this gives it a natural stability." Making it steel was the second demand. Vitelli wanted something with permanence, "that can last for decades".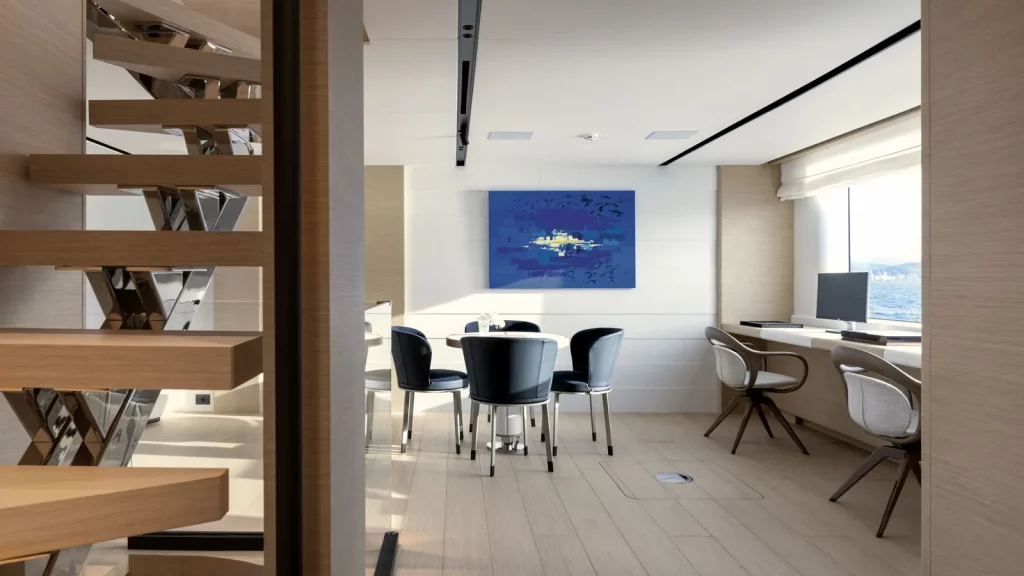 "We knew it had to be different from the competition and be a little bit unique," he says. "We thought that if you put a lot of money in your boat you want it to have a long life and you want it to be easily repairable and to have the feeling of being very solid. We made an analysis and we discovered that a lot of European clients, a lot of Russians and a lot of clients from Canada like steel."
Another prerequisite was electric propulsion. The setup on Goga was engineered in partnership with Siemens and offers four cruising "E-Modes", from silent running on batteries alone, to single-engine propulsion, to an "Extended Range Mode", where the main engines are powering electric motors, which are turning the shafts and covering the hotel load of the boat. It is a truly dynamic system that is single-button operated from the bridge.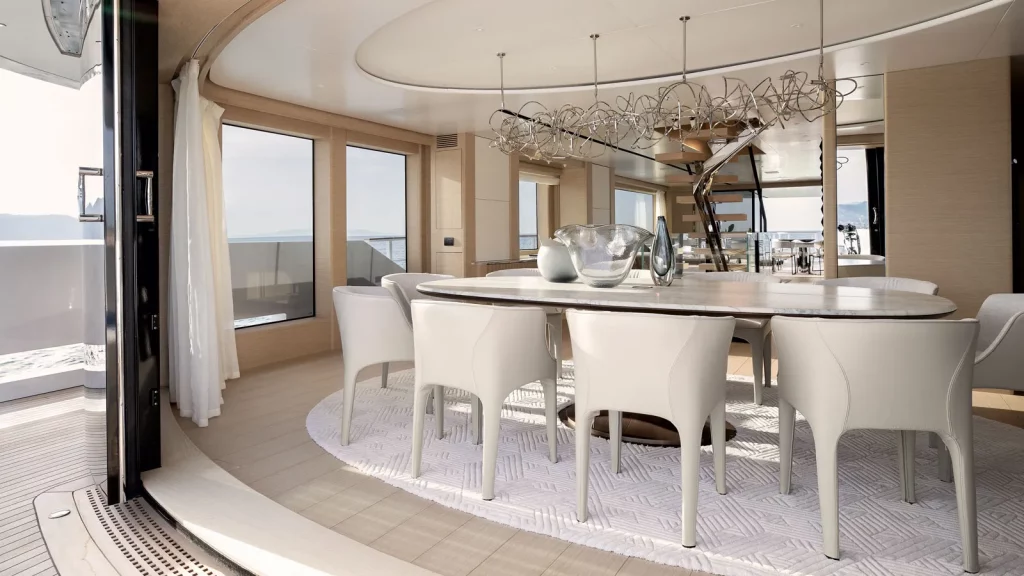 It's not just fuel savings (Benetti claims fuel and CO2 reductions of 24 per cent) – the system should also extend the life of all heavy machinery on board. NOx emissions, meanwhile, are knocked right down by a selective catalytic reduction system. It all adds up to the "greenest boat in its class", says Vitelli. It's not a compulsory setup on future B.Yonds, but it's a sensible one. With the 100kW battery bank in his boat, Vitelli can get six hours of air-con and kettles with the generators off but recommends a heavier 200kW or even 400kW installation to give you even longer periods of silence while at anchor.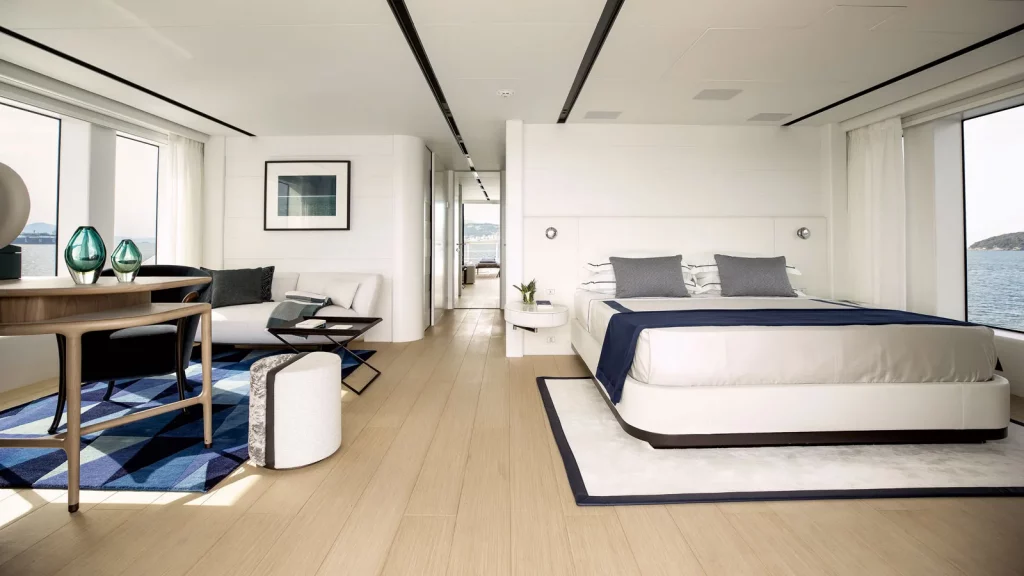 The last big decision concerned decks – Vitelli wanted four, and he got four. Sometimes when you're walking through the bowels of a massive yacht, you might climb a staircase from the engineering level and have to reorient yourself. This is the first time I've had that sensation walking through a 37-metre boat; Goga packs a lot into her length, including something which shouldn't really be possible on this platform: a tender garage on the main deck.
Goga can carry a 6.5-metre tender and, with a bit of hot work to adjust a bulkhead, a seven-metre tender, ideally, according to Vitelli, the new EvoJet 70 from Williams, which is more associated with 50- or 60-metre yachts. On the garage's other side can sit a four-metre crew tender, or jet skis, Seabobs, paddleboards, gym equipment or any of the other paraphernalia necessary on modern yachts, barring a submarine. The consequence of this enhanced tender garage is a minimised beach club, but this doesn't bother Vitelli.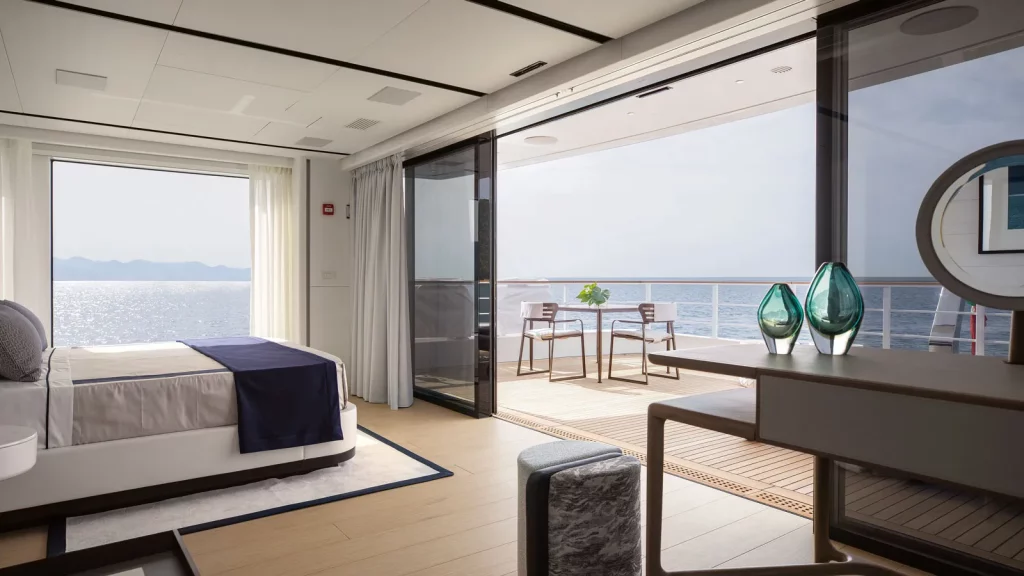 "I have a house on the French coast and I see all these 60-metre boats with beach clubs, which are always totally abandoned, dark and not enjoyed spaces." What you get on the B.Yond is a more practical interface between sea and boat, offering a shower, sauna, storage and a small laundry for swimsuits and towels, but no DJ booth, bar or lounge. If you want to sit at this level, crew can move some of the loose Giorgetti furniture onto the fold-down transom door.
The rest of the GA makes a fascinating study, because it doesn't make any conventional sense, which clearly delights the Benetti boss. Let's start with the main deck, which has the feel of a family apartment. There are four double cabins and what Vitelli calls the "playroom". It's a full-beam space with a TV and lounge seating, but it's not the central hangout; it's more a kids' lounge, where you can imagine younger generations doing homework at the window seating or watching Netflix.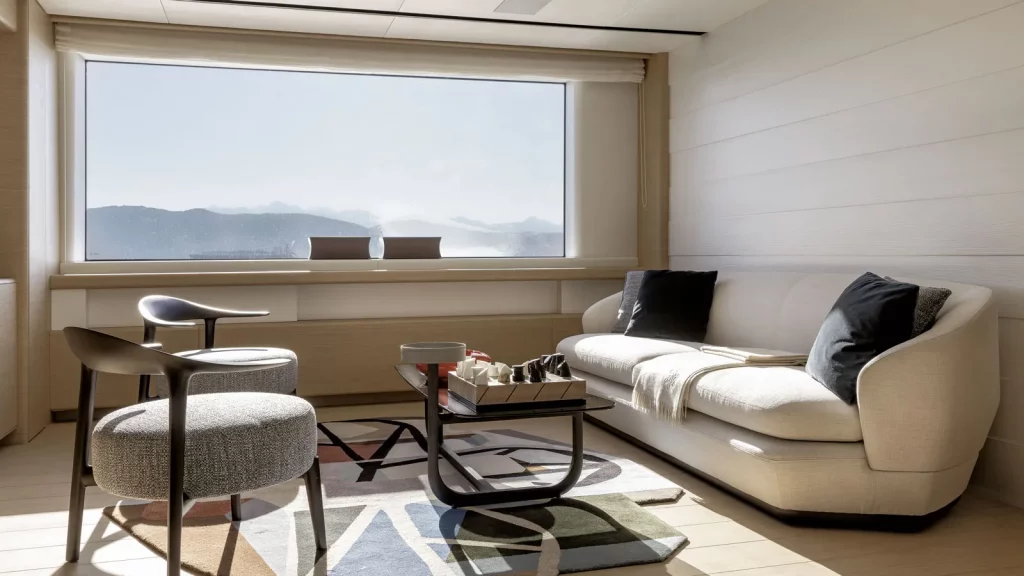 A central stairway winds to the upper deck, where you find the interior and exterior dining areas and the main saloon. It's a huge, open plan space that leads onto a foredeck area with a pool and more seating. Up one more level is the owner's cabin, with its own private terrace and up again is a large sundeck. It's a truly multigenerational design but with good interaction between the decks thanks to the open stairway leading through the spine of the yacht.
There are two further double cabins on the lower deck, bringing the total number of guest cabins on this 37-metre boat to seven. Seven! "You don't even see this in 50-metre boats," says Vitelli. One of the lower cabins on Goga is designated a second "captain's cabin", so the skipper is truly spoiled for choice. "Half the world wants the captain up [by the bridge], half the world wants the captain down. What do we do? We put the captain in both places!" he adds. The other lower cabin, meanwhile, can be converted to a gym.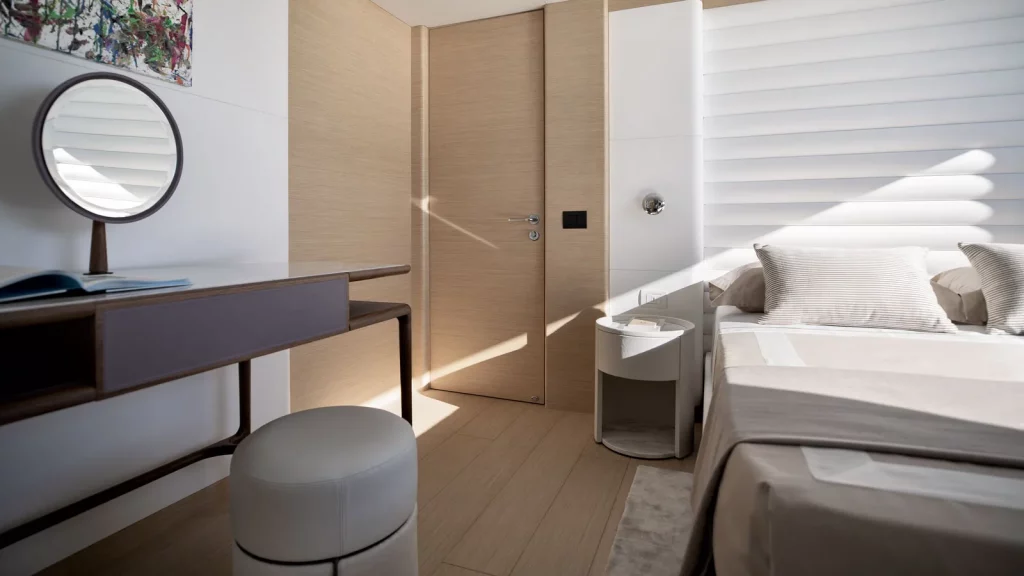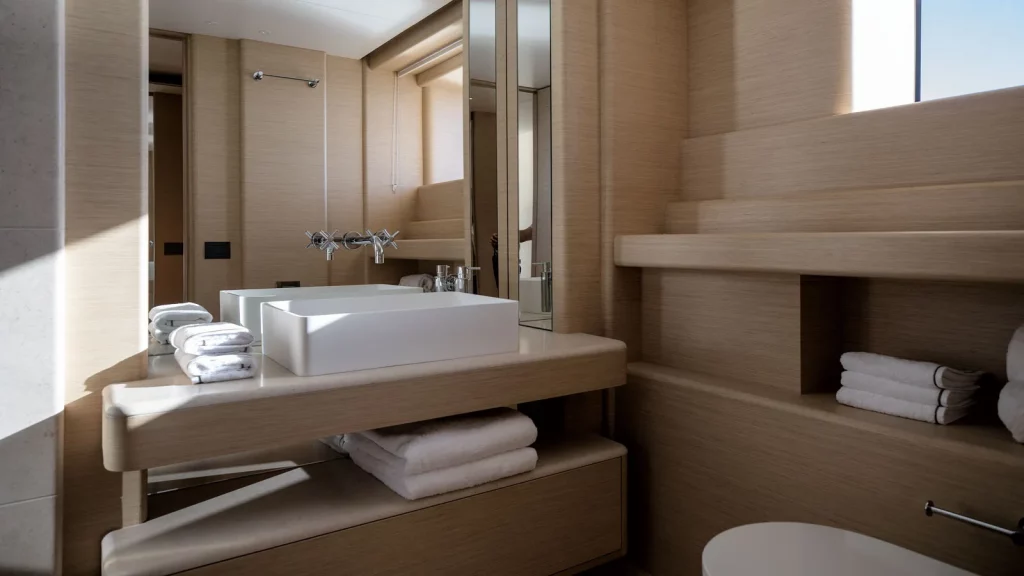 The layout options available to buyers are heady – you can almost have it all. Personally, I would keep the owner's cabin on the main deck where you can use more of the beam. This would leave the bridge deck free for another lounge and means you get external access to the sundeck. The only way up to the sundeck perch on Goga is via the internal crew stairs, which feel tight. But what do I know? Most owners have opted for the bridge-deck-master arrangement.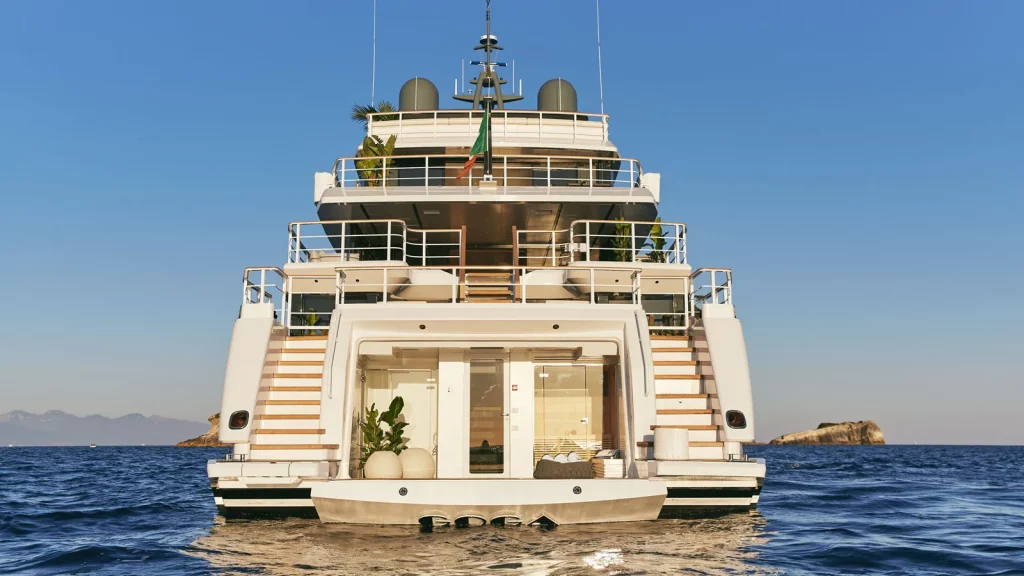 Goga's interior was designed in-house by Mauro Izzo. His pared-back styling allows owners to bring spaces to life with furniture and objets d'art. "The idea of the decor is to have a very simple box," confirms Costanza Gnemmi, the yacht's project manager. "Simple but not basic. You are then left to play with loose furniture from a really high level brand to make the boat rich." It's smart, since overly engineered interiors slow everything down, and Benetti has got a very big order book to deliver. Pieces from Giorgetti abound on Goga, creating a very low key and relaxed environment. Put your feet up and soak in those views provided by the massive windows. This is a very bright boat.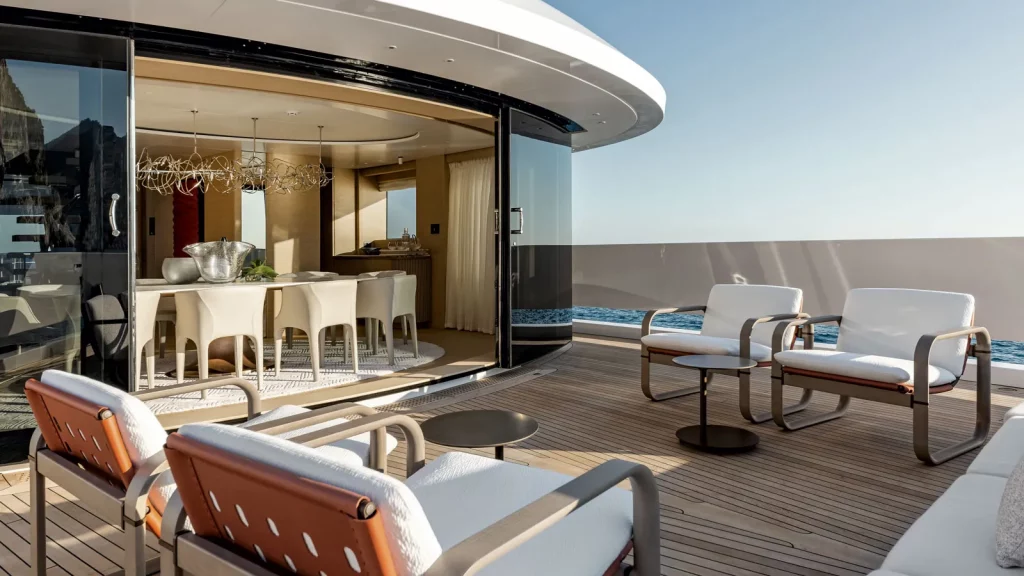 For all its volume and features, the horizontal lines of the B.Yond stretch it visually and mean it doesn't look like an intimidating, towering mass. That Righini touch. The designer blessed Benetti with a little more of his insight on the next B.Yond in the range, a 48-metre. "The concept was given by him in the final days of his life," says Vitelli, who will probably buy the first hull of this larger B.Yond series. Such is demand for the 37-metre boats that Vitelli has already sold Goga to a friend of his, with whom he'll share the boat.
And why the 48-metre? I ask. "My soul looks forward and I dream about the next boat," he says. I suspect he won't meet as much resistance from the board this time around.