From romantic restaurants to Michelin-star spots, these are the tables to book in Paris. Below, you'll find the restaurants everyone's talking about right now, as well as the old classics we keep going back to.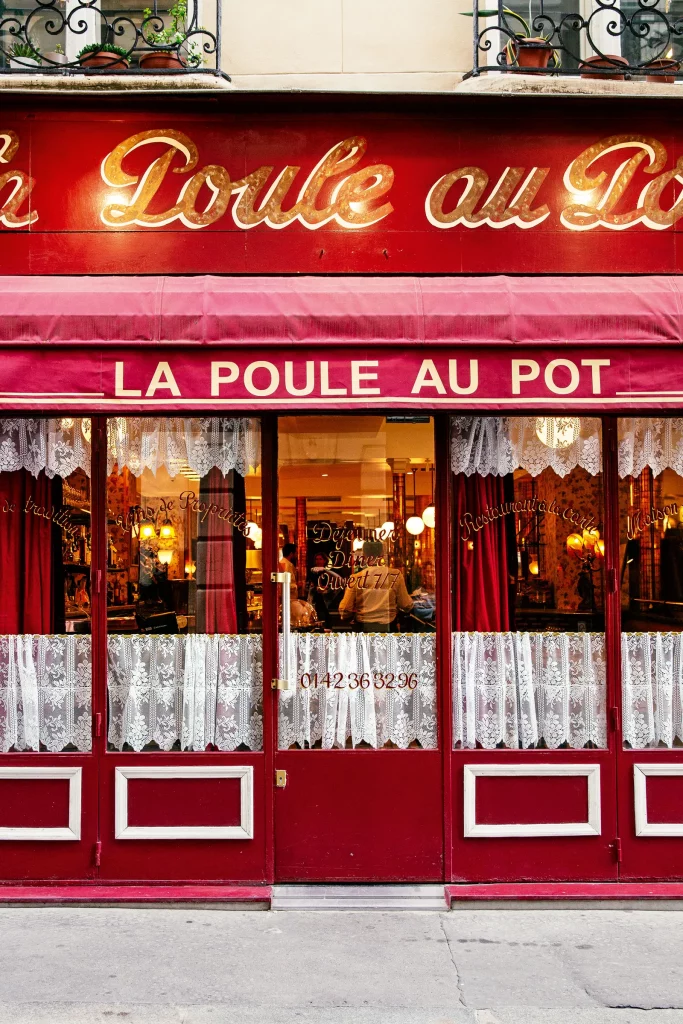 La Poule Au Pot
It is said that the previous owner of this Les Halles institution anointed star chef Jean-François Piège as his successor, having snubbed every other approach. So it was that much-garlanded Piège, who runs a handful of restaurants in the area with his wife Elodie, took on the historic doll's-house-like building, ripping out the café curtains and old wallpaper, giving it all a good scrub and polishing the little brass plaques that name-drop all the music stars who have nibbled the baba au rhum here (Motörhead, Tricky, Nu Shooz). But for the most part, La Poule au Pot feels exactly as it always did, preserved for the nation, and the menu of cuisine bourgeoise, plated up family-style, is intact, if elevated in terms of both produce and pricing. Classic onion soup is served daily, even in a heatwave, and snails, frogs' legs and bone marrow make consistent appearances. Big-hitting mains include Charolais beef fillet and fabulous poached chicken; puddings are flawless, generous old-school treats. Le Poule au Pot is comfortingly beyond cool, yet only retro on paper, thanks to the dynamism of team Piège.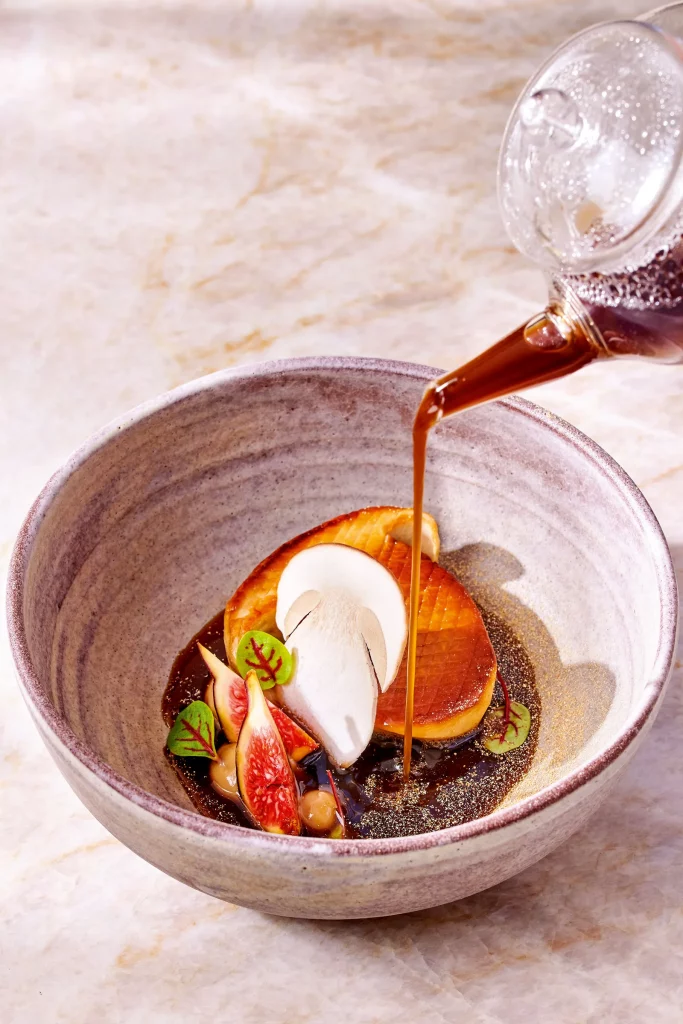 Marsan par Hélène Darroze
The smart Left Bank address – a short-ish walk over the river from many of the other restaurants here – hasn't changed and nor have its regulars. But Marsan by Hélène Darroze (who has three Michelin stars for her London outpost at The Connaught Hotel) is relatively new otherwise, opening in 2019 as a fresh incarnation. The name is a tribute to her home region in Landes, and there's no doubting the sincerity of her attachment to the south-west and its flavours. The tasting menu served at the chef's table (get your hair done – they're looking at you too) name-checks Béarn, Saint-Jean-de- Luz, Périgord, as well as her brother and grandfather. Tiny appetisers might include beautifully crafted crisps of chicken skin packing a foie-gras flavour bomb, or miniature goat's-cheese pastries, light as air. A starter of sea urchin, caviar and cauliflower is disarmingly creamy; gilthead bream with Colonnata back-fat, Paris cep and black truffle is a major savoury mouthful; robustly thyme-scented baby lamb from the Pyrenees is a restrained showstopper. Frequent tableside drizzling and grating means you have to concentrate a bit, but why wouldn't you? In contrast with the smart, mushroom-toned design that mops up any clanking of bespoke ceramics, the food is distinctive, thrilling and vitally French.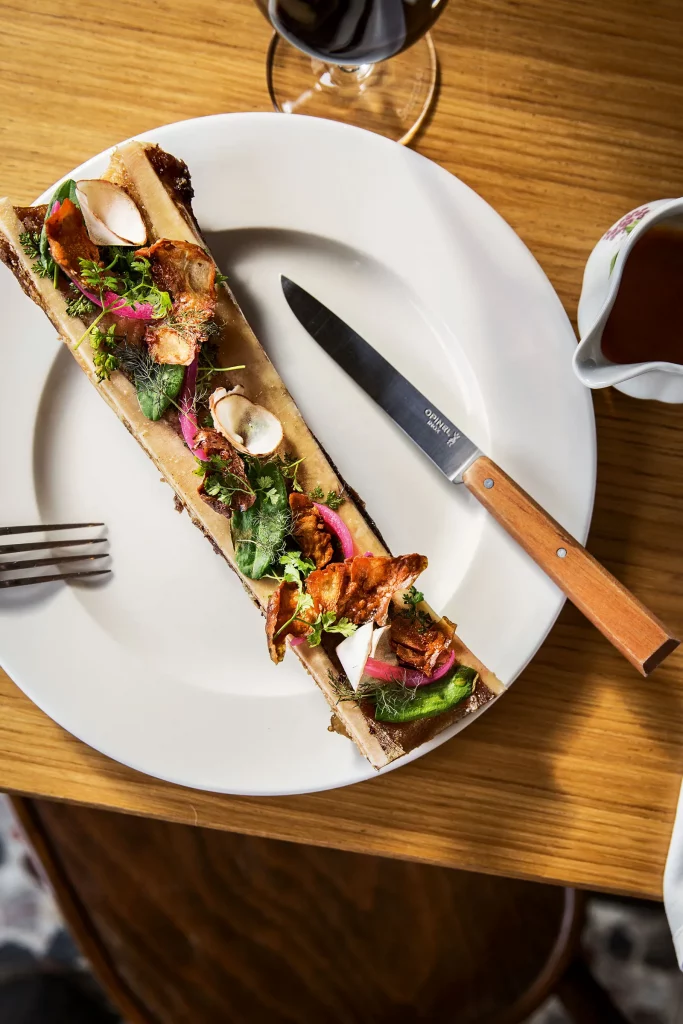 Le Cadoret
The holy grail: classic French food, not too fancy, brilliantly well prepared and super value. Le Cadoret, opened in 2017 by chef Léa Fleuriot and her brother Louis-Marie, is a neighbourhood bistro, with mirrors, terrazzo floors and a relaxed atmosphere, which has been cleverly refreshed by its young owners with a jolly blue awning, craft beers and an up-to-date wine list (Loire- and Jura-heavy, and there's quince liqueur from Domaine Binner in Alsace). The food, at a glance, might seem unadventurous, but there is great skill in cooking a really wonderful blanquette de veau or steak frites with béarnaise. Starters such as potato, fermented cabbage and haddock or homemade boudin noir are produce-led and delicate, and retro puddings (île flottante, crème caramel) are subtle, not sticky. The corner site is a short walk from Belleville Métro, with Parc des Buttes-Chaumont close by to the north for a hilly walk after lunch.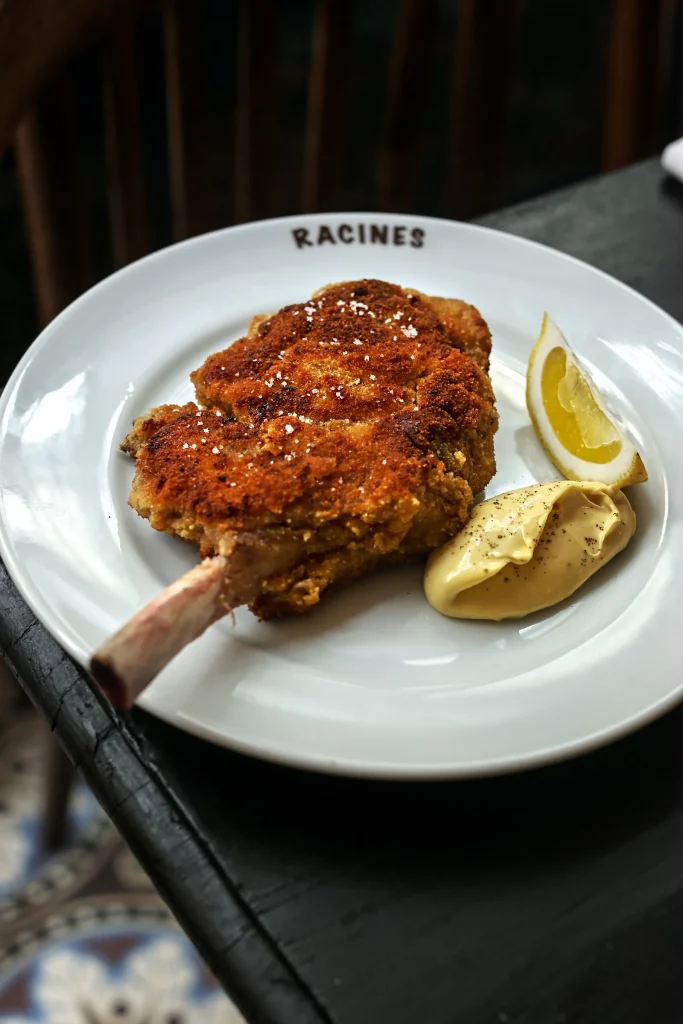 Racines
Simone Tondo took over this beautiful restaurant – a tiled, glazed corner inside one of Paris's 19th-century arcades – a decade on from its inauguration as influential néo-bistro and champion of natural wines. The plates are still ultra-seasonal and the wines juicy and low-intervention, but the flavours have taken a turn towards the south, thanks to Tondo's Sardinian origins and his admiration for nonna's recipes. Lunch and dinner, seven days a week, are chalked up on the blackboard: start with sublime finocchiona – homemade cured sausage with fennel seeds – and vitello tonnato, or the creamiest burrata, then choose between a giant veal chop alla Milanese, a piece of perfectly cooked fish, and masterful pasta. There's no wine list as such, rather the kind ministrations of Stephanie Crockford, who runs front of house and pours interesting regional Italians by the glass. Racines is a piece of Paris history, and perennially popular; note that it only takes 20 minutes to walk here from the Gare du Nord.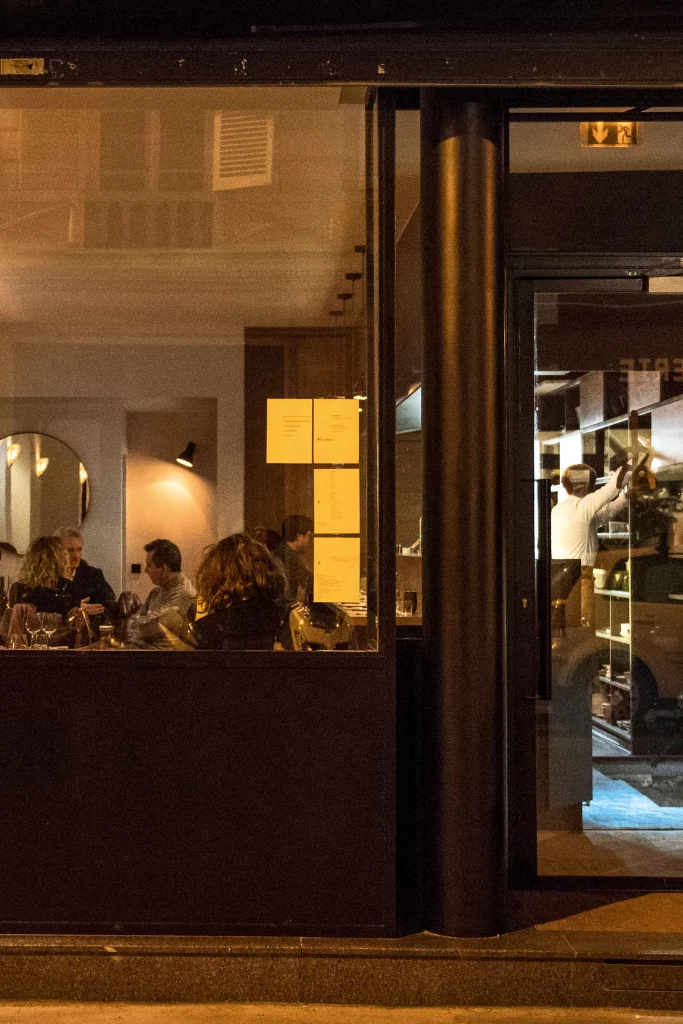 Le Rigmarole
A four-strong team, anchored by youthful owners Jessica Yang and Robert Compagnon, delight and spoil every table here, noting any whims within the confines of a €49 or €69 chefs' menu. After Yang's full-beam pickles and/or butternut beignets arrive delectable skewers cooked on a Japanese grill: gizzard or artery, thigh or chicken oyster, according to taste, laced with perhaps chilli or citrus; then grilled cuttlefish or oysters, maybe a salmon head or two. The vegetable dishes, such as charred leek with cod-roe mayo, or puntarelle with sweet soy and lemon preserve, are just as good. The interactive, improvisatory approach, with a side benefit of zero waste, is huge fun, especially if you take a counter seat in front of your energetic and personable hosts. Compagnon, as well as being classically trained and yakitori adept, threw pasta dough at now-defunct Rino before opening Le Rigmarole, and there are always one or two interesting pasta dishes in the mix. It's nothing like anywhere else in the 11th, apart from the great buzz, faintly Art Deco interior and mainly natural-style wine list, which includes some convivial magnums, and plenty of rosé year-round.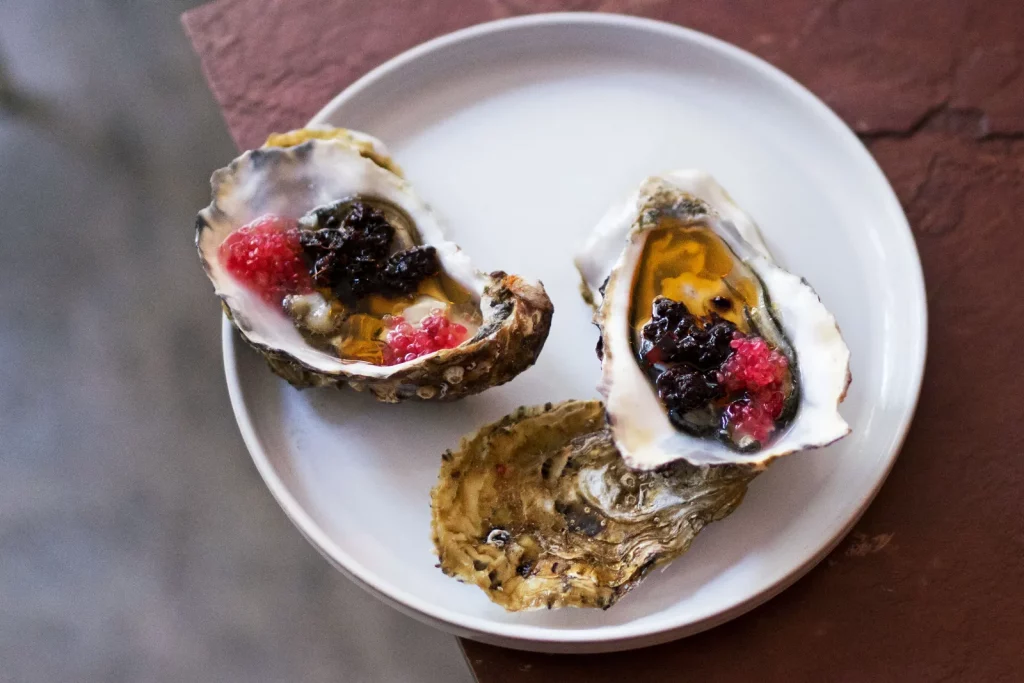 Early June
The young owners of this wine bar and shop, a former wig emporium next to Canal Saint-Martin, work hard to create a light and, in their words, joyful atmosphere. Like its more venerable vinous neighbour, Le Verre Volé, they open late through the week for drinks – natural-style wines with lots of Beaujolais and Languedoc; Paris-brewed Deck & Donohoe beer – and small plates that are far more than simple soaker- uppers. Their first chef, Amandine Sepulcre, adeptly combined East Asian flavours with ingredients such as Basque sardines; and while she left last summer, the sense of experimentation remains. Camille Machet and Victor Vautier now host travelling chefs for several months at a time, many of whom have never worked in Paris before. Last in was Mathias Silberbauer from Copenhagen, who has a thing for fish, with highlights including sole in langoustine sauce, and pickled mackerel in a verbena and soy dressing. Whoever's in residence, the dainty, intricate dishes are easy to eat and harmonise excellently with the fresh wines. It's an airy room with an open kitchen and concrete floors, as well as a few spots on the pavement to nab in, ahem, early June.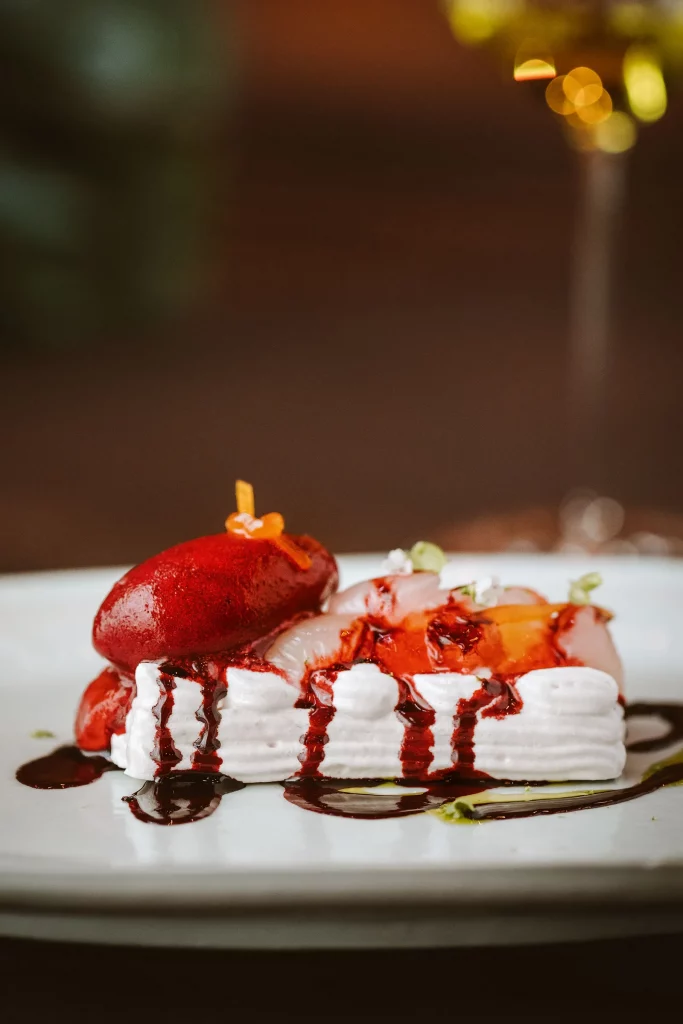 Maison
Inside an ancient gabled shell of a building, incongruous amid streets dotted with tower blocks, this thoroughly enjoyable spot resembles an art installation (the offspring of Rachel Whiteread and Antony Gormley, perhaps) or a brickie's dream after too many Pernods. Chef Sota Atsumi trained under Michelin-starred gods Joël Robuchon and Michel Troisgros before cooking at tiny, cool Vivant, then Clown Bar, where his duck pithivier with date and yuzu became emblematic of the bistronomie of the 2010s. Maison sees him turning away from shouty casual dining towards a more elevated experience, marked by warm, communicative service and a vividly seasonal, produce-led tasting menu. Lunch might kick off with intense, warming spider-crab bisque, then raw tuna with raw cream, kiwi and a bright turnip-top emulsion. Theatrical moments involving a pigeon dish in two episodes never feel overworked, but rather generous and thrilling. Wines from the Alsace, Jura and Loire are listed alongside sensitive Burgundies and oxidative vins de voiles. Single diners can eat at a counter facing the open kitchen under industrial pipes painted Pinot Noir red. Lunch is niftily paced and well priced too. Maison is where the heart of contemporary Paris dining is right now.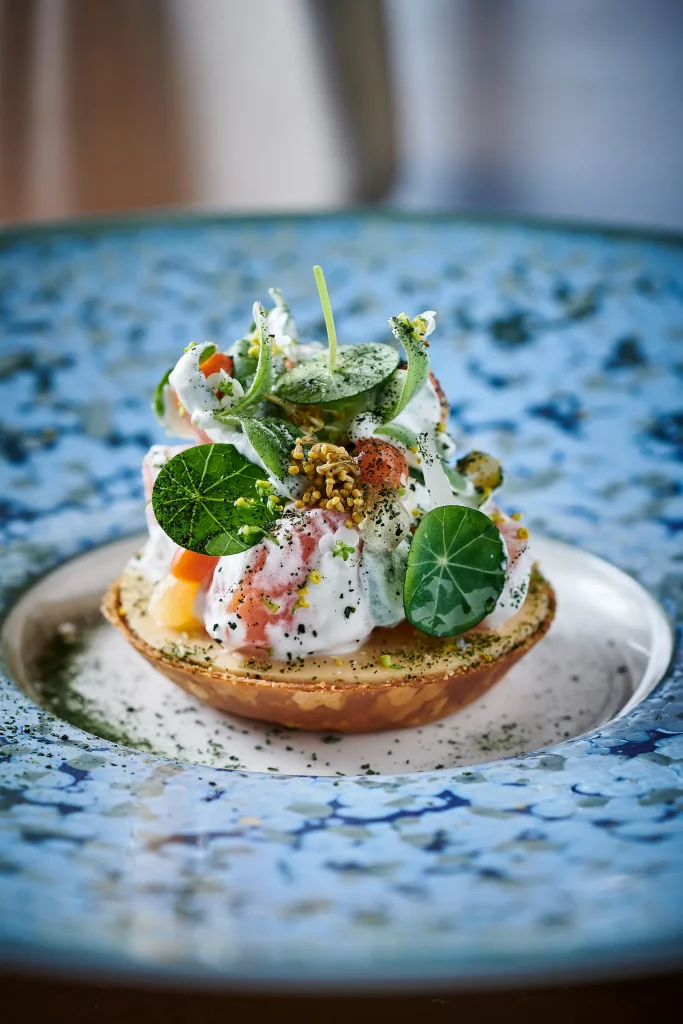 PavYllon
Yannick Alléno's PavYllon aims to deliver the chef's haute cooking with more affordable prices. Given, the prices aren't as eye-watering as at his Pavillon Ledoyen in the pretty Champs-Elysées gardens, yet casual here still means cushioned chairs, exquisite glassware and counter seating to see the full theatrics in a kitchen recently awarded a Michelin star. Here's an indulgent way to round off a morning taking in the Petit Palais' latest exhibition. Delicate breadsticks dipped in artichoke sauce combine rustic France with an elevated Parisian flair and successfully set the tone, as does the Duval-Leroy Champagne from Vertus. The silky textured steamed Comté cheese soufflé leaves an indelible impression, as does the rich pigeon breast, artfully placed on a slice of baguette. Creative twists on exalted French classics abound: black pudding and piglet rib; brill 'millefeuille'; a spinach and smoked-cod-roe sandwich; sole chaud-froid with black truffle. Try the Château-Chalon, a yellow wine from Jura in eastern France – a lighter consistency than sherry but the same thrilling kick – and the salted-caramel ice cream with Amarena cherries and roasted hazelnuts, oozing out of a metal contraption and decorated at the table.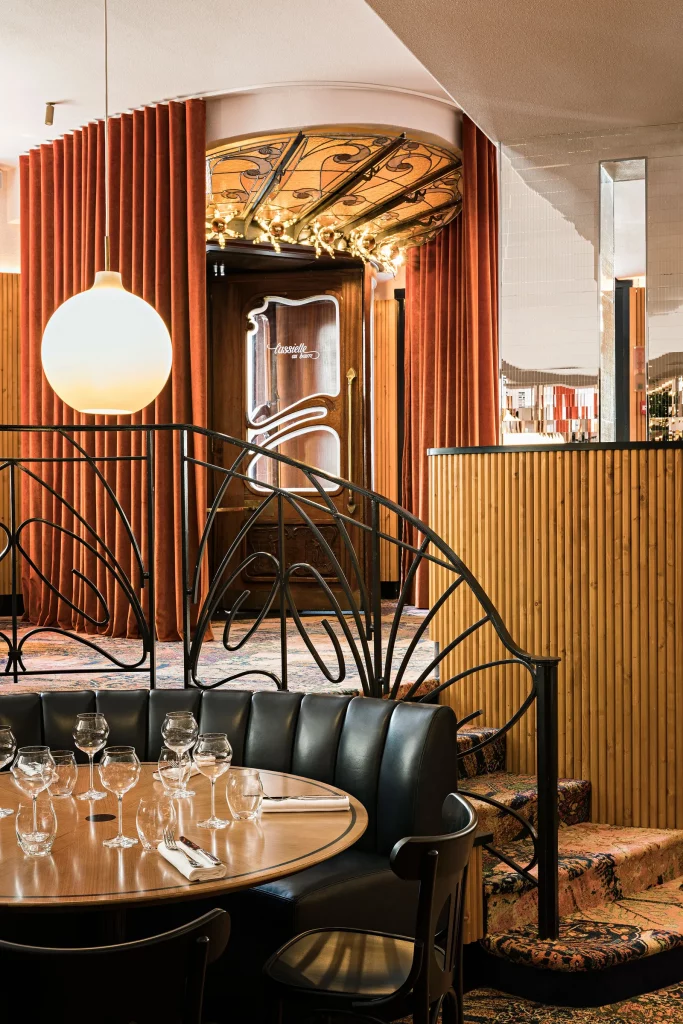 Beau Regard
This navy-blue-fronted brasserie tucked down rue Guillaume is a desirable alternative to nearby (and always tourist-filled) Les Deux Magots and Café de Flore, once the watering holes for Paris's literati. While the scene may lack the history and kudos of its neighbouring haunts its novel concept as a cinema-plus-brasserie gives it an edge. From sashimi starters to zingy lobster and fregola sarda with mussels in a lip-smacking buttery sauce, the menu leans into the European small-plate zeitgeist with a patriotic performance on the frites and wine list. Come for the foie-gras-and-fig starter – an artistic riff on the French classic which pairs fiendishly well with a glass of Champagne. In the evening, the brassy hues indoors come into their own as atmospheric background for pre-film dinners and late-night debriefs over cocktails.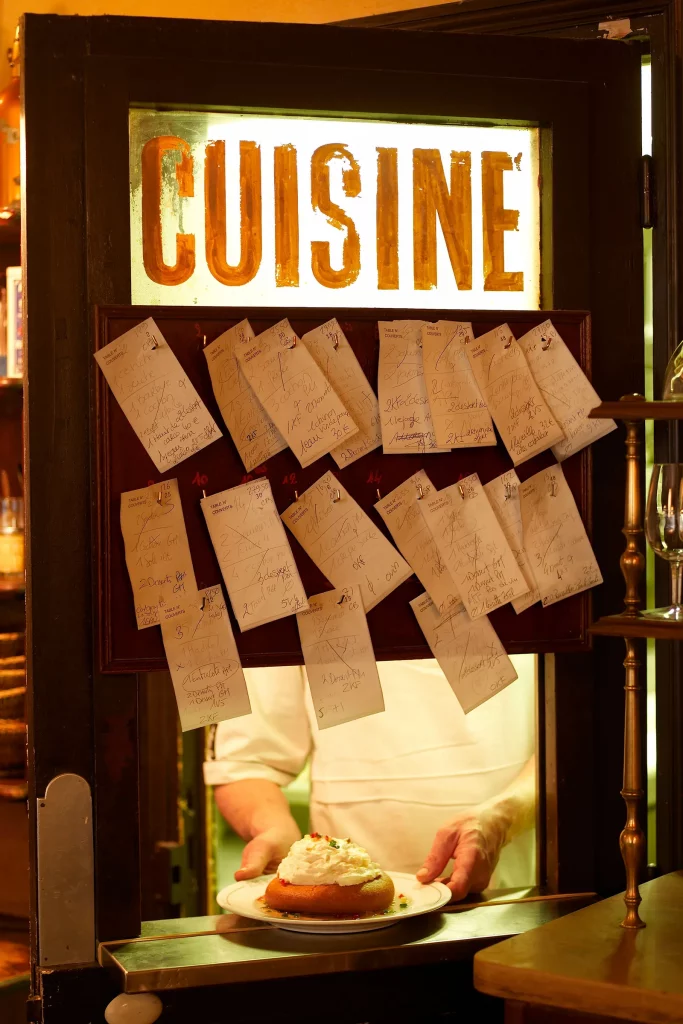 Le Bistro Paul Bert
Rue Paul Bert is currently one of the most talked-about restaurant streets in Paris, home to Sylvain Sendra's fantastic, if tiny, bistro Le Temps au Temps; the retro-funky Unico, in a preserved 1970s butcher's shop; and Bistrot Paul Bert, the pick of the bunch. The fact that it, too, was once a butcher's shop, and then a bar (and judging by the motley floorings and tiles, it has seen various other incarnations in its long lifetime) only adds to the atmosphere. The presentation of dishes is ultra-simple, but a kitchen so obviously on top of its game and so well served by its suppliers can get away with it. The milk-fed pork, for instance, is slow-cooked with apricots, prunes and almonds until spoon-tender, and served with meltingly soft fried potatoes; and the signature dessert is a colossal ring of choux pastry with a rich, praline-cream filling. Next door is the BPB's sister seafood restaurant, the equally seductive, though necessarily pricier, L'Ecailler du Bistrot.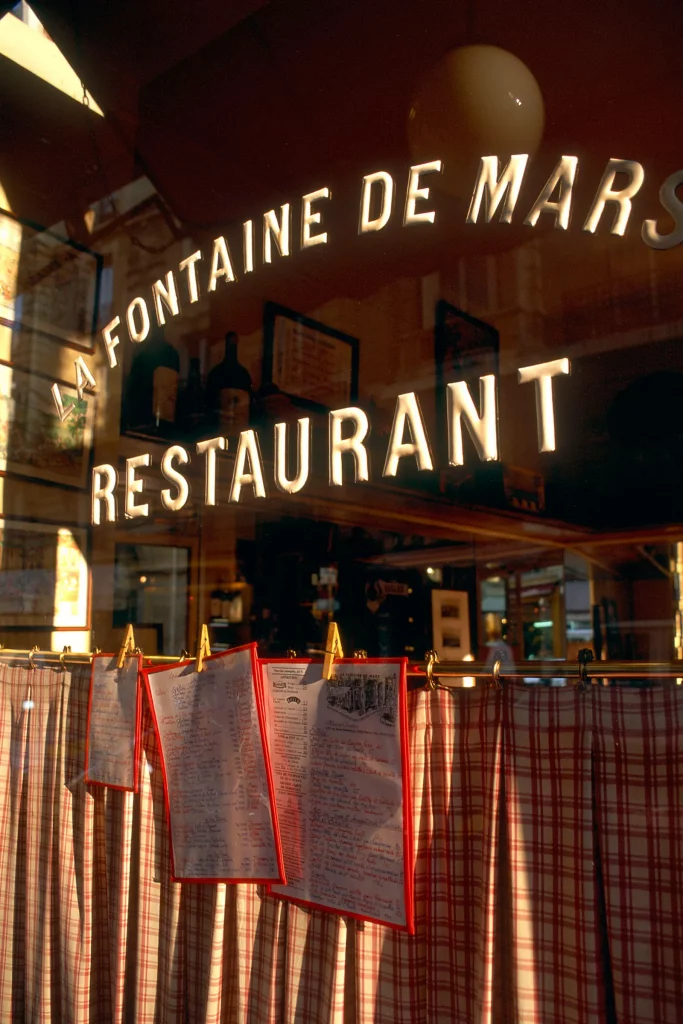 La Fontaine de Mars
La Fontaine de Mars may be within spitting distance of the perennially visitor-clogged Champ de Mars, but it's far from a tourist trap. This classic, old-world bistro has been feeding loyal locals since it opened in 1908 – and a few well-known faces, too, including the Obamas. It's one of the city's most charming and authentic dining options, a jumble of gleaming brass, precise floor tiles, vintage posters and checked tablecloths. The menu runs the gamut of tried-and-tested French classics, heavy on butter, cream and red wine – coq au vin; confit de canard; rich cassoulets; thick fillets of beef – followed by delightfully retro puddings such as rum baba and île flottante.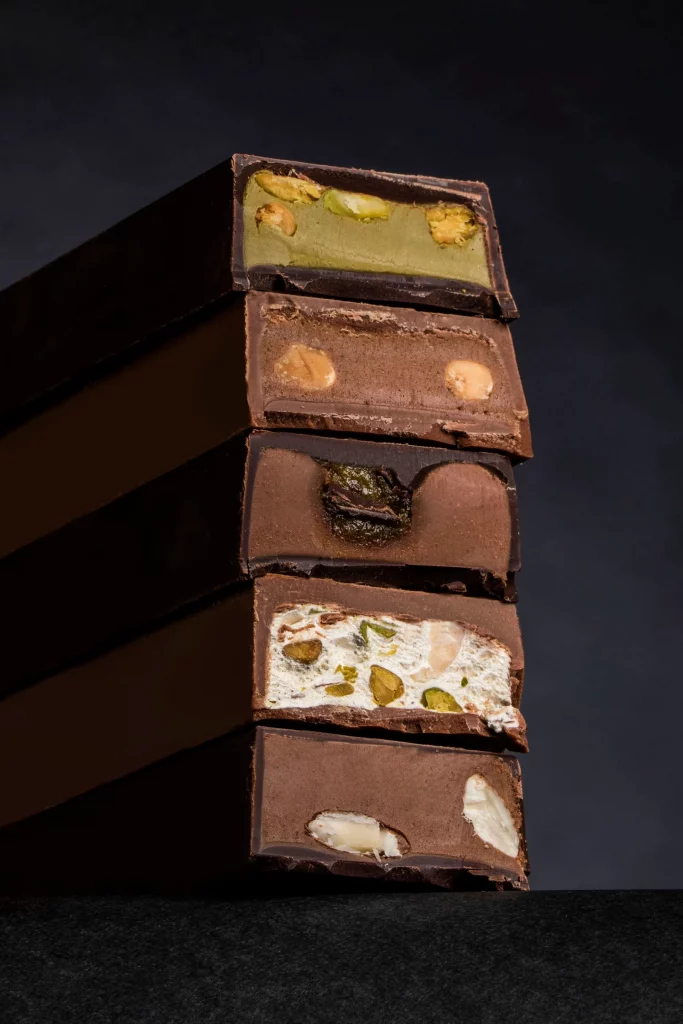 Maison Pralus
Maison Pralus is known for two things: a buttery brioche called La Praluline and its bean-to-bar chocolates. The Praluline, created in 1955 by its founder and pastry chef Auguste Pralus, came first. Unlike other brioche breads, this one features a craquelin-esq top that crumbles like cookies as you cut into it. The soft and airy interior is laced with pink praline chips that are folded into the dough just before baking, adding texture, a touch of sweetness and an irresistible nuttiness. When the current owner François Pralus took over from his father, he introduced beat-to-bar chocolates to the brand. The most well known is perhaps the Tropical Pyramid, a stack of 10 single-origin bars for true connoisseurs to explore the nuances in flavour that come with different vintages. There are three outlets in Paris but the flagship on rue Rambuteau is the one to go for – exploring the surrounding cobbled streets of Le Marais, brioche in hand, is an adventure in itself.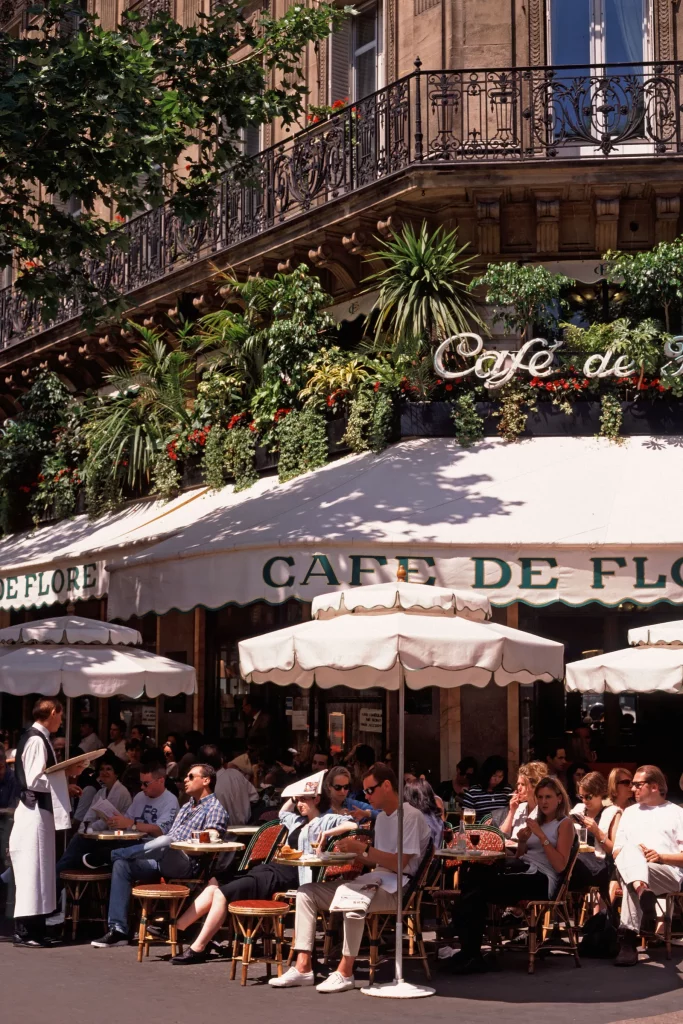 Café de Flore
If there is one quintessential Parisian spot, this is it. No trip is complete without a quick café noir outside on a table à deux, watching the left-bank world go by. Founded in 1885, this is one of two original St Germain watering holes where academics would gather to discuss social politics and read Jean-Paul Sartre under Art Deco mirrored walls. Today, locals mix with Breton-striped tourists over croque monsieurs and the best onion soup in town. Head over for brunch or stop by after supper for an aperitif; it's surprisingly quiet come sundown, so grab a table inside and listen to regulars muse over the events of the day with patient waiters.