An indulgent spa day can be just what you need to rest and recuperate, and even a busy, thriving capital such as London has pockets of calm. Whether you're looking for a particular treatment or just a simple day of indulgence, we've selected the very best spas in London.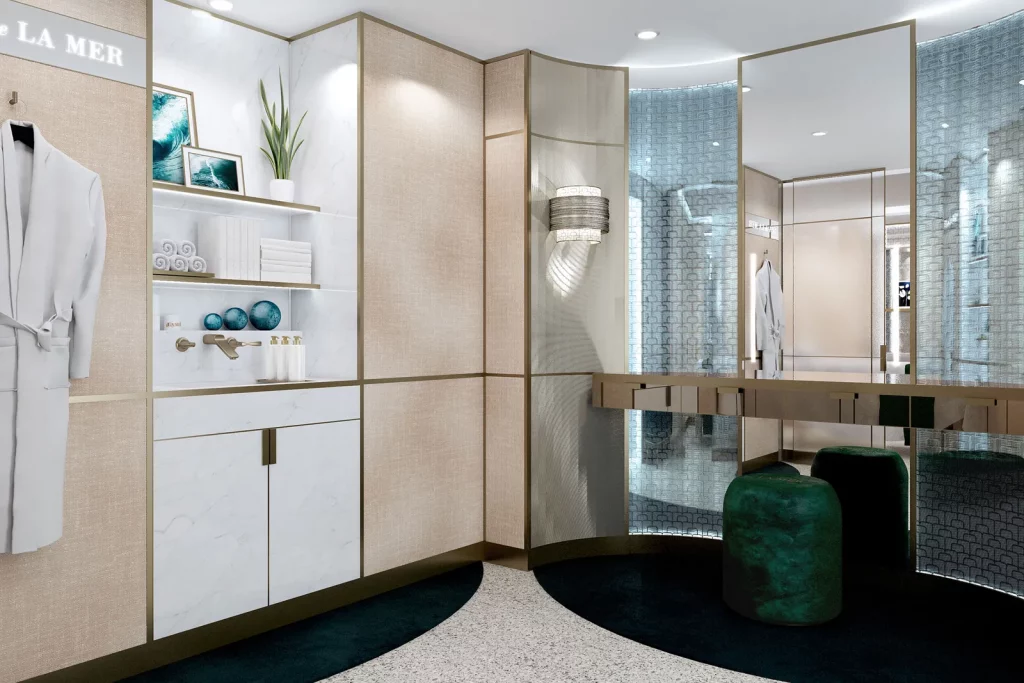 Spa de La Mer, Harrods
Cult skincare La Mer has been at the top of almost everyone's beauty wish list for years. Its rich, intense, restorative creams, serums and lotions, both deeply expensive and deeply covetable, are now intrinsically synonymous with the notion of anti-ageing. And while its appeal and reach is global, amazingly there has been no therapist service available in the UK, until now. In February this year the company opened its first spa treatment room, in Harrods. The space is a calm oasis of white corridors, muted taupe and dusty-pink hues on the lower ground floor of the store, well away from the hustle and bustle of the tourist chatter above. Here they offer mainly facials, many of which are exclusive treatments, all of which cleanse, energise and hydrate.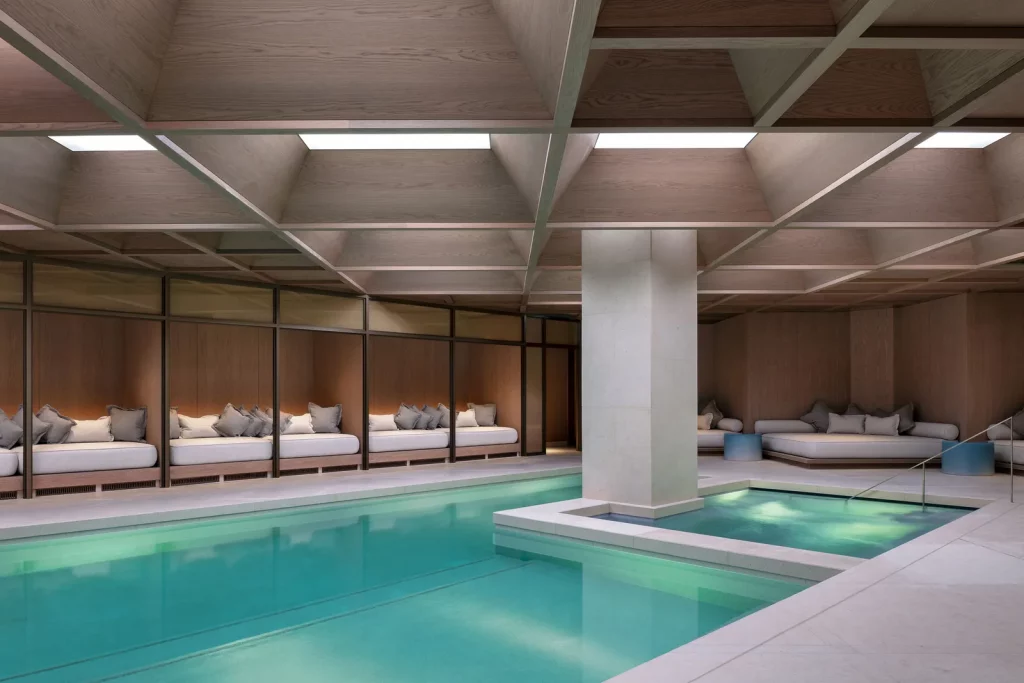 The Retreat at The Londoner, Leicester Square
No one would know that hidden in the subterranean levels under one of London's busiest spots lies The Londoner's Retreat spa, a calm haven to totally unwind in. Escape Leicester Square's frantic energy and crowds and head down into the Retreat's wellness centre to fully immerse yourself in the state-of-the-art spa.
Robe up to roam around or sprawl out across one of the cabanas circling the pool and alternate between the sauna and steam room to improve your blood circulation, clear your airways and skin, and increase that sense of relaxation. Dip in and out of the blue-water pool and bubbling hydro-pool or simply doze off to the therapeutic music from your own plumped-up sofa bed.
It's best to book into one of the treatment rooms for a facial by Omorovicza, the Hungarian luxury skincare brand with a 'zero-nasties' policy or a massage using Ila's all-natural and organic handmade oils and balms. Choose from detoxifying, exfoliating and brightening facials and a selection of massages including invigorating, deep-tissue and CBD-focused.
Staff manage a perfect balance between leaving you be while also frequently making sure you have your ice-cold water glass topped up and that you're kitted out with towels, slippers and other poolside drinks.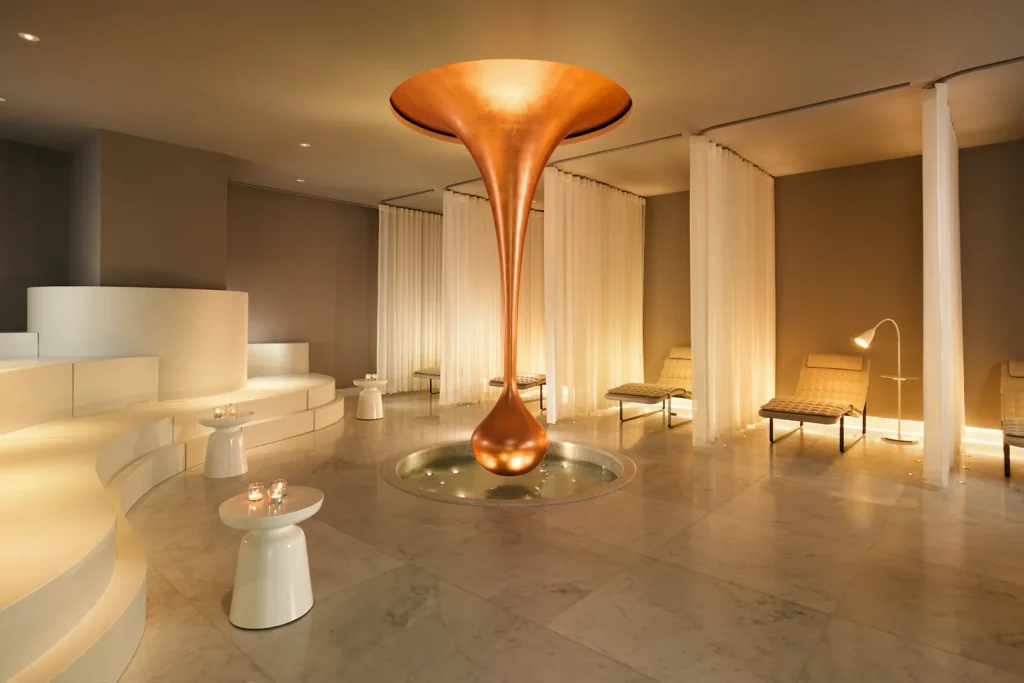 Hedgerow by Agua at Sea Containers London, South Bank
The Tom Dixon-designed Thames-side hotel has transformed this part of the South Bank. The designer's first complete hotel comes with portholes and a curved copper hull as well as a little bit of disco-ball shimmy in the air. His aesthetic flows down to the subterranean spa, where a huge copper droplet appears to drip through the ceiling from in the relaxation lounge. There are backlit ceramic walls and an all-enveloping sci-fi whiteness that's a little bit 2001 A Space Odyssey, a little bit Auroville, India's utopian meditation commune. And while restaurants have long been dabbling with foraging and seasonal ingredients, the spa scene has taken longer to catch up, but Agua London might just be the first with a seasonal treatment menu designed to use the best of British hedgerows. The team has added house-made herbal salves, butters and blended oils to the signature treatment menu, drawing inspiration from the country's indigenous flora. Each product has been created using local, botanical ingredients that can also be nurtured in urban communities and city environments including London's South Bank.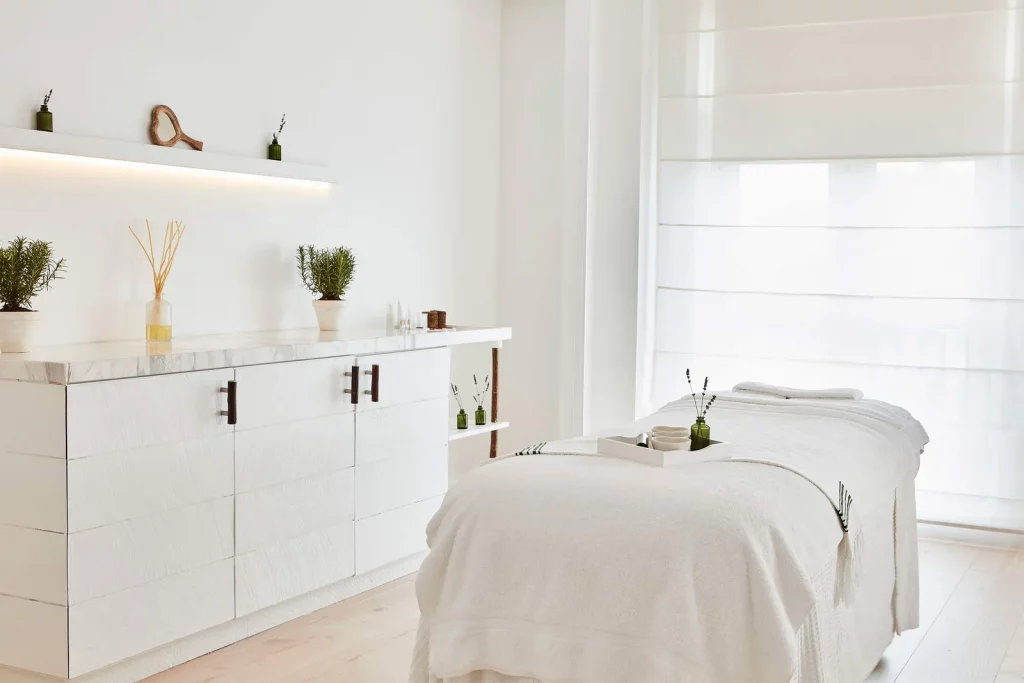 The Berkeley Health Club & Spa
When a spa is known so clearly for its lead brand – Bamford in this case – how does a newcomer muscle in? Ishga was a smart and timely choice for the Berkeley, an organic and vegan line that uses seaweed from the Isle of Lewis in Scotland's Outer Hebrides as its key ingredient. And, in turn, it delivers herbal feelgood, do-good treatments that focus fittingly on immunity-boosting. There's change afoot at the Knightsbridge hotel with a fresh wing overlooking Hyde Park currently going up later in 2021, and the plan is that a new turbo spa with an indoor swimming pool will move over there. But now, in April, this cosy fourth-floor, birch-clad space feels like the perfect hideout for rebooting.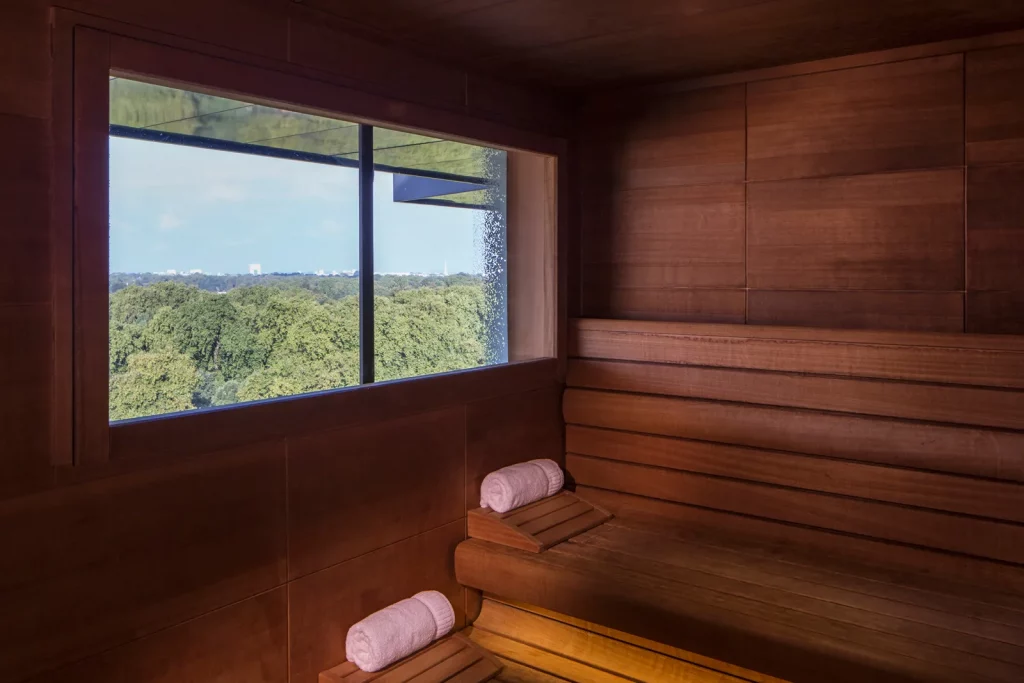 The Spa at Four Seasons Hotel London at Park Lane
The first thing you notice when you enter the lift in the Four Seasons Park Lane lobby is that you go up not down. Unlike the majority of London's hotel spas, which are relegated to the basement, this one takes prime position on the top floor with widescreen views across West London and Hyde Park. The reception is bathed in natural light – take in the panorama over a welcome cup of green tea or coconut water, or while getting a manicure in the nail lounge. There is a vitality pool with jacuzzi features, steam room and sauna to dip into before heading through to one of nine treatment rooms, and connecting the two areas is a peaceful, dimly lit waiting area with wall sculptures and – perhaps most importantly – great snacks.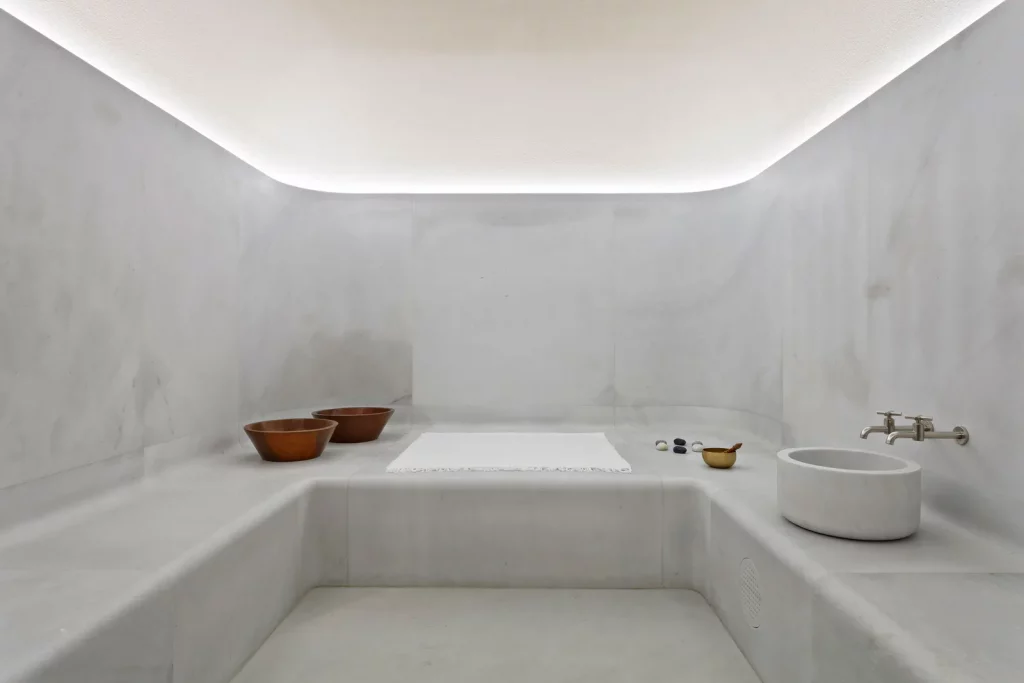 Akasha at Hotel Café Royal, Piccadilly
Hidden below the bustle of Piccadilly Circus lies a surprisingly large and completely calm urban retreat. There's a gym, nine treatment rooms and a vast hammam as well as a Jacuzzi and sauna. But the biggest draw has to be the slender 18m pool that's flanked by squashy day beds jutting out of semi-private alcoves in pairs. You are immediately a world away from the hustle and grime of the streets above.
There are all sorts of treatments on offer, including facials and massages you'll struggle not to fall asleep in – the Aromatherapy Associates facial resulted in a string of compliments that lasted days. The luxury 'Gold Signature Hammam Treatment' mixes olive soap with 23-carat-gold minerals for an invigorating exfoliation, and the gold shea butter massage mixes 100 per cent shea butter with the same gold minerals for a lavish anti-ageing treatment. But the more unusual offerings include water treatments in the Watsu pool and an energy healing treatment called 'bone setting' which is run by tai chi master Andy Mack and his son Duran. The aim: to resolve tension by creating waves to clear the blockage in the body through energetic (and physical) manipulation.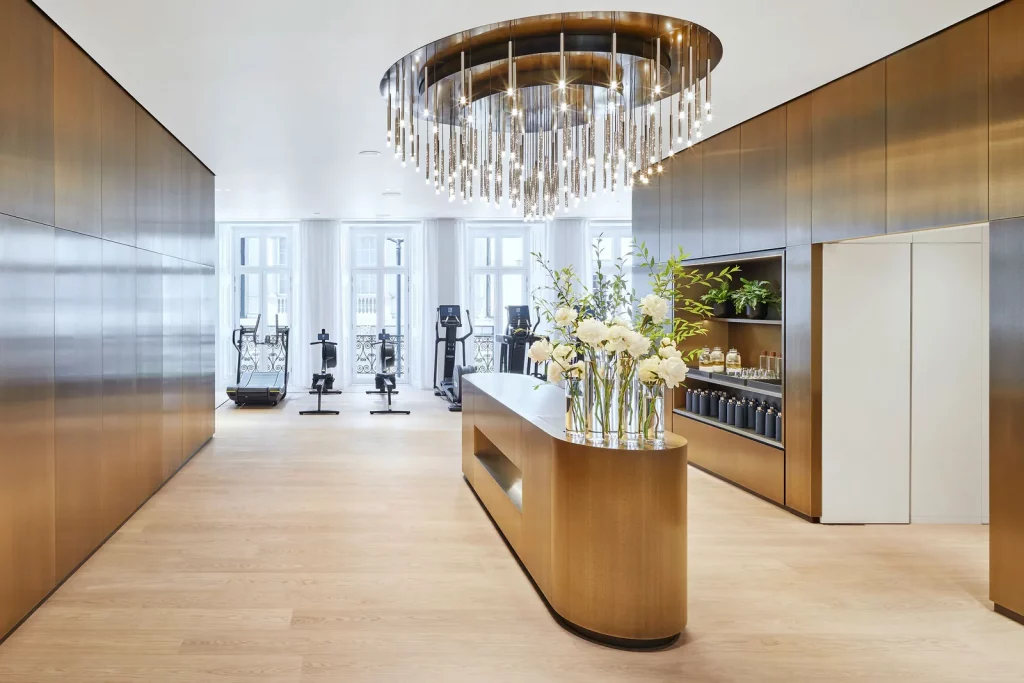 Lanserhof at the Arts Club
This is the first medi-gym in the world, with six floors dedicated to health and fitness in the glamorous, light-flooded building on Mayfair's Dover Street where guests can book in to see an osteopath, physiotherapist or nutritionist.
As with the Lanserhof Group's other medi-spas, it's rooted in naturopathy, using hi-tech diagnostic equipment to analyse the body's strengths and weaknesses. A full-body MRI scan is just the start of the process, and produces a gratifyingly detailed report forming the basis of the programme.
Along with the cutting-edge Technogym, Lanserhof offers pain-relieving shockwave therapy, over 250 exercise classes per month, massage, cryotherapy, acupuncture and vitamin infusions. You'll emerge feeling fresh and fit – if slightly dazed. Plus you'll be protected from any future back problems caused by hefty sports bags, as there's even a butler service to wash and store your gym kit.
Be warned: Lanserhof is members-only and wincingly expensive with a price tag of £6,500 a year, a £1,500 joining fee and £1,000 for the butler service.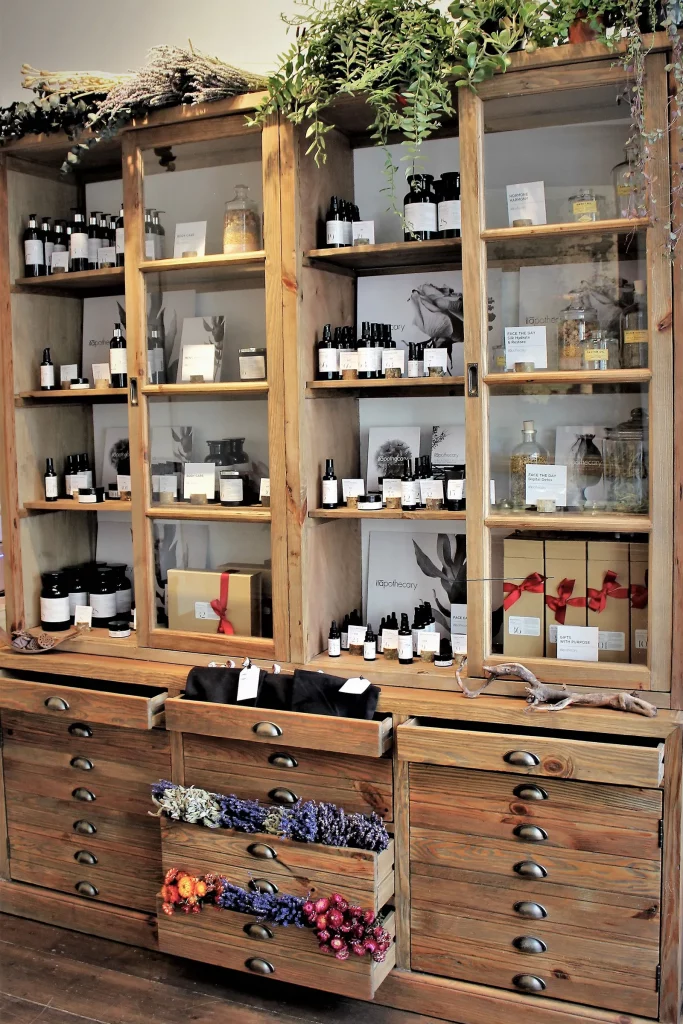 Ilapothecary
A healing, herbal-smelling holistic hideaway tucked between the antiques shops and art galleries of Kensington Church Street, this is the London outpost of Ila founder Denise Leicester's second line, Ilapothecary. The tenets of the brand don't stray too far from her organic Ila Spa, but things here are more earthy and rooted, less floral and perfumed. The set-up is, as you would hope, like the most delicious old-world apothecary, with tall wooden cabinets and drawers of curiosities.
Just up the stairs is a calming space for talks, workshops and sound-bowl therapy, and at the back is a treatment room in which to utterly switch off from the outside world. The music playing, at 432 hertz, with Denise's haunting vocals, is hypnotic, and the therapists are trained to deliver exquisite treatments that are utterly bespoke (unlike many other places). After you've answered an in-depth 50-point questionnaire on not just your physical wellbeing but your emotional status and even your spiritual leanings, a diagnosis is drawn up based on imbalances, pinpointing hormone levels, fatigue and energy blockages.
You can then divine the route of your treatment – liver or kidney compresses, perhaps, a grounding reflexology session, deep hydrating facial or tension-busting back massage. Or indeed a mix of all of the above. This is no one-size-fits-all stop-off, but a totally tailored, individual approach to regaining balance for the long term. Very special.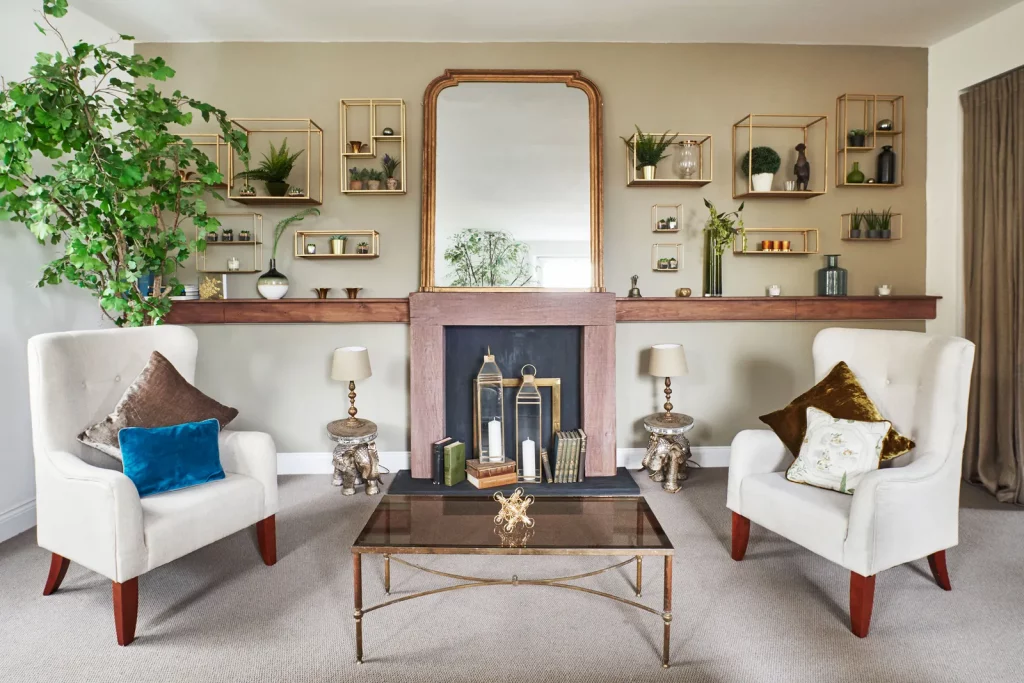 A Place to Heal
This is not a spa in the traditional dressing-gowns-and-facials sense. What it is, is a cocoon for wellbeing, both physical and mental – a safe space in the heart of thrusting West London for those in search of soothing, calming stillness. Until now, anyone who wanted to tap into the shifting transformational powers of the highly personalised Arrigo Programme had to carve out a good four or five days, minimum, for a retreat at psychologist Fiona Arrigo's Somerset cottage hideout. There, in the blustery countryside, where log fires crackle and therapists (for acupuncture, massage, qigong and Tibetan pulsing, as well as grief counselling and trauma) arrive at your door, deep renewal and grounding takes place.
And while this extraction from real life can have long-lasting, meaningful results, sometimes finding the time can seem like an insurmountable challenge. So here we are at her brand-new outpost in the capital, a light-filled drawing room on the second floor, with the plane trees of Holland Park Avenue brushing up against the sash windows. The healing hand-holding takes the form of lectures and workshops from a visiting roster of holistic practitioners and wellness wizards. There's lots of stuff you might not have heard of – transmission meditation classes, Feldenkrais group sessions, Vedic mysticism – but also lots you have, and it's all delivered with a heady, heartfelt embrace. This is a chance to dip into the probing emotional rollercoaster of Arrigo's astonishing life-shifting programme in just an evening.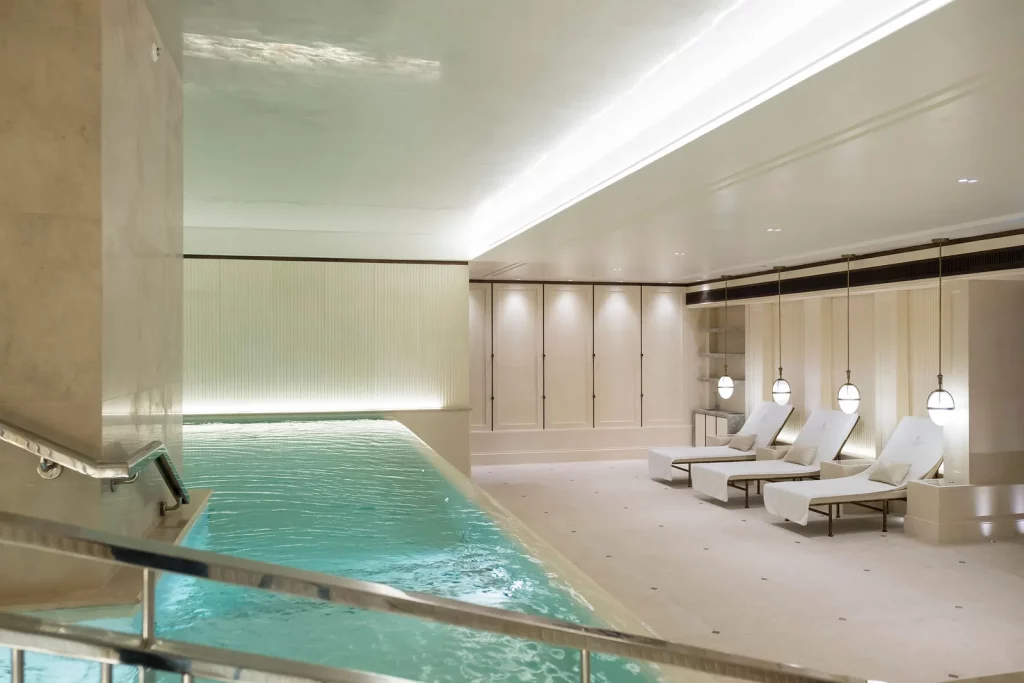 The Lanesborough Club & Spa
The grey-suited doorman at the Lanesborough is a pro at spotting the weary and city-worn when they walk into the hotel's columned lobby. He winks a wink and instantly offers to take you to the spa himself. And it's just as well, because it's hidden away down corridors and around corners – but that just makes it feel all the more special.
Well, that and the plush interiors: silk wallpapers; marble floors and reception desk; dark wood panelling; brass-trimmed mirrors. The sense of indulgent downtime starts in the powder-puff changing rooms, before you head, fully fluffy-robed, into the low-lit lounge for a cup of signature Lanesborough green tea. A standout treatment is the deep-tissue massage using an Ayurvedic method of gently pounding potali pouches (soaked in argan oil, lemongrass and frankincense for anti-aging) along your spine, followed by an intense massage of back, arms and legs with a smooth volcanic stone and the masseur's forearms. All the products are Ila organics, and the haunting voice playing in the background is that of the English brand's founder, Denise Leicester.
The treatment ends with the therapist pinging a Tibetan sound bowl, the resonating sound of which envelopes you for a few minutes and leaves you totally tripped out. You leave feeling that bit lighter, and it's only on the Tube ride home that you realise your shoulders naturally fall lower, you're less hunched up, your mind is calm, your breath slower and your jaw less clenched.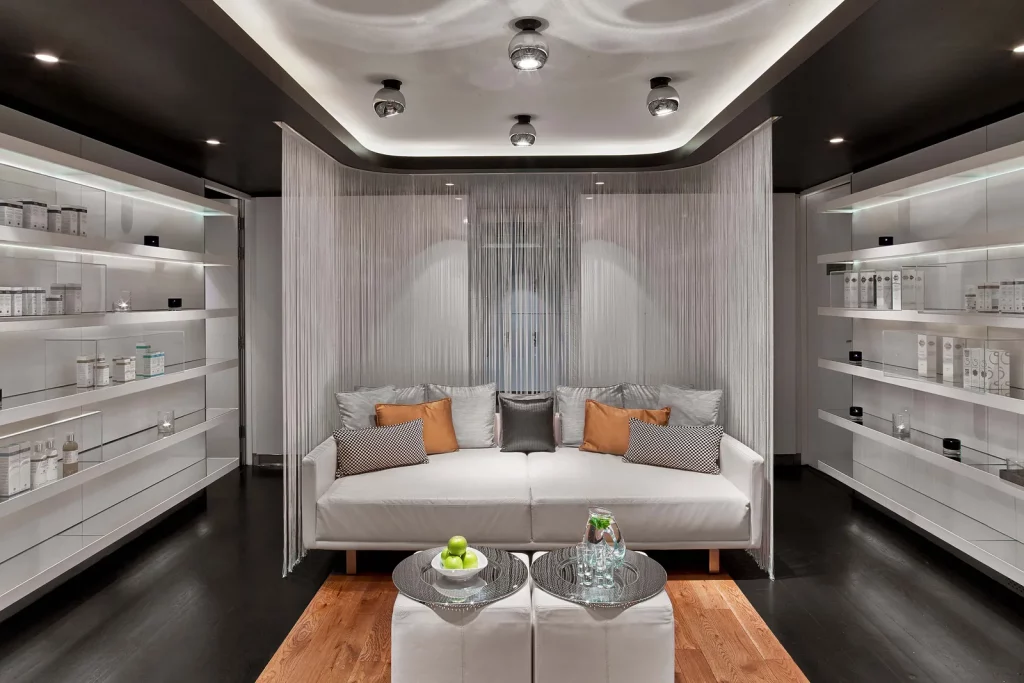 The Away Spa at the W Hotel
Leicester Square is the last place you'd expect to find a spa sanctuary. As is the thumping entrance to the dark cocktail-drinking entrance to the W hotel. But up on the 6th floor in the small but very well formed Away spa are two brilliantly kept secrets – the best pre- and post-holiday treatments in town. First up the delightful James Harknett. James is London's tip-top spray tanner, and you only have to visit someone else, to deviate from one appointment with him, to rush back with your tail between your legs. He treats the whole process as if creating a work of art, sculpting, blending, shading the tan in order to make the most natural look. He is as brilliant at giving pale freckled skin a natural glow as he is turning olive arms and legs a 'two weeks in St Barth's' brown. No streaks, no patches, just a flawless colour. No wonder he is jam-packed booked up day and night and weekend. And on your return from a trip, to get rid of the sun-cream clogged pores and the sun-damaged skin there is the marvel of a Su-Man facial. The hour-long appointment is no lie-back-and-drift-off-to-sleep experience.
Nor is it a full-on hot-cloth face-wiping. Instead, the signature facial by turbo-charged tiny Su Man, who has biceps better than Madonna's, is a kind of all-encompassing, toe-tickling, lymphatic-draining, blackhead-ridding rollercoaster of a therapy. After a quick computer scan to flag up any problem zones (ooh, a dry left cheek, because that's the side you must sleep on) and a good thorough steam, the fun begins. This is all about muscle power, and hard work, using brilliant natural ingredient (she has her own line of products) and really massaging them deep into the skin. There is no gentle patting in sight. Ears are waggled, jawlines are pinched, necks, shoulders, chests are worked and rubbed, bringing blood to the surface, warming up and preparing the areas, and identifying muscle tightness, water retention, neck niggles. Eye cream is rigorously zigzagged in. Cleanser applied with a firm hand and the heel of the palm. A mask, deftly and convincingly pressed into place. And then the bodywork begins, reflexology, calf massage, upper shoulder and neck pummelling. You're left feeling dazed, confused and deliciously shiny, fresh as a newborn baby.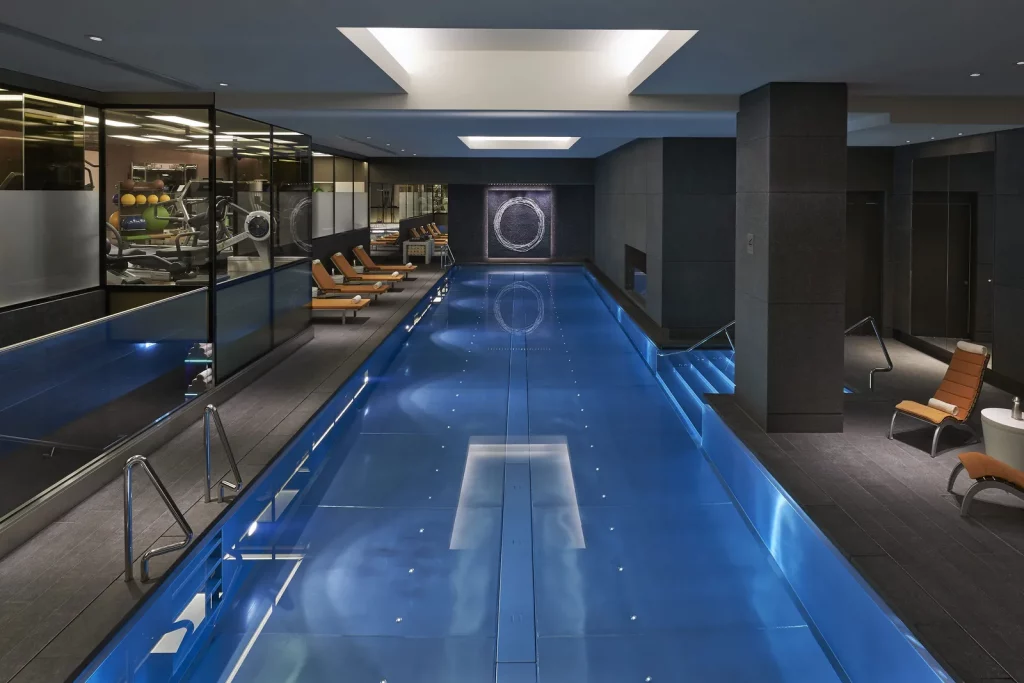 The Spa at The Mandarin Oriental Hyde Park
A matter of days after the MO Hyde Park reopened for business in the summer of 2018, after a full-scaffolding top-to-toe face lift, a fire broke out. Thankfully no one was hurt but the doors were closed again, much to everyone's dismay, to repair the damage. Lording it up at the top of Sloane Street, the hotel is a bastion of Knightsbridge glamour, home to two extremely good restaurants, Dinner by Heston Blumenthal and Daniel Boulud's Bar Boulud, and boasting some of the best bedroom views in London, looking out over the park where the Household Cavalry take the horses out for a hack in the early mornings.
There also happens to be a terrific spa which has undergone its own expansion, elevation and revival. Alongside a great swimming pool, there are traditional Chinese-medicine consultations, a Rasul chamber, a Bastien Gonzalez Pedi:Mani:Cure Studio and a heavy-weight gym.
Most interesting of all, though, is that it is also the only spa in the UK to offer the Nescens brand's brilliantly pitched treatments. What a coup. Nescens is the Swiss medi range from hotelier and vintner Michel Reybier's stable, a kind of Crème de La Mer from the mountains. But what makes it even more interesting is the application and process during treatments – a curious, winning combination of science-led, deeply hard-working anti-ageing products and therapeutic massage and drainage. This is no pat-pat-pat facial. It is a proper treatment, a therapy that feels like a workout not just for your cheeks and face (with pulling and pinching, squeezing and smoothing) but for your neck and shoulders, too, working hard to relax the muscles, to widen the deltoid artery, to encourage a fresh flow of blood up to the face and to drain the old blood away. Arms and hands get a look-in as well, with rigorous pummelling of the fleshy parts of the palm, reflexology for the fingers, rhythmic deep level strokes up the forearm. It is energising, invigorating, a million miles from a cleanse-tone-moisturise routine. You used to have to go to Geneva or the South of France for these special sessions, so how exciting that they've landed here at last.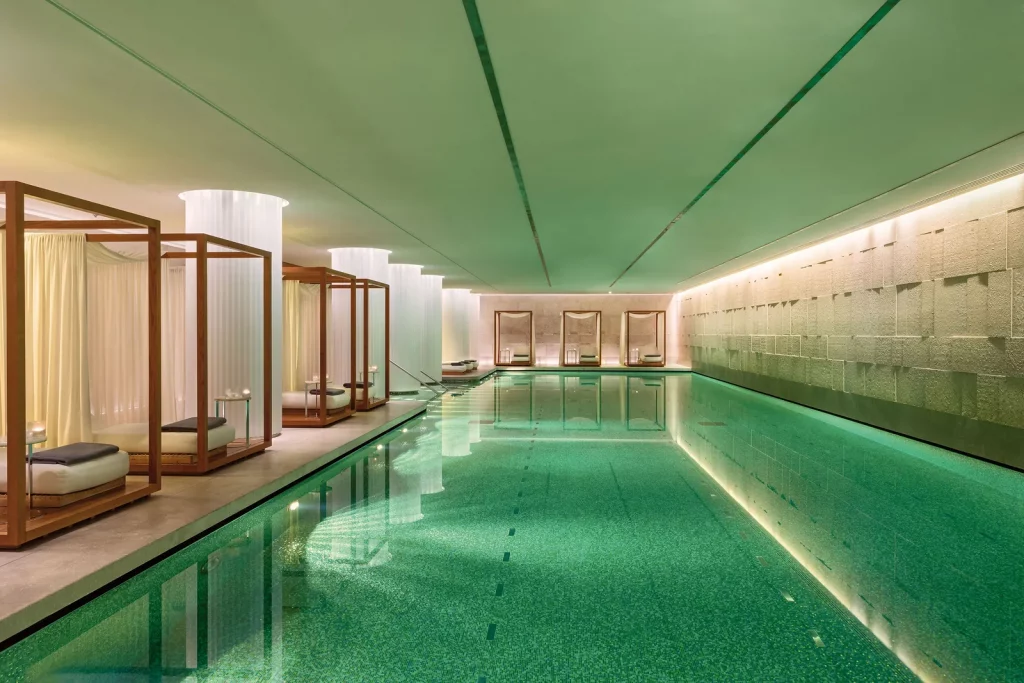 The Spa at the Bulgari Hotel London
There's no disguising this spa's grand jewellery house heritage; not only is it one of the biggest and best in the city, it's also one of the blingiest. Five floors below the silvery lobby of the Bulgari Hotel – just steps from Knightsbridge – it's a maze of dark-wood treatment rooms, saunas, swirly onyx-marble steam rooms, ice fountains and a vitality pool that glints with gold-leaf mosaic. And at its heart lies the greeny-gold colonnaded pool, flanked by muslin-draped cabanas with buttons to press when you fancy a gut-friendly antioxidant shake. You could while away an entire day loafing and grazing and swimming gentle laps, but if all that sounds a bit soporific then there's an ultra-contemporary, ultra-discreet Workshop gym on site, where founder Lee Mullins sculpts the silhouettes of Oscar winners and supermodels.
Do book in for a treatment too; the list includes straight-up pampering, Ayurvedic healing and up-to-the-minute innovation with LED lights and radio-frequency machines. If you just want to be sent comatose, try the JAX Coco Body Experience, which starts with a head-to-toe scrub and polish before a hot-stone and deeply hydrating coconut-oil massage. You'll practically have to be carried to the relaxation room, where you're greeted with flickering fires and steamy pots of ginger tea. For something more results-focused, try a facial. The iS Clinical Fire and Ice uses a mild peel and skin-plumping glycolic acid to revive and renew skin (A-listers swear by it before heading onto the red carpet). And then there's the holistic; sleep rituals with breathing exercises and delicious herbal compresses, osteopathy with therapist Susannah Makram, and even fillers – without chemicals – delicately administered by cosmetic acupuncturist in residence David Peters. He'll soften wrinkles, firm and sculpt cheeks, and throw in a bit of inflammation-reducing 24-carat gold too. This is the Bulgari, after all.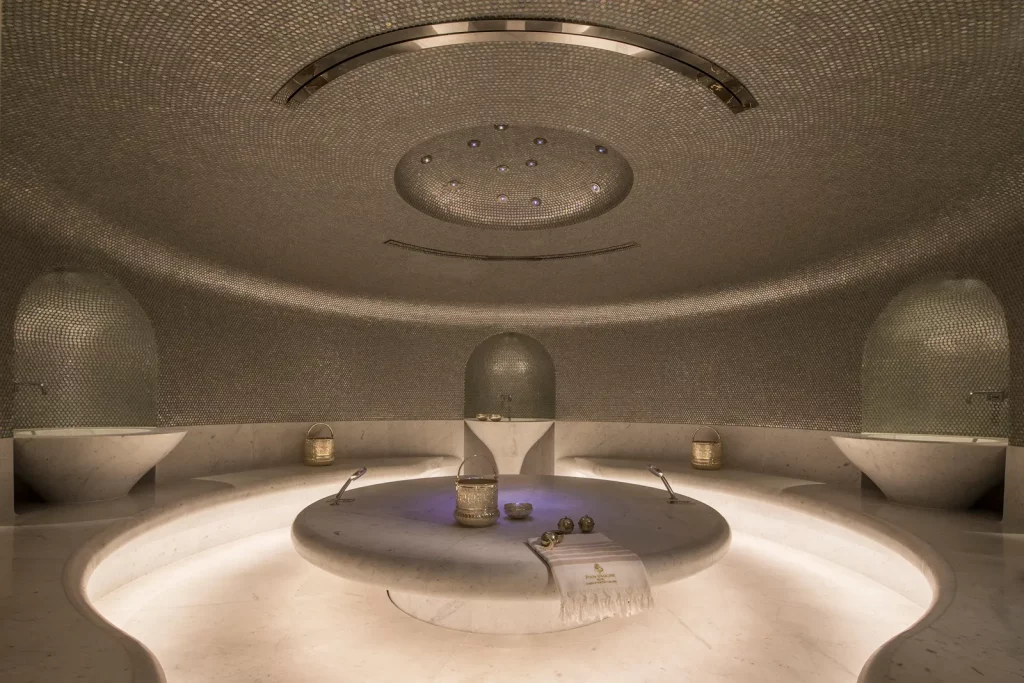 Spa at Four Seasons Hotel London at Ten Trinity Square
Included on our list of the hottest new hotels in the world in 2017, the Four Seasons at Ten Trinity Square is housed in a building dating from 1922 and has the oldest, wisest, Beaux-Arts head on its shiny, refurbished shoulders. Walking into the circular lobby, over the marble floors and velvety red carpets, all centred around the grandest grand piano, you get the sense you may have stumbled onto a Bond film mid-take, or at least the latest season of McMafia. But take the lift down a floor to the even more recently redone spa and you'll realise you've actually fallen straight into Aladdin's lamp, so glittering and swirly are the walls, so curvy and sleek the lines of the pillars. Even the pool walls have reeds made up of teeny, tiny golden tiles, shooting and swaying up from the water jets.
And yet you haven't even reached the beating heart: the Turkish hammam. Little pink beams, like upside-down tea-lights, gently shine down on you from a ceiling of mother-of-pearl as you lie back on a warm slab of marble in nothing but your disposable pants and, more unusually but more comfortably, bandeau top. Rather than sitting, as might be more traditional, between the legs of your Turkish masseuse, at the Four Seasons you are treated (in the best sense possible) like a pizza base being kneaded on a table-top, with your therapist – male or female, according to your preference – manoeuvring themselves around you, making for a wholly less invasive and more relaxed experience. As well as special salts, sniffed and approved by you at each step, water is whooshed over you throughout, culminating in a surprisingly lovely blast of cold – though only if you agree to it.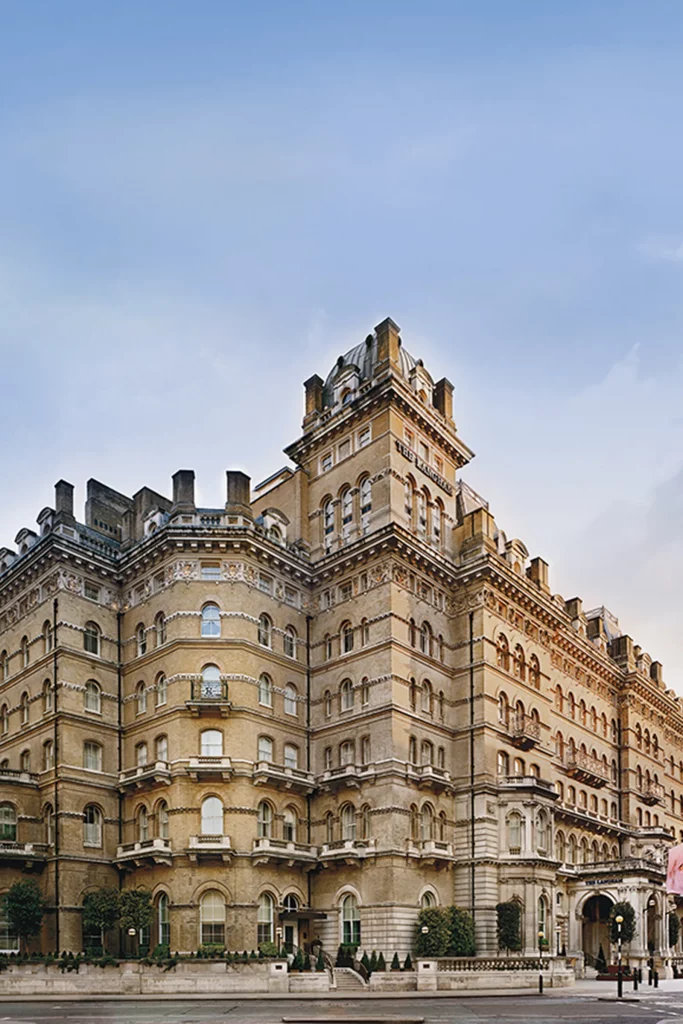 Chuan Body + Soul at The Langham, London
Round corners, along corridors and down lifts, the Chuan Body + Soul spa is squirreled away in a quiet corner of the gorgeously grand Langham. The hotel might be better known for its clever craft cocktails – its Artesian Bar is regularly crowned the world's best – but it is its unique mix of Traditional Chinese Medicine and Western results-driven facials that draws serenity-seekers here. Visits begin with a multi-choice questionnaire to determine your elemental balance: what time of day and what season do you prefer? What foods do you crave? What body aches and grumbles do you have? Totted and tallied, you're first prescribed a mind-stilling breathing exercise: for Earth, visualising the colour yellow and resting your right hand over your spleen while practising a deep exhaling chant. Then work begins on your chi. A full-body Chuan Harmony massage releases tension through firmly working acupressure points, awaking and lightening limbs, all designed to balance energy flow through the body. Or there's stone therapy with hot (yin) and cold (yang) rocks, bamboo massages and jade facials, all channelling ancient Eastern traditions. This is married with some decidedly 21-century skincare: deep-cleansing, plumping and radiance-returning prescriptions using products from Swedish-American brand Kerstin Florian and Spanish brand Germaine de Capuccini.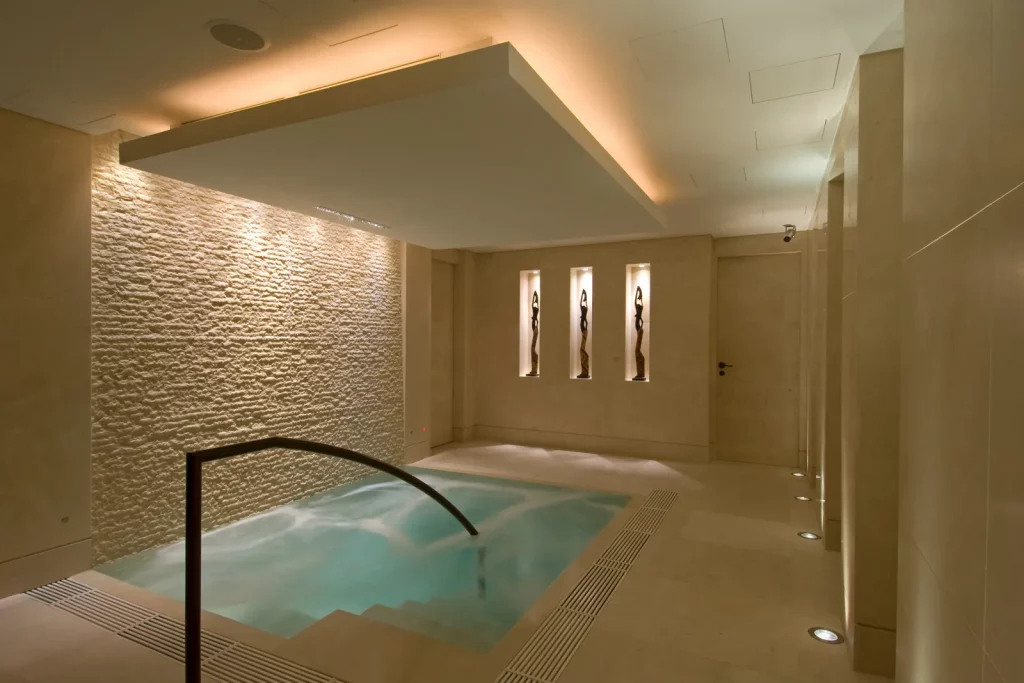 Ushvani
Just off Sloane Street, the handsome Grade II-listed Edwardian mansion-house that Ushvani sits inside calls to mind the sort of place Lucy Honeychurch, heroine of A Room With A View, might stay on a visit to London, tripping out for iced coffee and meringues with cousin Charlotte. The spa's walls and staircases are clad in the original Arts and Crafts carved panels, and the rich colour and history of the wood immediately casts a spell on the visitor – there is the immense quiet and dignity here almost of a grand library. And yet the permeating scent is of hibiscus, the treatments are Asian-inspired, and there's a subtle sound of water from the subterranean plunge pool – which guests are encouraged to take proper time in before a treatment – as well as the dry and wet steam rooms. The signature Malay Massage centres on stretching, the therapist firmly guiding movements, stopping to concentrate on areas that are gnarled. There is a sense of someone properly listening to your body and making any changes in the treatment to suit – it feels intuitively bespoke and therapists are confident and strong: this is proper, sensitive bodywork. There are many thoughtful things about Ushvani: the careful way they stagger treatments so that the place is never crowded; their own super-light king coconut and hibiscus facial oil; the little morsels of glacé mango they serve with fresh herbal tea in the drawing room that looks onto the stuccoed elegance of the street, before you gather your thoughts and leave, somewhat dazed, zinging-clean and acutely relaxed.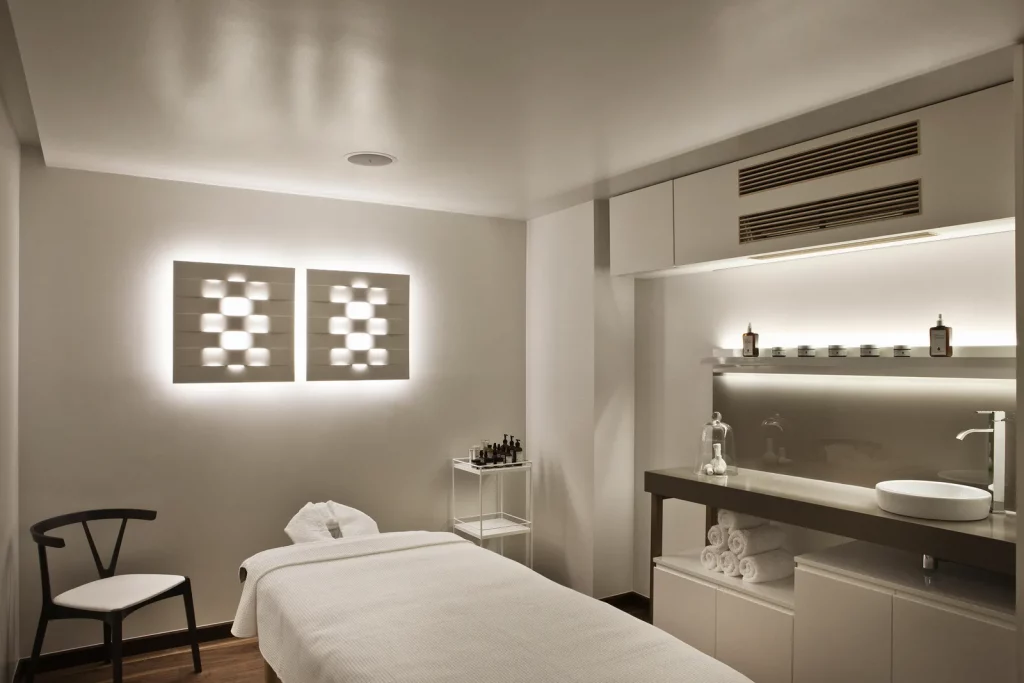 COMO Shambhala Urban Escape at COMO Metropolitan London
Small but perfectly formed, the spa here often gets overlooked for bigger players, but this is one of London's best-kept secrets. Not only is the space completely sleek and serene – no plinky-plonky music or trickling fountains – but the treatments pack an enormous punch. Revitalising facials from American dermatologist Dr Perricone are satisfyingly clinical and results-driven. Come for the Performance Facial, which combines a deep thorough cleanse with firming, collagen-stimulating topical therapies, and leave with properly glowing bare skin. And those going straight out to a meeting or for dinner can ask the therapist to put on some of Dr Perricone's amazing foundation. There are great salt-and-sugar body scrubs to polish and slough off old skin, and a considered range of Asian-leaning massage treatments, from Japanese Shiatsu and Chinese reflexology to Indian head massage, as well as a powerful and authentic Thai massage. Most noteworthy of all though are the visiting masters. A roll call of some of the most impressive therapists globally, many of which are from other COMO hotels around the world – COMO Shambhala Estate in Bali, COMO Parrot Cay in Turks & Caicos, COMO Maalifushi in the Maldives – stop in at the COMO Metropolitan London for a week or two's stint. Up next is the extraordinary energy master Per van Spall, who's running a 'Vacation for the Soul' weekend workshop from 6-7 October 2018. Sessions with part-shaman, part-guru Per are gentle, shifting and releasing, as he manipulates your chi, adjusting the energy flow, and opening and moving blockages in a kind of souped-up version of craniosacral therapy. It's tricky to explain, but a game-changing experience. Unmissable.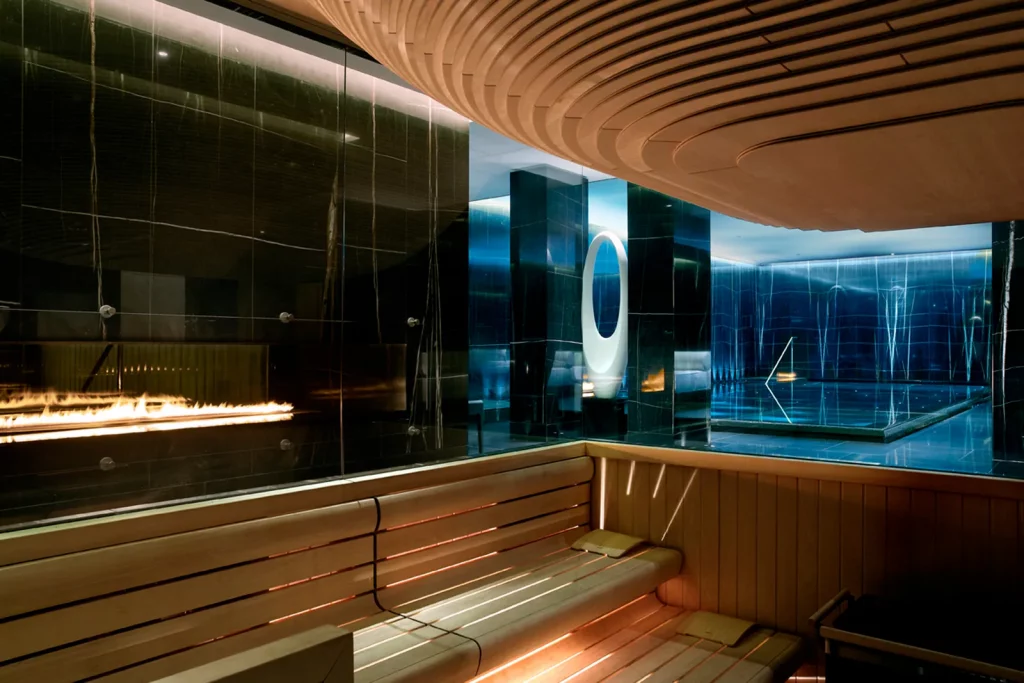 ESPA Life at Corinthia
This is one of the largest spas in London. Behind heavy swing doors, four floors of powerfully restorative treatments help to induce a deeper level of relaxation. From the golden crocodile-skin-print walls, to the curving corridors, and the calming fragrance of sweet orange, lavender and palmarosa in the Restorative candle range, everything here encourages tranquility. But beneath the serene design lies a state-of-the-art spa that can deliver as much or as little as you need. Yes, there are facials; cooling ones for irritated skin and anti-ageing ones which lift and firm, plus massages to pummel or to soothe (some are so sleep-inducing it's essential to crawl to the sleep pods afterwards), but ESPA Life also offers a long-term holistic approach to physical and mental health. Diverse disciplines such as Traditional Chinese Medicine and reflexology delve deeper into issues, and the mindful programme uses guided breathing and visualisation techniques to lower stress levels. Plus, of course, there's a gym and full fitness programme at BodySPace, with 24-hour personal trainers and a mini medical diagnostic option. Or simply come to enjoy the thermal floor, a dark cocoon of smooth Italian black marble. Here, stone loungers are warmed and set beside flickering fires, a place to wind down even further after enjoying the steam room or the hydro pool. The elegant glass-encased sauna stands next to an imposing ice basin used to rapidly cool a heated body and stimulate circulation. Or maybe just swim serenely up and down in the pin-drop peaceful pool.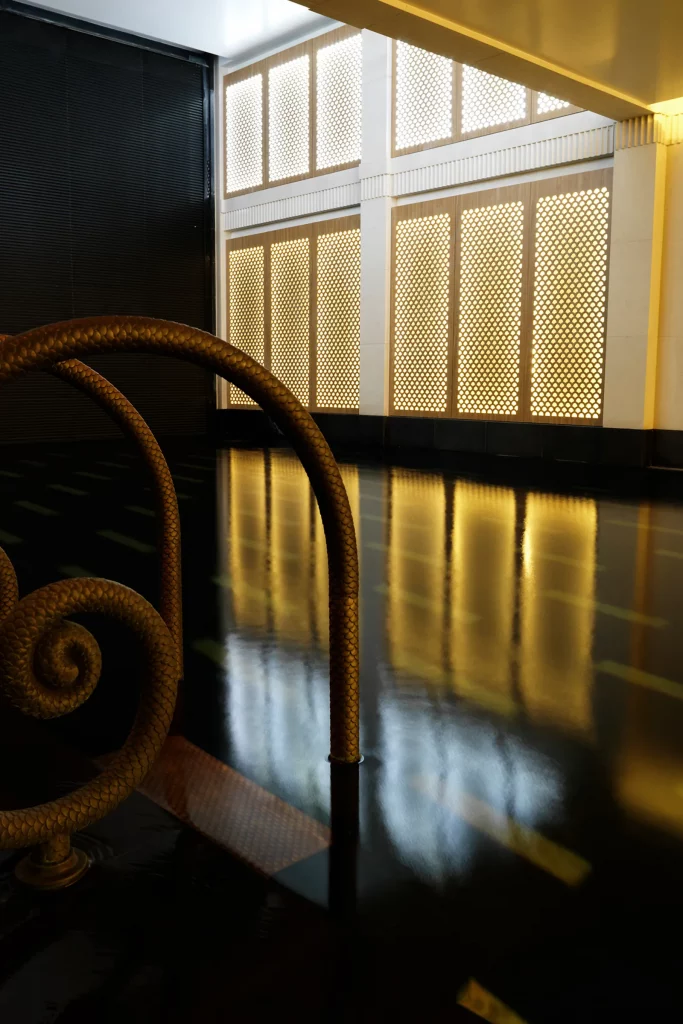 Aman Spa at The Connaught
As you might expect at one of London's more discreet grand hotels, The Connaught's spa is similarly unobtrusive, hidden away in the basement's shiny new wing. As the only Aman spa outside of an Aman resort, it's a pretty good secret to know about. The space is dark and glamorous, but simple – styled with natural woods, marble and slate. A sleek (chlorine-free) pool is the centrepiece, with its black-tiled water-fountain-wall providing the only soundtrack. You might find a magazine stylist doing lengths, or a hotel guest reading on one of a row of smart poolside loungers but, chances are, you'll have the place to yourself. The treatments on offer reflect the global reach of the Aman brand, with a serious range: a Thai herbal compress is recommended for those with deep-seated muscular pain; an Indian signature treatment aims to leave you feeling calm and grounded; and a Chinese-inspired massage uses rejuvenating essential oils on acupressure points to release stress. For those with just 20 minutes to spare, the spa also offers complimentary meditation classes to help manage stress and anxiety – just book in ahead of time.